A new song for children that lauds Iran's leader Ali Khamenei has sparked anger across the country and rebuke from child psychologists, who describe it as yet another indoctrination attempt on the part of the Islamic Republic.
Though it is ostensibly a tribute to the 12th Imam, "Salute, Commander!" is in fact a tribute to Khamenei, as he is commander-in-chief of the Iranian armed forces, activists say.
Children are taught to salute when they hear the song's refrain: "Salute, Commander!"
Children's rights activists accuse the songwriters of taking advantage of the innocence of children, and brainwashing them at school.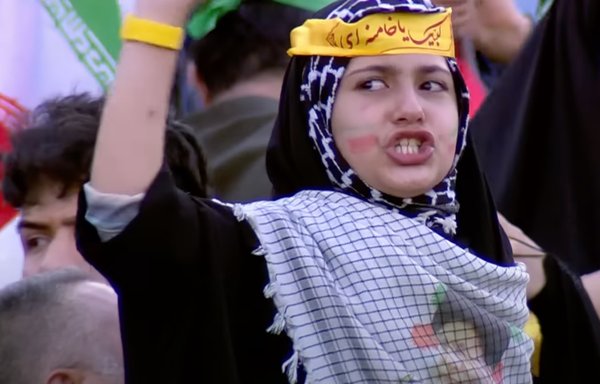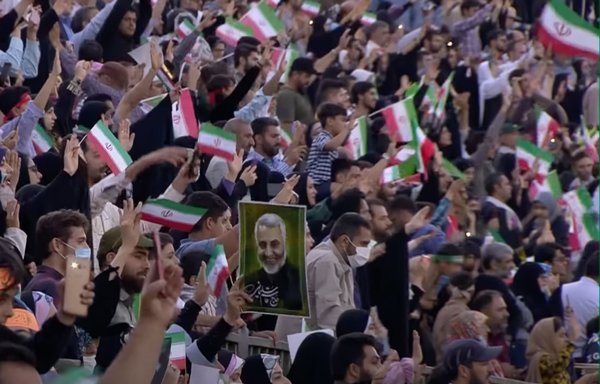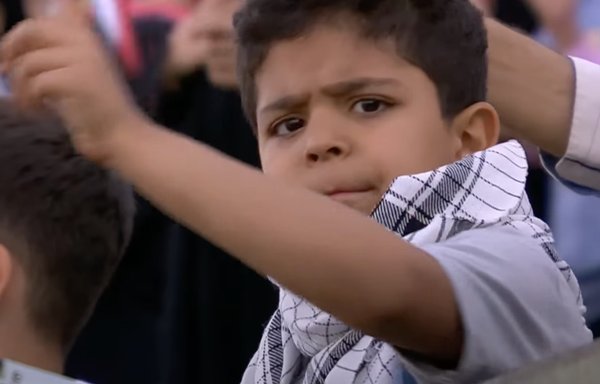 They point to a pattern of indoctrination that has emerged over the years, noting that similar songs, made during the Iran-Iraq War of the 1980s, were constantly played over state radio and television.
These songs encouraged underage youth to register for military service through the Islamic Revolutionary Guard Corps (IRGC) and the IRGC-aligned Basij Resistance Forces paramilitary group.
Indoctrination on the way to school
In a speech last year, Khamenei encouraged the production of "a song" bearing the regime's messages that "children would sing on their way to school and back".
Although the regime has denied any direct link between Khamenei's speech and the production of the song, "Salute, Commander!" was reportedly produced based on the comment, which many interpreted as a command.
A hardline group named "Mah", established for propaganda purposes on the first anniversary of IRGC Quds Force (IRGC-QF) commander Qassem Soleimani's death, has commissioned the lyrics and produced the song.
The producer is an ultra-conservative cleric.
Iran's state-run broadcasting (IRIB) has announced that the song's lyricist will be invited to join the IRIB.
The lyrics of "Salute, Commander!" are intended for children born in the past decade, as they proclaim that Khamenei has "summoned his children" who were born between 2 and 11 years ago.
It also pays homage to Soleimani, vowing that all children will be "Qassem-like" figures at Khamenei's beck and call.
Repetitive, 'catchy' propaganda
The song was first performed in Jamkaran Mosque in Qom on March 18 -- the 12th Imam's birthday -- and its music video was repeatedly broadcast on state TV channels before the Nowruz holidays.
When schools re-opened after Nowruz, the Ministry of Education reportedly sent a memorandum to all schools, both public and private, compelling administrators to play the song every morning before class, and during recess.
Kourosh, an Iran-based music professor who asked that only his first name be used, told Al-Mashareq the song resembles propaganda songs produced by totalitarian regimes such as North Korea, China, the Soviet Union and Nazi Germany.
Although the song may not initially appear "catchy", he said, the rhythm and lyrics have been composed in a way that "sticks in one's head" and are easily repeated.
Played over and over across Iran in public spaces, the song has drawn mockery on social media, with users altering the lyrics to reflect their criticism of Khamenei's shortcomings and those of the regime.
As a rumoured rebuttal effort, a number of Iranians -- mainly women -- have been uploading videos of themselves on Instagram, mouthing the song's words or signing along, complete with the salute gestures at the refrain.
Most are not wearing head coverage and have manicured, painted nails and heavy make-up, a departure from the Islamic Republic's "norm" for women.
Observers say these individuals, many of whom live outside Iran, are affiliated with the regime or compensated by it. Some say they have been recruited to show the song is "national", as the regime claims, rather than political.
Sing-alongs are out of tune
Sing-along ceremonies held in big arenas across Iran have caused a stir, with many Iranians saying they hit the wrong note.
According to numerous reports, many participants are forced to attend by their workplace or school, while others are compensated for doing so.
A 42-year-old mother in Tehran, who wished to remain anonymous, said she and a number of other parents protested against a school trip to one of the sing-along ceremonies.
School administrators told them their children's grades would be negatively affected if they did not participate, she told Al-Mashareq.
Many expressed anger that the celebratory sing-along ceremonies were held even as mourners gathered in Abadan following the collapse of the Metropol building, which left dozens dead or injured.
A large ceremony at Tehran's Azadi Sports Arena with thousands of participants, mostly schoolchildren, was held on the day after Metropol collapsed.
The ceremony sparked outrage and protests in Abadan, where people chanted anti-Khamenei slogans and pointed to the apparent "joy" in Tehran while Abadan was facing "bloodshed".