Hizbullah-affiliated al-Mahdi schools in Lebanon recently required that their students take a test on the life and accomplishments of Islamic Revolutionary Guard Corps Quds Force (IRGC-QF) commander Qassem Soleimani.
The test, administered on February 10th to students in the network of private schools operated by Hizbullah, included an audio recording that extolled Soleimani's so-called "virtues" to students.
Soleimani, who was killed in a US airstrike in Baghdad in early January, had personally overseen more than 20 acts of aggression in the region.
He was directly responsible for the death and injury of innocent people, and undermined security and stability in countries throughout the region.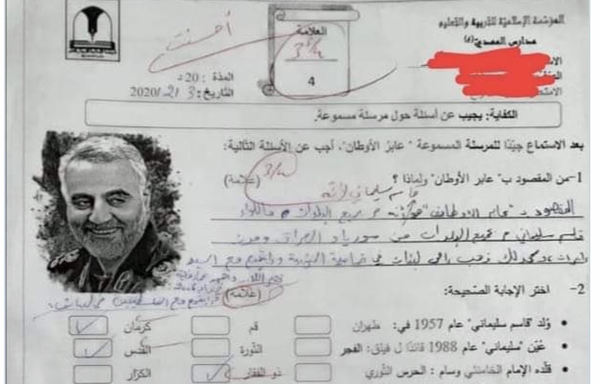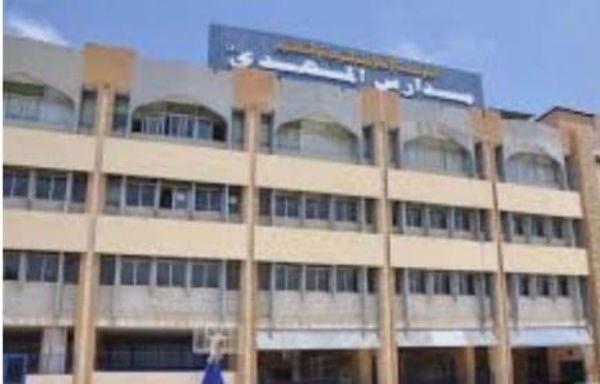 Lebanese educators who spoke with Al-Mashareq denounced Hizbullah's test as dangerous brainwashing, saying it deliberately sought to indoctrinate children.
Test questions asked students to name Soleimani's birthplace, the unit in the IRGC that he was in charge of since 1988, the type of IRGC medal he was awarded by Iran's Supreme Leader Ali Khamenei, and the date of his death.
The test also asked the students to list two of Soleimani's attributes.
'Brainwashing children'
"I was shocked when I learned that al-Mahdi schools gave their students a test on Soleimani," sixth grade student Zuhair Ezzedine, 11, told Al-Mashareq.
"He is a terrorist and he fought in Yemen and Syria and killed innocent people," he said. "He was sending money and weapons to Hizbullah."
"Lebanese figures like Fayrouz and Gibran Khalil Gibran are supposed to be chosen as test topics, not Soleimani," he added.
"The party is brainwashing children my age."
"We do not want to be a generation that belongs to Iran, but to Lebanon," he said. "It is a shame that students at al-Mahdi schools are being subjected to this, when they should be learning what can be useful for their future."
Through its school curricula, Hizbullah "is working to instill its ideology in the minds of Shia students at an early age", academic researcher and political activist Mona Fayyad told Al-Mashareq.
The party "has turned its schools and husseiniyas into centres through which it seeks to cement the rituals of Iranian life established by the IRGC", she said.
These facilities "hold Iranian events throughout the year to foster Iranian social life" among Hizbullah's base in Lebanon, "its incubator environment", she added.
It is noteworthy that Hizbullah "teaches students in its schools and its scout troops the importance of martyrdom at an early age", Fayyad added. "Sadly, parents are aware of the danger this poses, but keep silent."
Propagating Wilayat al-Faqih
The educational model presented by Hizbullah in its al-Mahdi and al-Mustafa school networks falls within its religious ideological structure, said An-Nahar newspaper education sector editor Ibrahim Hayder.
The party does not hide the fact that it is attempting to build a generation that is loyal to the doctrine of Wilayat al-Faqih (Guardianship of the Jurist), which calls for allegiance to Khamenei, he told Al-Mashareq.
"Al-Mahdi schools are part of the party's educational and scout institutions and contribute to educational mobilisation centered around the doctrine of Wilayat al-Faqih and the propagation of its culture," he said.
This heavy focus on Iran comes "even though these schools are licensed by the Lebanese state and adhere to the Lebanese curriculum", he said.
Students at al-Mahdi schools "learn the required Lebanese curriculum and then undergo special programmes that focus on partisan religious education".
This has developed to the point that the party is building "an organised partisan generation under a centralised totalitarian administration", he said, where students are taught not to deviate from Iran's goals, objectives and authority.
New generation of recruits
"It is not surprising that the party is subjecting students at al-Mahdi schools, which have more than 25 branches in Lebanon, to a test on Qassem Soleimani," Hayder said.
This is because "invoking him is part of the mobilisation aimed at having them renew their loyalty to Iran and follow the path laid by Soleimani and Hizbullah", he said.
He explained that these schools, al-Mahdi scouts and many other institutions connected with Hizbullah "serve as a reservoir that supplies the party with new generations" of recruits.
"It is not surprising that these schools later on produce fighters for the party and volunteers to work on its projects in Lebanon and the region," he said.