The Middle East drought, which is worsening at an unprecedented pace, presents a serious risk to regional food security and the environment.
The lack of rain and decline in river water threaten more than 12 million residents of Syria and Iraq, where the current dry season is the worst in decades.
Residents of some areas report drinking water shortages, while reduced river flow affects both electricity generation and crop irrigation.
This has raised concern about the increasing humanitarian needs of communities already reeling from the repercussions of conflict and displacement.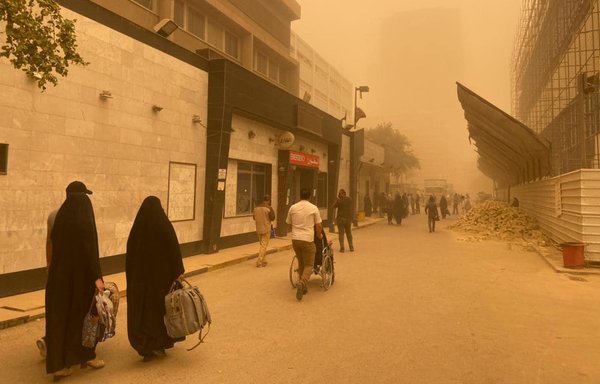 More than five million Syrians depend on the Euphrates River, where the water flow has dropped to below 200 cubic metres per second.
The shortage of water has in turn reduced the amount of land available for cultivation, especially in al-Jazeera region and areas east of the Euphrates, which used to be described as the country's breadbasket.
War exacerbated water woes
"The drought and desertification crisis escalated with the onset of the Syrian war," said Council of Syrian Tribes and Clans spokesman Mudar Hammad al-Asaad.
The Syrian regime's brutal crackdown on its people, supported by Russia and Iran, "disrupted thousands of agricultural projects", he said.
Iran-aligned militias are now taking over vast tracts of agricultural land in the Euphrates desert and al-Ghab plain in northwest Syria, after killing and displacing landowners or forcing them to sell, he said.
These lands have been turned into settlements for militiamen, military camps and closed-access areas, where no agricultural activity takes place, he said.
The current level of agricultural production is insufficient to meet the needs of Syrians, especially with the decline in the groundwater level as a result of excessive and unregulated digging of wells and encroachment on rivers, al-Asaad said.
This is in addition to the government's lack of interest in improving the quality of seeds and failure to provide tractors and harvesters to farmers, and "the use of fertilisers in the manufacture of explosives by the al-Assad regime and the militias", he said.
Meanwhile, he said, locally produced crops are being smuggled and sold outside Syria by the regime and the militias to obtain hard currency.
Iran diverting water from Iraq
Across the border from Syria, a full 40% of Iraq is now considered a desert area.
The situation has forced officials to adopt an agricultural policy that takes into account the low water reserves of the Tigris and Euphrates rivers and their tributaries.
"Wheat production in the 2022 season will not be sufficient to meet the population's needs," said Al-Iraqiya University economics professor Abdul Rahman al-Mashhadani.
"The quantities produced may decrease as a result of the scarcity of water to 2.5 million tonnes, which is half of what the country was producing two years ago," he said.
Iraq relies on river water inflows from Turkey and Iran to irrigate its arable lands, he said.
But the decrease in its water quotas and severe waves of drought, which are expected to continue, have turned the Tigris into a watercourse with limited resources, while the Euphrates has completely dried up in its southern sector, he said.
"Iraq lost half of its inflow of the waters of the Tigris and Euphrates rivers because of Turkish dams and Iran's cutoff of most tributaries," al-Mashhadani noted.
He called on Iraqi authorities to negotiate an increase in the country's water quotas and to adopt water policies that reduce waste and increase water reserves from rainwater.
In early May, Iraqi Minister of Water Resources Mahdi Rashid al-Hamdani reiterated "Iran's failure to share the [burden of the] damage caused by the drought with Baghdad", as Turkey has done.
Iranian projects are depriving Iraq of 20% of its water resources, he said, accusing Iran of diverting 90% of the rivers they both share.
Recent photos and videos show the total disappearance of Lake Hamreen in eastern Iraq's Diyala province, as a result of Tehran's diversion of dozens of tributaries that feed into rivers and lakes.
Iraqi activists recently circulated a video showing a young man running in the middle of the Tigris, which indicates the gravity of the crisis.
Water, Iraq's biggest challenge
Iraq will face a water deficit of an estimated 10 billion cubic metres or more by 2035, Iraqi President Barham Saleh said in an April 27 statement.
He pointed to Lake Sawa, once described as "the pearl of the south", noting that it has now become a salty, barren lake bed.
Iraq has complained about Iran's water policies before, suggesting that they violate the 1997 United Nations Convention on the Law of Non-Navigational Uses of International Watercourses.
An Iraqi government team comprising security experts, diplomats, university professors and researchers is reviewing the terms of the 1975 Algiers Agreement between Iraq and Iran to settle border and water border disputes.
According to the Iraqi Ministry of Environment, the water shortage issue is the biggest challenge facing Iraq today, which now ranks fifth in the world among the countries most affected by climate change.
The increase in suffocating dust storms that paralyse public life is an indication of that change, while forecasts by environmental and weather experts indicate the annual number of dusty days will reach 300 in 2050.
Iran also has been suffering for years from a decrease in rainfall, and water reserves in dams across Iran have dropped to less than 40%, resulting in water shortages -- and accompanying protests -- in several cities last summer.