MANAMA -- The US navy said Sunday (January 23) it had stopped a ship carrying 40 tonnes of a fertiliser that can be used to make explosives as it travelled from Iran along a route previously used to smuggle weapons to Yemen's Houthis.
The navy said it boarded and searched the ship, which last year was caught carrying thousands of weapons, and handed it to Yemen's coast guard, after intercepting it in international waters in the Gulf of Oman last Tuesday.
US guided-missile destroyer USS Cole and patrol ship USS Chinook "interdicted the stateless vessel transiting from Iran... along a route historically used to traffic weapons to the Houthis in Yemen", the Bahrain-based US 5th Fleet's statement said.
"US forces discovered 40 tonnes of urea fertiliser, a chemical compound with agricultural applications that is also known to be used as an explosive precursor," it added.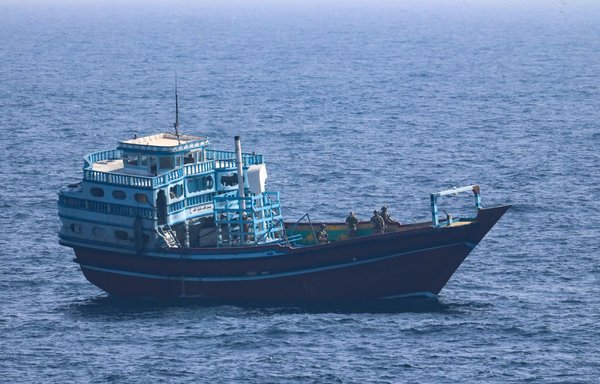 The interception comes at a time of high tensions in the region after a deadly drone-and-missile attack on Abu Dhabi by the Houthis prompted the Saudi-led coalition to launch air strikes on Yemen last week.
The same "stateless fishing vessel" was found to be carrying thousands of AK-47 assault rifles, rocket-propelled grenade launchers and other weapons when it was stopped last February, the US Navy said.
The US Navy conducts regular maritime security operations in the region, which include patrols to ensure the free flow of commerce and to disrupt the transport of illicit cargo that often funds terrorism and unlawful activity.
"We have enhanced our presence and vigilance across regional waters," the 5th Fleet's Vice Adm. Brad Cooper said in a statement released last week.
"This reflects our continued commitment to confront destabilising activities that disrupt the rules-based international order which underlies maritime security in the Middle East," he added.
Iran's destabilising activities
The Saudi-led coalition and its allies, including the United States, and the United Nations (UN) regularly accuse Iran of providing military support to the Houthis, claims that Tehran denies.
A confidential UN report concluded that thousands of rocket launchers, machine guns, sniper rifles and other weapons seized in the Arabian Sea by the US Navy in recent months likely originated from a single port in Iran, The Wall Street Journal reported January 8.
Iran uses small wooden boats departing from Jask port on the Sea of Oman to smuggle such weapons, according to the UN report by the Security Council panel of experts on Yemen, which cited interviews with Yemeni crews and data from navigational instruments.
This supply of arms violates UN Security Council Resolution 2216, which calls for all parties in Yemen to immediately and unconditionally end violence.
"Iran's supplies of weapons and ammunition to the Houthi insurgency have been well documented in a series of maritime seizures of dhows dating back to 2015," the Global Initiative Against Transnational Organised Crime said in its July/August 2020 report.
"Evidence has emerged to suggest that some of these Iranian weapons may subsequently be trafficked by criminal networks into the Horn of Africa from Yemen (or even be diverted while en route to Yemen)," the Risk Bulletin report said.