CAIRO -- The ISIS Hunters, a Russian-backed private security company that operates in Syria, has been expanding its mercenary recruitment operations in the country as Russia ramps up its assault on Ukraine.
The recruitment efforts come as the Russian military seeks to fortify its ranks in Ukraine by transferring hundreds of mercenaries from Syria to take part in its combat operations.
The ISIS Hunters are closely linked to the Wagner Group, a mercenary army financed by Yevgeny Prigozhin, an ally of Russian President Vladimir Putin, and even share an almost identical insignia.
Up to 20,000 fighters from the Wagner Group are fighting alongside Russian forces in Ukraine, a European official said Tuesday (April 19).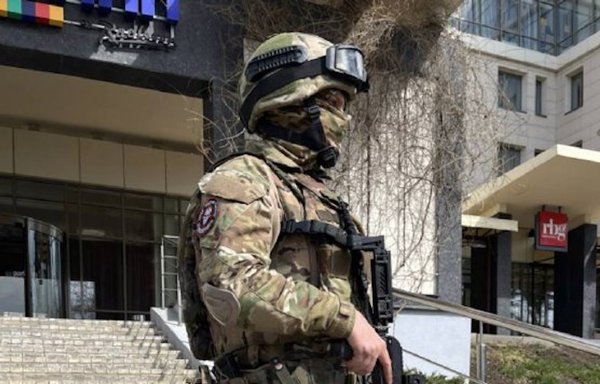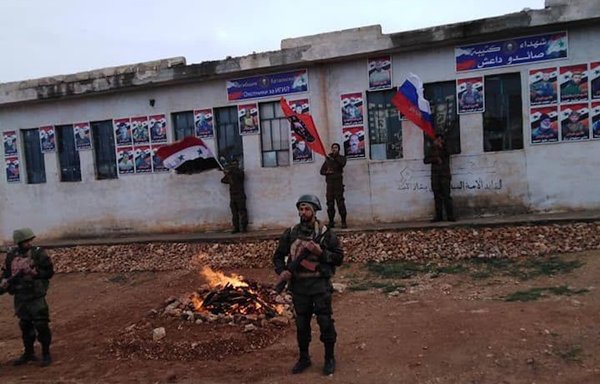 Among them are mercenaries from Syria and Libya.
By sending in Syrian mercenaries, observers said, Russia seeks to shield its own forces from casualties on the front lines, guard its back lines and secure any properties it seizes and intends to hold.
"Regarding their capabilities, it's infantry," the European official told AFP, speaking on condition of anonymity. "They don't have any heavy vehicles and weapons. It's much more infantry."
Bringing in mercenaries from Syria is a good deal for Russia -- but not so good for the Syrians, activists and analysts told Al-Mashareq.
It also makes a mockery of the "ISIS Hunters" moniker, they said.
Hunting ISIS in Ukraine?
In reality, it has been some time since the "Islamic State of Iraq and Syria" (ISIS) has been the target of the so-called ISIS Hunters, as the group's real focus is to secure Russia's many and varied economic interests.
A deployment to Ukraine will strip away this veneer of legitimacy even further, they added, laying bare the group's true nature as an army for rent.
Since the start of the Ukraine war, a number of Syrian contractors who specialise in recruitment for Russian-affiliated militias have been promoting the ISIS Hunters, Aleppo media activist Faisal al-Ahmad said.
Recruitment efforts are under way in Syria's coastal provinces, in the eastern province of Deir Ezzor and in rural areas of Hama and Homs provinces, where the militia is deployed to protect some facilities and oil wells, he said.
Recruiters have focused their efforts on men who have recently completed their mandatory military service, as this segment of the population suffers from unemployment and generally has no other source of income, al-Ahmad said.
The contracts being signed with the new recruits "do not explicitly stipulate that they will be transferred to Ukraine to fight", he said, though the large numbers of new recruits clearly indicate that this will be the case.
He noted that communication has been cut off between dozens of new ISIS Hunters recruits and their families.
Cannon fodder for Russia
"The Russian forces' resort to using mercenaries from Syria and some other countries is to be expected," Egyptian security expert and military analyst Abdul Karim Ahmed said.
This is due to the scale of the conflict in Ukraine and its anticipated duration, as well as Russia's need to secure the areas into which its forces advance, he said.
Some of the recruits are "pushed to the front lines to absorb the first shock", bearing the worst danger, he said, so that losses come from mercenary ranks and not the regular Russian army.
Others serve as security guards on the back lines, he added.
Mercenaries on rear guard duty are tasked with protecting the back lines of the advancing Russian army as well as some government buildings, "which are the tasks they essentially perform in Syria", he said.
Ahmed said there is a difference between the Russian and Syrian mercenaries in the ISIS Hunters.
"The Russians are veterans, and most had worked in the past in the government's special forces," he said. "They are accused of carrying out military operations in a criminal manner."
The majority of the Syrian mercenaries, on the other hand, has little experience in battle, especially the younger men, he said.
Scammers seek to profit
The newest Russian recruitment efforts in Syria also have spawned a number of scams, with various unscrupulous opportunists seeking to profit from the latest war, Deir Ezzor media activist Jameel al-Abed said.
In these scams, criminals posing as mercenary recruiters demand up-front fees from youth desperate to work, and then pocket the funds themselves, he said. The victims lose their money and never hear from Russian forces, which have no connection to the con artists.
These fraudsters have been exploiting the rampant unemployment in Syria by conning young men into believing that they are recruiters representing Russian forces, al-Abed said.
Some have been successful in their deception, as Syrian youth are eager to find work and as existing ISIS Hunters recruitment efforts are well known, he said.
The scammers demand an up-front fee of up to $2,000, and charge more if the applicant wants a document certifying that they have completed military service, or a security permit issued by the Syrian security services, he said.
The completion of military service is one of the Russians' conditions for accepting recruits, he explained, "as they do not accept those who are on active duty, or deserters, or those who have a security file for their opposition to the regime".
Most of the scammers are Syrian regime officers, security officials or individuals directly linked to the security services who enjoy their full protection, he said.