Immediately after attacking Ukraine, Moscow started demanding its "rights" in the ongoing talks in Vienna that are aimed at reviving the 2015 Iran nuclear deal, known as the Joint Comprehensive Plan of Action (JCPOA).
Moscow's demand reportedly blindsided the Iranian negotiating team, and made it clear that -- faced with a barrage of international sanctions -- Russia is willing to use Iran as a bargaining chip for its own economic interests, observers said.
Russian Foreign Minister Sergey Lavrov set out Moscow's new demands in a Saturday (March 5) announcement.
Before backing the Iran nuclear deal, he said, Moscow wants written assurances from the United States that Western sanctions imposed on it over the Ukraine war would not affect Russia's economic and military co-operation with Tehran.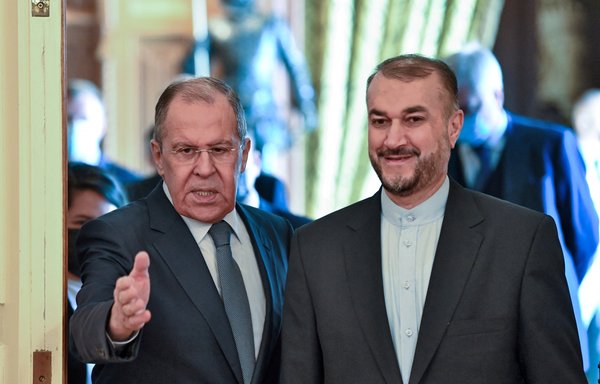 Iran said Monday it was seeking clarifications from Moscow, with foreign ministry spokesman Saeed Khatibzadeh saying "details" were needed.
Russia's demands for US guarantees could potentially delay reaching an agreement in the talks. Tehran has a substantial stake in the talks, as a successful conclusion to the negotiations could see a rollback of sanctions on Iran.
US Secretary of State Antony Blinken on Sunday said such demands were "irrelevant", AFP reported. Sanctions on Russia over its invasion of Ukraine "have nothing to do with the Iran nuclear deal", he stressed.
"Russia is trying to up the ante and broaden its demands with regard to the JCPOA," Undersecretary of State for Political Affairs Victoria Nuland told a Tuesday Senate Foreign Relations Committee hearing.
"We are not playing 'Let's Make a Deal'," she added, referring to a popular TV game show in which selected members of the audience make a deal with the show's host.
Tehran blindsided by Moscow
The Iranian regime has persistently -- and foolishly -- clung to Russia in negotiations with the West, on the assumption that Moscow would have its back, observers said.
In practice, however, Moscow has repeatedly proved willing to sacrifice Iran in pursuit of its own interests, including in Syria, where Russia has been gradually edging Iran out as it seeks to consolidate its economic and military influence.
The Islamic Republic has thrown its "neither West, nor East" slogan to the wind as it curries favour with Russia and China.
But Moscow has proven itself to be a fickle friend.
In a Monday phone call with Iranian Foreign Minister Hossein Amir-Abdollahian, Lavrov reiterated that Russia wants the revival of the nuclear deal to be accompanied by US guarantees that sanctions imposed in response to Russia's invasion of Ukraine would not apply to Russian trade or investment with Iran.
Lavrov's demands have blindsided Iran and disrupted the ongoing nuclear negotiations, with chief Iranian negotiator Ali Bagheri-Kani reportedly returning to Tehran only a day after he arrived in Vienna for the talks.
As a direct result of Russia's demands, the negotiations, which were supposed to have concluded last weekend, appear to have reached an impasse.
France Tuesday warned that further delays could stymie a revived nuclear agreement between world powers and Iran, while Washington said it would cede nothing to Moscow.
Isolated and disrespected
Iran has isolated itself from the West and bent over backwards to keep Russia and China happy, observers said. It now finds itself undermined by its so-called allies, on whom it depends.
Critics of Iran's 25-year deal with China, the details of which remain murky, say Tehran is virtually giving the country to Beijing on a platter.
Many now say that Russia, which has for decades sold its dilapidated weaponry to Iran at high prices, is taking the Iran nuclear talks hostage for its own gain.
Meanwhile, the Iranian people continue to face economic hardship.
Deep-rooted resentment towards Russia has been building since January, when Iranian President Ebrahim Raisi received a frosty reception in Moscow, where he had travelled to discuss "long-term co-operation within a 20-year framework".
Russian President Vladimir Putin failed to greet him at the airport, and Lavrov likewise did not show up at the airport to greet his Iranian counterpart.
There was no official welcome ceremony, per diplomatic protocol, at the Kremlin, underscoring Tehran's weakened status and Moscow's show of power.