As Iran sinks deeper into economic crisis, leaving many people struggling to afford food staples, a huge slab of the national budget is being funneled to institutions affiliated with the Islamic Revolutionary Guard Corps (IRGC).
Many of these institutions have close relations with Iran's leader Ali Khamenei, raising concerns about corruption at the top, Iran analysts said.
Approximately 70% of Iran's economy is dominated by the IRGC and its affiliates, they said, including the IRGC Quds Force, which is in charge of external operations in countries across the region.
The IRGC also has set up a vast network of money-laundering companies, some of which have links to China, whose existence occasionally comes to light when reports of their real activities are leaked to the press.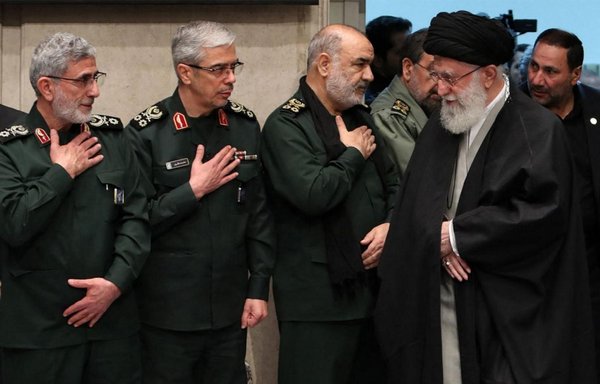 The inequitable distribution of Iran's national resources, which prioritises the Islamic Republic's foreign agenda at the expense of the Iranian people, has triggered regular protests as civilians demand their basic rights.
"Even the Islamic Republic officials explicitly admit that there is no justice in our revolutionary society," domestic daily Jomhouri-ye Eslami wrote February 1.
"Whether or not officials admit it, there is no doubt that our society is one of the worst with regards to the public's poverty and economic pressure."
A day later, Radio Farda obtained a "highly confidential" document that had been leaked from a meeting of the government's "Working Group on Preventing Basic Living Security Crises".
The document reveals that Iran's society "is in a state of subcutaneous explosion" and that "social discontent has increased by 300% in the past year".
The Iranian economy is at its worst in nearly two decades, with low growth, high inflation and continued high unemployment, economists warn.
Corruption at 'critical' level
In a recent report, published October 23, anti-corruption watchdog Transparency International places the level of financial corruption within Iran's defence and security spheres in the "critical" category.
In order to ascertain corruption levels in the countries it evaluates, Transparency International experts independently examine each country's political, financial, operational, personnel and defence industry indicators.
Iran has highly restrictive data protection laws, defence and security expert Babak Taghvai said.
Because of this, he said, "more than 90% of information related to the financial activities of institutions such as the IRGC and its affiliated economic institutions, as well as the Ministry of Intelligence, is categorised as highly confidential".
Taghvai said the IRGC, and especially its Khatam al-Anbiya Construction Headquarters, has taken advantage of the country's severe economic crisis to establish a monopoly on economic activity in many of these areas.
Despite its inexperience and lack of industrial infrastructure and of necessary specialised knowledge, the IRGC has become a contractor for oil and gas field development projects, Taghvai said.
"Such cases and statistics are considered merely the tip of the iceberg regarding the IRGC's profiteering and transferring public wealth into its own officials' pockets," said military and security analyst Kamran Parvareshkhah.
"Those who are found guilty, or accused, in recent corruption cases that have leaked most likely were caught out either because they did not pay the adequate amount of bribe to the higher-ranking authorities, or due to a dispute," he said.
These few companies and their officials have been chosen as scapegoats in order to expose the Iranian judiciary's alleged "fight against corruption", Parvareshkhah said.