The Combined Maritime Forces (CMF) on Wednesday (February 17) announced that UK Royal Navy frigate HMS Montrose has in recent days carried out two successful interdictions of illicit drugs in the Arabian Sea.
An HMS Montrose boarding team found the drugs, with an estimated combined wholesale value of more than $15 million, as it searched two suspicious vessels in back-to-back operations during a counter-narcotics patrol.
Close to 2,400kg of illicit drugs was found and seized from the first vessel, the CMF said.
On that vessel, the boarding team discovered "hundreds of bags and sacks of hashish, heroin and methamphetamine", the HMS Montrose boarding team leader said in a Royal Navy report of the interdiction.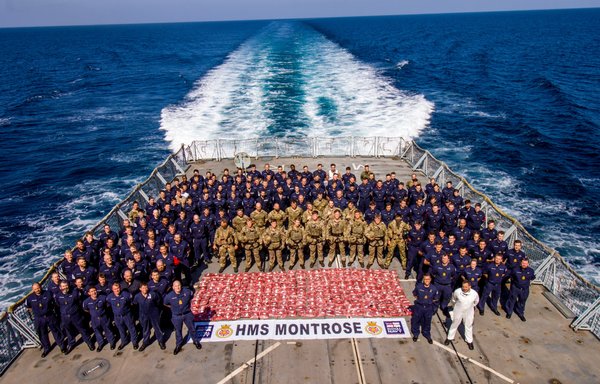 "Everywhere we looked onboard there were suspicious packages," he said. "We soon realised how much we had interdicted."
It took the team more than 10 hours to recover them all, he said.
Two days earlier, 275kg of heroin was seized from a dhow in the same area.
"We discovered the drugs in large bundled sacks, all containing individually wrapped packages," the boarding team leader said. "As soon as we opened the bags we were pretty confident it was an illicit substance."
"These interdictions have prevented significant amounts of illicit substances being sold on the streets, whilst denying criminal groups an income source often associated with the funding of terrorism," said HMS Montrose commanding officer Ollie Hucker.
International maritime task force
The frigate is part of an international task force focused on policing Middle Eastern waters to stop criminal and terrorist activity, the Royal Navy said.
CMF is a 33-nation maritime partnership that works to uphold the International Rules-Based Order (IRBO) by countering illicit non-state actors on the high seas and promoting security, stability and prosperity.
The CMF's Combined Task Force 150 (CTF 150) has conducted a string of recent operations in the Arabian Sea and the Indian Ocean, seizing an estimated $11 million of various kinds of illegal drugs since October.
"As Commander of CTF 150, my team is resolute in our objective to promote security, stability and prosperity in an area which comprises some of the world's most important shipping routes," said Commodore Dan Charlebois.
The latest interdiction "was a direct result of the collaborative effort between Task Force staff and HMS Montrose," he said. "I look forward to future successes as we continue to work together as close partners towards our common goals."