WASHINGTON -- The United States on Tuesday (December 7) slapped fresh sanctions on a dozen Iranian officials and entities for "serious" human rights abuses.
The sanctions, announced by the US Treasury and State Department, targeted Iranian government officials and organisations involved in the repression of protesters and political activists.
They also targeted prisons where activists have been held in brutal conditions.
The Treasury sanctioned seven Iranian individuals and two Iranian law enforcement entities in connection with serious human rights abuse.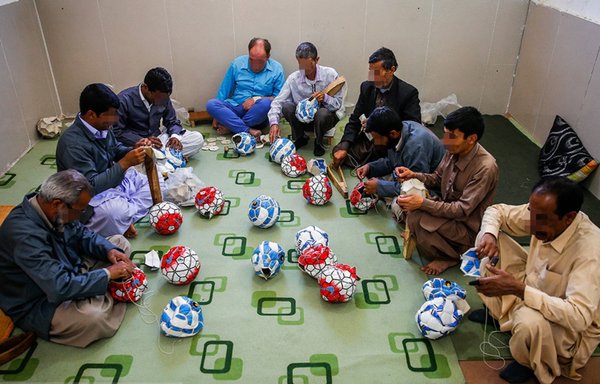 The State Department identified two entities and two individuals "who are responsible for certain gross violations of internationally recognised human rights in Iran".
This designation included two prisons, the Zahedan prison in Sistan and Baluchestan province, and Esfahan Central Prison, which are "responsible for extrajudicial killings and arbitrary detention".
Iran Prison Atlas (IPA), a database of political prisoners and prisoners of conscience in Iran, created by the non-profit organisation United for Iran, lists numerous violations that have taken place at Zahedan prison.
"Every year many executions take place," IPA reports.
"Systematic misbehaviour toward prisoners in Zahedan prison, including forcing them to pay high amounts for their basic needs such as bread, has been documented by various human rights bodies," it said.
"It is estimated that this prison holds three to five times more people than its capacity. Dozens of political and security prisoners are held in this prison."
According to IPA, Esfahan prison -- also known as Dastgerd prison -- is far over its capacity as well.
"Esfahan's central prison has at least one security wing that is run by intelligence authorities," IPA said.
"Based on evidence and statements of witnesses, IPA has concluded that the Ministry of Intelligence arrests and interrogates those arrested on political and conscience charges in the security wing of Esfahan's central prison."
Brutal crackdown on protests
The latest round of US sanctions singled out officials and entities involved in brutal crackdowns on protests in 2009 and 2019.
Among them is Hassan Karami, commander of the special unit of Iran's Law Enforcement Force (LEF), which is focused on crowd control and protest suppression, the Treasury said.
After many weeks of silence, Karami on November 28 finally admitted that 67 people had been arrested for taking part in popular protests in Esfahan province against the Iranian regime's mismanagement of the country's water crisis.
Karami said these individuals, whom he described as the "main agents and provocateurs" of the protests, have been detained by the "inconspicuous intelligence agents of the special unit".
Also sanctioned was Gholamreza Soleimani, who commands the Basij Resistance Forces, a paramilitary group aligned with the Islamic Revolutionary Guard Corps (IRGC), which also was involved in the deadly 2009 and 2019 crackdowns.
This is not the first time US sanctions have targeted the LEF.
On May 20, 2020, the Treasury designated Interior Minister and Iranian National Domestic Security Council chairman Abdolreza Rahmani-Fazli, seven law enforcement officials and a provincial commander of the IRGC.
The Treasury alleged Rahmani-Fazli had issued orders authorising the LEF to use "lethal force in response to the November 2019 protests, resulting in violence against peaceful protesters and bystanders".
"His orders led to the killing of many protesters, including at least 23 minors."
The May 2020 sanctions also targeted IRGC Brig. Gen. Hassan Shahvarpour Najafabadi, LEF commander Hossein Ashtarifard and deputy commander Ayoub Soleimani.
Disrupting human rights abuses
"The United States is committed to promoting democracy and accountability for those who abuse human rights around the world," US Secretary of State Antony Blinken said in a Tuesday statement.
"The United States will utilise its full range of tools to highlight and disrupt these abuses of human rights," he said.
The Treasury "will continue to defend against authoritarianism, promoting accountability for violent repression of people seeking to exercise their human rights and fundamental freedoms", said Andrea Gacki, head of the Treasury's sanctions office.
The expansion of the broad US sanctions on Tehran came after the first direct negotiations on limiting Iran's nuclear programme in five months failed to make headway, with both sides blaming the other for unwillingness to give ground.
But talks are set to resume Thursday, Tehran's main negotiator said during a visit to Moscow.
A US official, speaking on condition of anonymity, was cautious about the next round.
"We are much less concerned about the when, and much more concerned about... whether Iran comes back to Vienna prepared to engage in good faith, prepared to engage sincerely, and steadfastly as we are," the official said.