AMMAN -- The first ever Euro-Arab Border Security Conference kicked off Wednesday (December 1) in Amman, with representatives of 44 countries seeking to develop an international dialogue on border security.
The two-day conference was organised by the European Border and Coast Guard Agency (Frontex) and the General Secretariat of the Arab Interior Ministers Council (AIMC) in co-ordination with Jordan's Public Security Directorate.
More than 100 representatives of border authorities from 44 Arab and European countries are attending the event, which also is addressing shared efforts to combat migrant smuggling, human trafficking, cross-border crime and terrorism.
The European Commission, the United Nations Office for Drugs and Crime, International Organisation for Migration and the International Centre for Migration Policy Development also are taking part in the conference.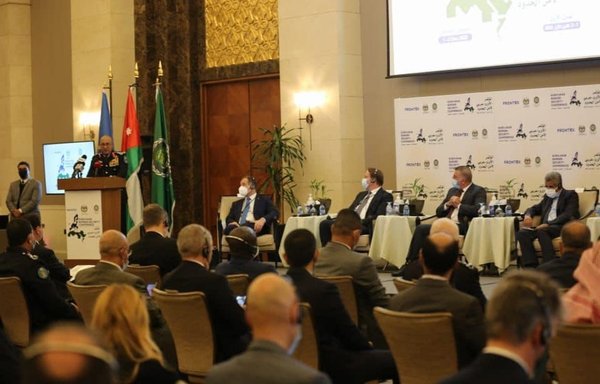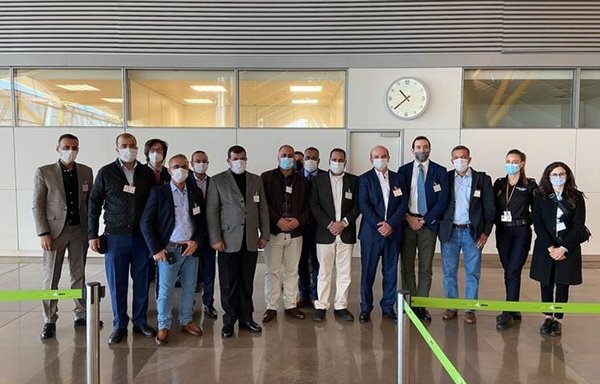 Yemen is among the participating Arab states, represented by Deputy Minister of Interior Maj. Gen. Mohammed al-Amir, the Yemeni news agency, Saba, reported.
Al-Amir survived an assassination attempt in Aden in 2017.
A delegation from Kuwait's Ministry of Interior includes Col. Abdullah al-Ajami of the Department of Border Security and Col. Yousef al-Nasrallah of the General Department of the Coast Guards, the Kuwait news agency (KUNA) said.
Jordan's leadership
Frontex executive director Fabrice Leggeri said Jordan was well-positioned to convene the event, due to the effective partnership between European and Jordanian border security agencies, the Jordanian news agency, Petra, reported.
He noted that the shared goal of the conference participants is to develop a constructive dialogue with partners in the fields of combating crime and enhancing border security.
AIMC secretary-general Muhammad bin Ali Koman expressed his appreciation for Jordan's leadership, government and people for their role in supporting and promoting international security and peace.
European Union commissioner for neighbourhood and enlargement Olivér Várhelyi voiced his hope that the conference would be "a landmark in the co-operation between the European Union and the Arab world".
He stressed the importance of the inaugural event, noting that the Arab world is experiencing "important movements of population, of various nature and caused by multiple factors and events".
These include conflicts and insecurity in the region and beyond, he said, which "are pushing people to flee their country to save their lives", as well as the ravages of climate change.
"Jordan knows all too well the impact of conflict-induced movements of population, as do Lebanon, Egypt and Libya, just to name a few," Várhelyi said.
Jordanian Interior Minister Mazen Faraya had earlier noted that the kingdom still hosts more than 1.3 million Syrian refugees.
Faraya pointed to the importance of border control in the face of common challenges "and the urgent need for co-operation, co-ordination and exchange of experiences in the Euro-Arab framework".
Countries of the region need support to prevent infiltration, smuggling and drug trafficking, he said, stressing the need for increased co-ordination and co-operation at all levels to face the consequences of the global coronavirus crisis.
This would include agreement on health protocols at border crossings, he said, especially in light of new variants of the COVID-19 virus.
'In this together'
Várhelyi said countries of the region "are countries of origin, transit and destination for growing flows of migrants in search for a better life".
"All this points to a growing risk of large population movements across the Arab world, with tremendous challenges for the region in the decades to come," he said.
"Given the close links between the European Union and the Arab world, it will have a huge impact on Europe as well, unless we address these challenges jointly and swiftly," he added.
"This is precisely why this conference is so important: we are in this together, we need to tackle the multiple challenges of migration together."
He identified one of the key common challenges as working to counter irregular migration, "and in particular crack down [on] the criminal networks behind migrant smuggling and trafficking in human beings".
"These networks pose a direct threat to our security and stability," he said.
Solid foundations
Earlier this year, Frontex and public health experts from European member states organised a training event on operational occupational health and safety for 24 officers of Jordan's border, customs and general intelligence departments.
The programme, held June 29 to July 1, included theoretical and practical training to enhance understanding of how to prevent and mitigate risks related to health and safety in the frontline of border control.
In addition to training, Frontex donated Personal Protection Equipment (PPE) for the personnel of Jordan's al-Omari border crossing with Saudi Arabia.
In October, Frontex organised a study visit for 14 Jordanian officers to the Madrid Airport and the General Commissariat of Policía Nacional to share experiences, resources and knowledge, Frontex said.
It was held within the framework of Frontex's EU4BorderSecurity project.
The visit was the result of the ongoing co-operation between Frontex and Jordan, as well as one of the activities developed as a response to the COVID-19 pandemic by the EU4BorderSecurity.
Frontex said it has identified co-operation with partner countries in the Middle East and North Africa as one if its priorities.