BEIRUT -- The Beirut port explosion of August 4, 2020 inflicted destruction of enormous magnitude on the Lebanese capital, killing more than 200 people and ripping apart residential, commercial and industrial buildings.
Business owners in neighbourhoods near the port -- including al-Karantina, Mar Mikhael and Gemmayzeh -- whose shops and inventories were cast asunder by the blast saw their livelihoods melt away before their eyes.
As international relief efforts got under way, however, some learned they were eligible to receive financial assistance from the United States Agency for International Development (USAID) to help them rebuild after the crisis.
Within days of the explosion, the United States announced it was providing $18 million in humanitarian assistance to Lebanon via USAID, including more than $15 million to support emergency response efforts.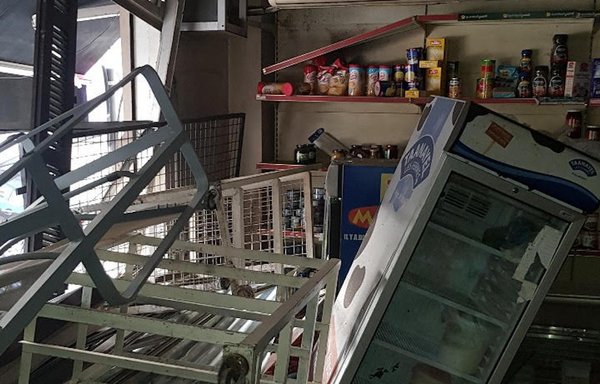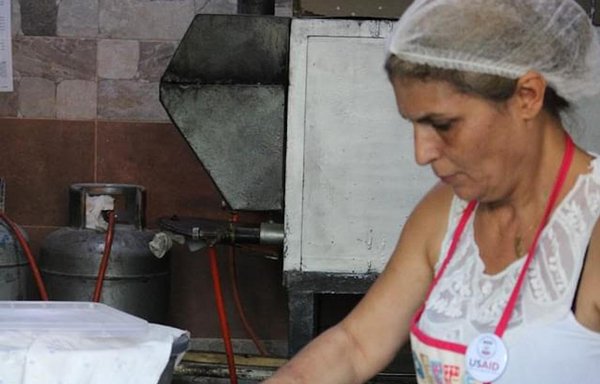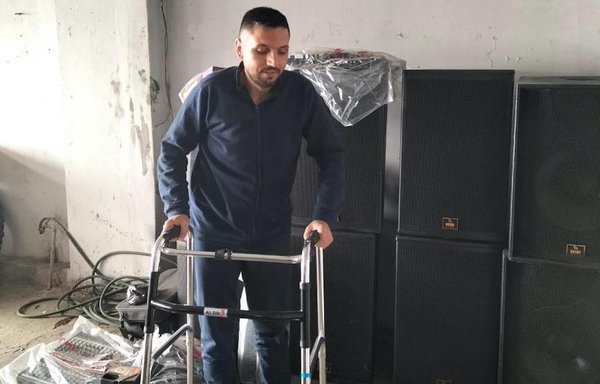 Sound engineer Danny Milad Salameh, 36, who suffers from multiple sclerosis, was among those who received help from USAID.
Salameh had just finished setting up his own shop to sell and rent sound equipment for parties when the blast ripped through it, he said, destroying the shop and all the equipment inside.
"For a moment, I lost whatever hope I had left in my life," he said.
"But USAID revived my spirit through the Lebanese Federation of Physically Disabled Persons, by stocking my store with sound equipment and devices to get my business started," he said, as well as paying his rent.
"Their initiative is absolutely wonderful and a bright spot in our dark lives."
Continuous support
In a street in al-Karantina near the Beirut port, Ibtisam Maroun stood in the middle of her manakish bakery, cheerfully fulfilling customers' orders.
Her bakery and its electrical equipment suffered extensive damage in the blast.
"I did not expect the bakery to be back up and running this quickly following the Beirut port explosion," she said. "Without the valuable assistance provided by USAID, I would not have been able to resume operations last November."
"The agency furnished the bakery with a new refrigerator and a kneading machine," said the 55-year-old mother of four.
"The United States has stood by us and continues to do so, and there are not enough words to thank them for their continued support to the stricken Lebanese people," Maroun said.
USAID contributed to the rehabilitation of 46 stores and the provision of equipment, technical assistance, and marketing support to enable owners to get their businesses back up and running.
Among them is a mini market in Gemmayzeh, owned by Habib Abdel Masih.
"The port explosion caused severe damage to my shop, and rehabilitating it is beyond my financial means," Abdel Masih, 56, told Al-Mashareq.
"I felt that my family's source of livelihood was lost," he said, noting that electrical appliances in the store -- including the refrigerated case where vegetables are stored -- suffered damage he could not afford to replace.
"I was surprised to receive a new vegetable refrigerator provided by USAID," he said. "It is indeed a valuable initiative that has reopened the door of my store."
"A thousand words of thanks are not enough to express my gratitude to the United States and its partners, who revived my spirit and my work, and continue to stand by the side of thousands of Lebanese in their plight," he said.
'From my heart'
USAID and its partners also launched funding initiatives for civil society organisations and small and medium-sized enterprises, which helped to revive these establishments and create hundreds of job opportunities.
The Bokja Design company, which is based in downtown Beirut, launched "From my heart support for Beirut", to help around 6,000 affected families.
The company, whose main offices and showroom in al-Saifi area in downtown were damaged in the blast, is implementing a USAID-funded project aimed at providing families with bedding, and work for artisans.
"Despite the damage to our showroom in al-Saifi, we took the furniture of the damaged homes and reupholstered them in our factory in Basta al-Tahta free of charge," company chairwoman Gladys Abou Diwan Saliba said.
"Our work drew the attention of USAID, which wanted to help those affected," she said. "We made, with funding from the agency, 100 bed quilts, which were distributed to those affected through [various] organisations."
The project provided work and income for a number of unemployed upholsterers, she said.
"In practical terms, the American support was very important, and gave us additional support to extend a helping hand to the Lebanese during difficult times," Saliba said.