The omission of women from a prominent billboard image in central Tehran is the latest reminder of the Iranian regime's sexist views toward women.
The billboard, which stands along Vali-e Asr Street, the longest street in Tehran, and is one of the largest billboards in the capital, has featured an advertisement for Iranian-manufactured appliances since mid-October.
The image features 10 men standing next to various electric appliances in apparent celebration. The advertisement came after a ban on South Korean appliances stemming from an oil payment dispute between the two countries. Iran's leader Ali Khamenei issued the ban.
Many Iranians took to social media to criticise the omission of women, who, they said, are also part of the manufacturing process in Iran and work in factories, albeit in smaller numbers than men.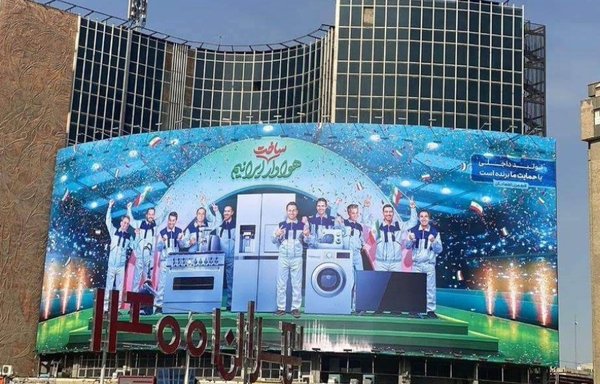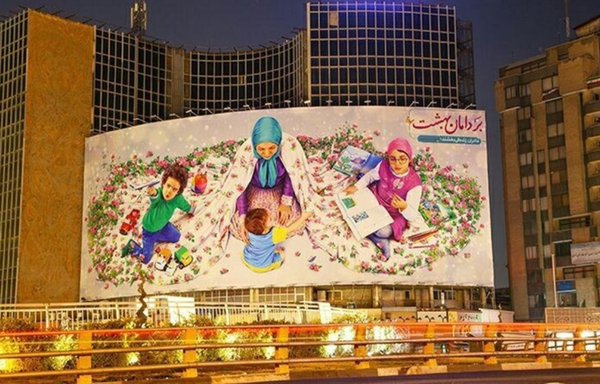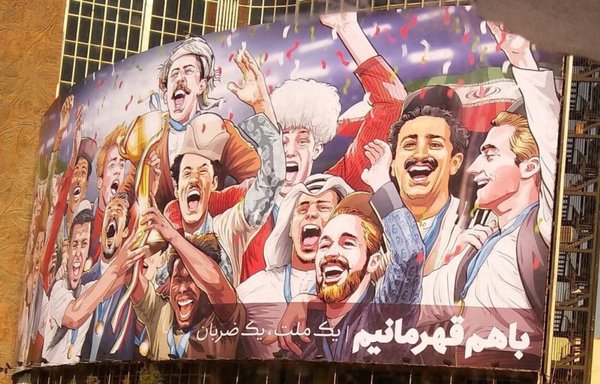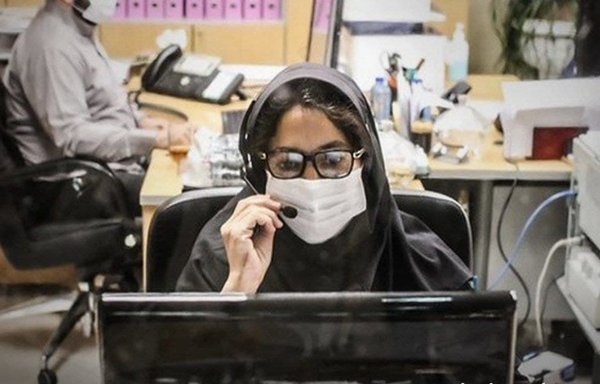 The majority of Tehran billboards are commissioned to the Owj Cultural and Media Organisation, which is affiliated with the Islamic Revolutionary Guard Corps (IRGC).
The advertisement is not the first time that Owj has blatantly omitted women from its images.
Women were also conspicuously absent from the same billboard in 2018 when it was part of a campaign to boost Iranian football players heading to the World Cup that year.
The campaign, dubbed "We are heroes together", showed a number of ordinary, enthusiastic men from all Iranian ethnicities -- and no women.
Backlash from the public and some domestic media outlets forced Owj directors to add women to the image later.
When women do appear on public images, Owj depicts them only as domestic creatures -- mothers at home minding their children -- as it did on the same billboard, also in 2018.
Sexist views
Such misogyny is endemic among top Iranian officials, who are quick to blame women for Iran's slow population growth even as they erase their presence.
In mid-October, IRNA quoted Mohammad-Mehdi Tondgouyan, an official at Iran's Ministry of Sports and Youth, as complaining about the low number of women who are ready for marriage.
For every 122 men who are ready and willing to get married, "only" 100 women are in the same situation", Tondgouyan said, adding that these numbers demonstrate a trend toward "the downward slope of population decline".
In early November, the Iranian government announced that in 2020, the number of newborns had decreased by 0.5%, a "worrisome fact".
For the regime, women appear to be just that -- facilitators for population growth.
Women's active participation in society has declined overall since the Iranian Revolution in 1979 as a result of restrictions implemented by the regime.
Only 12% of women have a role outside their home, according to the latest official figures published by Iran's Statistical Centre in 2015.
Women rarely hold official government positions in Iran. Members of the Guardian Council, Expediency Council and the Assembly of Experts are all men, and no female presidential candidate has ever been approved to run for office -- despite there being no rule against the participation of women in Iranian politics.
The lack of participation comes from active efforts by the regime to encourage women to stay home, especially under former two-term president Mahmoud Ahmadinejad (2005–2013).
The 2006 reduction of the number of years of government service that women need to qualify for retirement, for example, was interpreted as part of an effort to encourage women to quit the government workforce.
Men need to work for 30 years before qualifying for retirement, whereas women, who used to be in the same situation as men, have, since the Ahmadinejad era, been required to serve only 25 years before they qualify for retirement.
While the regime sells these decisions as positive gains and special advantages for women, many see them as made to keep women home and away from active participation in society.
Many social media users expressed concern about another recent decision by President Ebrahim Raisi's administration, which orders women to continue teleworking even after the coronavirus pandemic if they are not essential workers.
"Might as well not allow women to leave their homes," one Twitter user wrote.
"So they really mean to tell women to sit the hell at home," another said.
Women's rights
The state of women's rights remains deplorable in Iran, according to a March United Nations report by Javaid Rehman, the Special Rapporteur on the Situation of Human Rights in Iran.
The major focus of Rehman's report was the human rights situation of women and girls, which he considered largely abysmal and unacceptable.
"One of the most concerning issues in Iran today when it comes to the rights of women and girls is the issue of child marriage," he said in a statement.
"The government and other leaders in the country must raise the marriage age now and introduce further policies and programmes to reduce this practice in the country."
Rehman's report also highlighted serious concerns regarding domestic violence. Some positive steps are noted, such as a law against acid attacks, but Rehman pressed the Iranian government to do more.
"Existing protections against violence are insufficient to comprehensively safeguard women and children," he said.
"While some positive steps -- such as in education and in citizenship rights -- are recognised, egregious gender-based discrimination persists in law, practice and societal attitudes, disempowering women and girls from participating and contributing in society," Rehman stated.