GENEVA -- A stinging report from the United Nations (UN) Human Rights Council is calling attention once again to how women and girls are treated as "second-class" citizens in Iran.
The report cites domestic violence, thousands of marriages of underaged girls, and continuing entrenched discrimination in law and practice.
"One of the most concerning issues in Iran today when it comes to the rights of women and girls is the issue of child marriage," Javaid Rehman, the special rapporteur on the situation of human rights in Iran, said in a statement Monday (March 8).
According to Iranian law, a girl as young as 13 years can marry, while girls even younger can legally get married with judicial and paternal consent.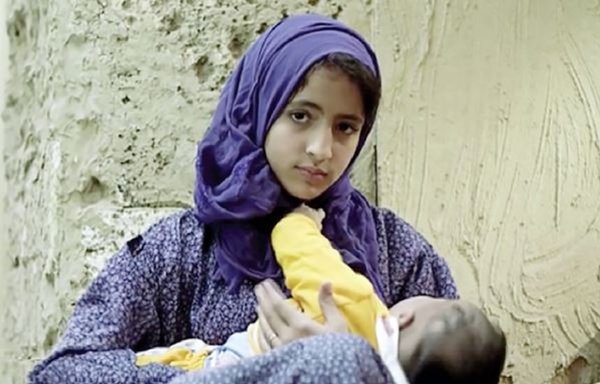 In the six-month period ending last September 21, over 16,000 girls aged between 10 and 14 years were married, according to official figures.
Generally, these girls are forcibly married off by their families.
Despite attempts to amend the law in the past decade, the law has remained unchanged, which Rehman described as "unacceptable" in his report.
"The government and other leaders in the country must raise the marriage age now and introduce further policies and programmes to reduce this practice in the country," he said.
"Child marriage is harmful for the development and well-being of girls, including in terms of education, employment and to live free of violence," he added.
Women caught by 'morality police'
The report also highlighted serious concerns regarding domestic violence. Some positive steps are noted, such as a law passed against acid attacks, but Rehman urged the Iranian government to do more.
While noting that other areas of progress include education and citizenship rights, the report details how gender discrimination permeates almost all areas of law and practice, treating Iranian women as "second-class citizens".
Although a large percentage of Iranian women are highly educated, they grapple with personal limitations and are subjected to the regime's debilitating social norms.
Over the past decade, things have been getting worse, with some struggles now even more serious.
Iranian women marked International Women's Day this year with a large number of social media posts, mostly protesting mandatory hejab and a host of restrictions and human rights violations against Iranian women.
As women have sought ways to dodge compulsory hejab, such as removing their head covering in vehicles, the regime's "morality police" have found new ways to amplify pressure and crack down on women who defy the mandate.
Text messages are now sent to the owners of vehicles spotted with drivers or passengers who are not wearing hejab, warning them about the "felony" and directing them to appear in a police station to be reprimanded in person.
Citizenship, passport and divorce rights
The Iranian regime's curtailment of women's rights is not limited to crackdowns on their personal freedoms.
Until very recently, the children of Iranian women and non-Iranian men were not granted Iranian citizenship and hence, a passport, until they turned 18 and could apply for citizenship on their own.
The issue was debated for 15 years and aroused the wrath of conservatives.
Even now, an Iranian birth certificate and passport will be granted to children of Iranian mothers and foreign fathers only on the condition that the mother passes a security background check.
This means the regime grants citizenship entirely at its own discretion.
Additionally, Iranian women do not automatically have the right to divorce.
Unless a man decides to relinquish his right of divorce to his wife, or agrees with his wife to do so, only the husband has the right to file for divorce.
This makes it extremely difficult -- except in cases of addiction, domestic violence or where a felony has been committed -- for a woman to be granted a divorce by a court of law.
After years of struggle, Iranian women are finally able to obtain passports without their husband's consent. But they are still unable to leave the country without their husband's permission.
In one prominent example, ski team head coach Samira Zargari's husband barred her from leaving the country for ski matches in Italy in mid-February.
Despite prolonged debate and protests that ended in multiple arrests and imprisonment, Iranian women are still barred from watching men's sports matches in Iranian arenas.
Education, workforce presence
Female university students outnumber their male peers in Iran, but fewer women than men work full-time.
Government data show that as of 2020, women account for more than 50% of university students in Iran, while just 27% of university faculty are women.
Official data also show that 30% of Iranian women are college educated, yet women account for only 13% of the workforce, down from 17% in 2015.
Workplace restrictions and the pressure to retire early, instituted by former president Mahmoud Ahmadinejad, have pushed upper middle class women to stay home rather than join the workforce.
Many women cannot afford to stay away from unjust and discriminatory rules or norms, however, and work in difficult conditions, particularly in lower-paying sectors.
Blocked from political office
Per the Islamic Republic's constitution, there is no rule against the participation of women in Iranian politics -- yet no female presidential candidate has ever been approved to run for office by Iran's Guardian Council.
The council itself has no female members. The regime's Expediency Council members are all men, too, as are the members of the Assembly of Experts.
The sole exception is Monireh Gorji, a female cleric, who was a member of the Assembly of Experts in its first session in 1980, shortly after the revolution. Even Gorji was allowed to be a member for only three months.
Female Majles representatives never gain enough votes from their male colleagues to become committee chairs or Presidium members.
Over the past two decades, every Iranian presidential candidate has vowed to nominate a certain number of women to his cabinet. Yet only one Islamic Republic minister has been a woman.
During his tenure, Ahmadinejad nominated three women for ministerial positions, only one of whom, the conservative Marzieh Vahid-Dastjerdi, was confirmed by the Majles as the health minister.
A number of Iranian women, including lawyers, who have been vocal about the violation of women's rights in the country have been persecuted or imprisoned.
Meanwhile, the Iranian regime and the patriarchal system it has established and empowered over four decades continue on their path.