ADEN -- Although al-Qaeda in the Arabian Peninsula (AQAP) has been severely weakened in recent years, the Taliban's return to power in Afghanistan could reignite dormant sleeper cells in Yemen, analysts warn.
The relationship between AQAP and the Taliban has been strong since the 1990s when Osama bin Laden and Mullah Mohammad Omar founded their respective groups, said Yemeni political analyst Adnan Hameed.
Al-Qaeda was instrumental in helping the Taliban take over Afghanistan in 1996, which subsequently led to the US intervention there in 2001.
Despite the Taliban pledging to the international community that they would sever ties with al-Qaeda and other terrorist groups, al-Qaeda fighters were present among Taliban ranks when the latter ousted the Afghan government in August.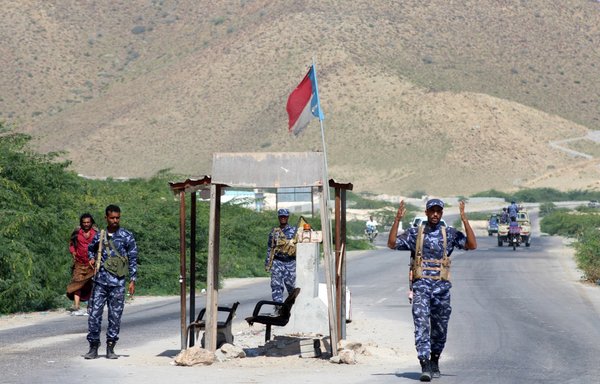 "We mustn't forget bin Laden's pledge of allegiance to Mullah Omar, and later the pledge of allegiance made by al-Zawahiri" following bin Laden's death, Hameed said.
Bin Laden was killed by US special forces in Abbottabad, Pakistan, in May 2011. Shortly after his death, Egyptian-born Ayman al-Zawahiri assumed leadership of the group.
Although AQAP has grown weaker in subsequent years, Hameed said, the threat remains.
"The group's remnants exist and are laying low as sleeper cells that could awaken and regroup in light of the war in Yemen that has been ongoing for seven years and the Taliban's takeover of the government [in Afghanistan]," he said.
Continuing instability could provide impetus to the group's elements, including training opportunities, he added.
Al-Qaeda resurgence
There are fears of al-Qaeda's return to Yemen, especially given the presence of Afghan Arab leaders -- often religiously inspired fighters who flocked to Afghanistan to fight the Soviets in the 1980s -- who long ago returned to their countries of origin, said Yemeni political analyst Waddah al-Yaman Abdul Qader.
"These leaders should be put under a microscope by the international community," he said, adding that their presence "is a worrisome matter that requires vigilance and alertness", especially in light of the war and instability in Yemen.
Their travel, movements, finances and possible ties to Iran should be monitored as well, he said.
Abdul Qader expressed "concern that al-Qaeda could resume its activity once again -- more vigorously this time".
"We are facing a new phase of the conflict in the region that requires resolute and effective measures and the reformulation of new alliances to fight terrorism," he said.
The Taliban's pledges of commitment to political action "remain non-binding", he said, adding that they are mere "pledges of an extremist group with extremist ideology".
Taliban 'inspiring armed jihadist movements'
Abaad Centre for Research and Studies director Abdulsalam Mohammed said he does not believe the Taliban's return to power will have "direct repercussions with regard to support for al-Qaeda" in Yemen.
However, he said, the Taliban's victory "is inspiring armed jihadist movements, including Shia groups, who feel a sense of injustice... especially the Iran-backed Houthis".
Al-Qaeda lacks the support that would enable it to benefit from the Taliban's return to power, he said. "The environment has become unfavourable for its activity while the local community would not embrace it either."
Al-Qaeda in Yemen has been severely debilitated by the blows it was dealt by the army before and during the ongoing war with the Houthis, Mohammed said.
It has also been pummelled by air strikes targeting its leaders and was engaged in a war of liquidation with the leaders of the "Islamic State of Iraq and Syria" (ISIS) in al-Bayda province, and these events have severely weakened the group, he said.
Nonetheless, extremist groups like al-Qaeda take advantage of unstable countries such as Yemen, which provide fertile ground for their growth, said political analyst Mahmoud al-Taher.
"It is not possible to fight terrorist groups as long as Yemen continues to be mired in a bloody conflict," he said, pointing to the Houthis' role in prolonging it.