ADEN -- The Houthis' ongoing war in Yemen is providing al-Qaeda in the Arabian Peninsula (AQAP) fertile ground upon which to regroup and launch attacks in Yemen and elsewhere in the region, officials and researchers say.
"The Iran-backed Houthis spread terrorism, killing and injustice, and these actions create an environment conducive to the return of terrorist activities by other terrorist groups," said Yemeni Deputy Minister of Justice Faisal al-Majeedi.
Foremost among them are AQAP and the "Islamic State of Iraq and Syria" (ISIS), each of which has carried out brutal attacks in Yemen in recent years.
This trajectory is not inevitable, however, said observers, pointing out that it could be slowed or even halted by political stability in Yemen and an end to war.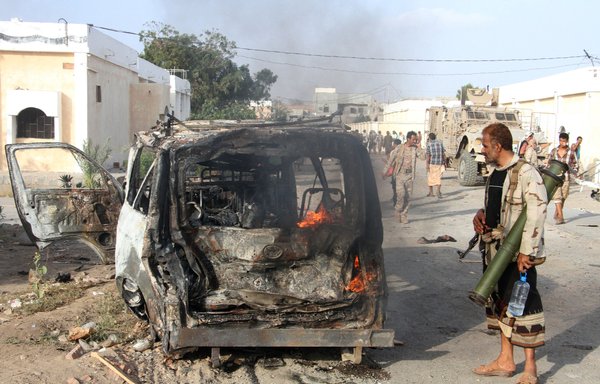 "There is no doubt that the presence of a strong and stable government in a unified country that is free of disturbances, and the control of militias in general, would make the environment inhospitable to extremist groups," al-Majeedi said.
Several reports have uncovered evidence that the Houthis are working in concert with al-Qaeda -- which has historic ties to the Iranian regime -- or at least trying to take advantage of the group, al-Majeedi said.
The truth is that they share a mutual interest in undermining the security and stability of Yemen, the region and international interests, he said.
"Al-Qaeda, like the Houthis, fears the existence of the state and return of its institutions, as that would severely weaken the performance of terrorist groups, stifle them and cripple their activity," al-Majeedi said.
In an interview with CBS News that aired September 8, Marib governor Sultan al-Arada said it would be possible to rid the country of al-Qaeda only if Yemen is unified and has a functioning state.
"We need a state," he told CBS. "If we had a functioning government, we could clean them out."
Extremists thrive in weakened states
During a September 8 visit to Kuwait, ahead of the 20th anniversary of al-Qaeda's September 11, 2001, attack on the United States, US Defence Secretary Lloyd Austin noted that the group had used Afghanistan as a staging base.
He said al-Qaeda may attempt to regenerate in that country, with the Taliban now in power, the AP reported.
"The nature of al-Qaeda and ISIS is they will always attempt to find space to grow and regenerate, whether it's there, whether it's in Somalia, or whether it's in any other ungoverned space," he said. "I think that's the nature of the organisation."
Al-Qaeda had been weakened and was in retreat in Yemen, with a number of key leaders killed in air strikes, political analyst Adnan Hameed told Al-Mashareq.
"But the Yemeni army's preoccupation with the war with the Iran-backed Houthis allows the group to regroup its scattered forces," he said.
Al-Qaeda leader Ayman al-Zawahiri appeared in a video posted online on September 11, delivering a speech in which he called for grinding down the enemy and called the group's branches, including AQAP in Yemen, to action.
Countries battling terrorism should take his call seriously, Hameed said -- even though analysts have cast doubt on whether the al-Qaeda leader is even alive.
Since late 2020, there have been rumours that al-Zawahiri was dead, AP reported, and the Egyptian-born extremist has been silent on all media channels.
It is still possible that he is dead, according to the SITE Intelligence Group, which monitors extremist websites, "though if so, it would have been at some point in or after January 2021", SITE director Rita Katz said on Twitter.
Rewards for information on al-Qaeda
"There are indicators that a comeback by al-Qaeda in Yemen is possible, with the war dragging on and the arrival of a number of al-Qaeda leaders of Arab and Yemeni nationalities in Yemen," Hameed said.
Foreign al-Qaeda leaders have been emerging in Yemen, where the conflict and their suspected alliance with the Houthis have helped them gain a toehold and resume their activities, officials and researchers say.
In late June and early July, the US State Department's Rewards for Justice programme made three back-to-back announcements offering rewards for information on three al-Qaeda leaders present in Yemen.
It offered up to $5 million for information on Ibrahim al-Banna, an Egyptian al-Qaeda leader who was a founding member of AQAP and serves as a functionary to al-Qaeda leaders based in Iran.
The programme also offered a $10 million reward for information on prominent AQAP leader and Sudan native Ibrahim Ahmed Mahmoud al-Qosi.
And it offered $5 million for information that brings Khaled al-Batarfi, a senior member of AQAP in Yemen's Hadramaut province and a former member of the group's shura council, to justice.
"There is no place for al-Qaeda traitors in Yemen, not now nor in the future," Rewards for Justice said.