ADEN -- The Iran-backed Houthis have crossed a "red line" in their treatment of women as they pursue their political and military objectives, top Yemeni government officials said.
The Houthis' mistreatment of women is well documented, with a September 21 report from the Yemeni Network for Rights and Freedoms listing the group's violations and abuses committed during more than six years of war.
In its report, the network said the Houthis committed 6,476 human rights violations or abuses against women between January 1, 2015 and June 1, 2021.
It said 1,691 women were killed and 3,741 injured in artillery shelling carried out by the Houthis, by improvised explosive devices (IEDs) or mines laid by the group, by snipers and by indiscriminate firing of live ammunition.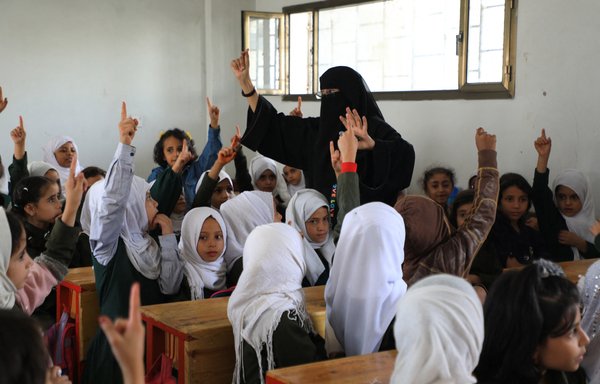 It also recorded 770 cases in which women were arrested or kidnapped by the Houthis and 195 cases of forced disappearance.
The network verified that 422 women had been killed by mines and IEDs the Houthis laid on public roads and in or on residential neighbourhoods, farms, pastures and markets, with 123 of these victims killed in Taez.
It also documented a case in which a female staff member from Taez had died under torture in Hajjah province, after the Houthis kidnapped her from her workplace -- the Saudi Hospital in Hajjah -- in November 2016.
She had been falsely charged with being an "enemy agent", the report said.
According to the report, the Houthi group subjected 70 women detained in its prisons -- including secret prisons -- to cruel and degrading treatment, including torture.
Some women were sexually harassed or raped while they were in detention, driving some to commit suicide, while others were killed upon their release in a Yemeni tribal practice known as the "washing away of dishonour".
Crossing a red line
Yemeni society "draws a red line against violating the sanctity of women", said Yemeni Deputy Minister of Legal Affairs and Human Rights Nabil Abdul Hafeez.
But the Houthis have crossed this red line to achieve two objectives, he said.
"The first is to send a message to society that there are no red lines, including going after women and homes and violating sanctities," he said. "The second is to put pressure on the family unit and on society in order to subjugate them."
"During the second week of September, the Houthis kidnapped 30 women related to General People's Congress (GPC) party members," Abdul Hafeez said.
Four have since been released, he said, "while the rest are being kept at unknown locations as a means to pressure them and their relatives" to co-operate with the Houthis.
The fate of women who refuse to do the group's bidding is inevitably abuse, he said, "and this lays bare the brutality of this group in dealing with society, and reflects the promotion of the culture of fear".
Deputy Minister of Justice Faisal al-Majeedi said the Houthis had been using women as a tool "to subjugate them and their relatives to the group".
The violations of women are intended to shock their families and society, he said, "and consequently many families abandon their daughters out of shame."
Another of the Houthis' objectives is to "neutralise the influence of women and their role in politics and to neutralise the pressure stemming from the follow up on the detained women", al-Majeedi said.
Women's organisations in Yemen have been highly effective at exposing the multitude of violations committed by the Houthi militia, especially the arrests and disappearances, he noted.
They also have worked to expose "cases that involve [the women's] honour", he said -- "an aspect that the militias seek to keep under wraps".
Coercion and blackmail
Al-Majeedi said the Houthis had attempted to coerce women to work with them as they sought to set up prostitution networks in order to entrap their political opponents -- and even members of their own group.
"The case of Entisar al-Hammadi likely falls into this category, because those who visited her in prison said she told them that [the Houthis] made her an offer to work with them in prostitution and targeting political figures," he said.
"The Houthi militia has been retaliating against women who refuse to work for them in entrapping officials and leaders by photographing them in immoral sexual situations," political analyst Mahmoud al-Taher said.
"They have been doing this since about 2016, and there are leaders and ministers in Sanaa who were subjected to this type of blackmail."
He noted that the Houthis also detain young women from tribes and families who refuse to send their sons to the Houthi frontlines in order to humiliate the Yemeni tribes and force them to acquiesce to all of the group's demands.
Abdul Hafeez highlighted the responsibility of the government and the international community, noting that the government is continuously monitoring cases and documenting and submitting reports to international organisations.
"International action must be taken to stop these violations, because the lack of real pressure on [the Houthis] encourages them to continue their violations," Abdul Hafeez said.