Thousands of Yemenis have fled their homes this year as a result of the ongoing conflict, with recent waves of displacement spurred by the Iran-backed Houthis' attacks on Marib and other government-controlled provinces, officials say.
The International Organisation for Migration (IOM) announced that 24,000 families in Yemen have been displaced at least once from January to September.
In a social media post on October 9th, the UN organisation said it currently supports over 13,000 families living in 55 displacement sites across the country.
Umm Muhammad, a widow in her forties, has been repeatedly displaced along with her four children, one of whom is a malnourished infant, as they flee Houthi shelling of al-Jawf province.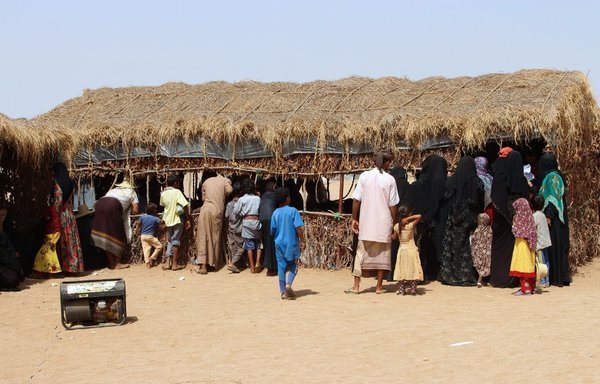 She told Al-Mashareq that displacement is life-threatening due to harsh conditions in camps, including insufficient access to food, money and health care.
"I feel like I am on a journey towards an unknown fate, going through a slow death," she said.
'Deliberate attacks on camps'
Murad al-Gharati, a member of the advisory board at Yemen's Human Rights Ministry, told Al-Mashareq the wave of displacement reported by the UN was a result of Houthi attacks on Marib, al-Jawf, al-Bayda, al-Dhale and some areas of al-Hodeidah.
Most internally displaced persons (IDPs) are housed in Marib province, which hosts 140 camps and over 1.8 million IDPs, he said.
"An increase in IDPs and a decrease in aid have put the lives of the displaced in danger," he said, adding that residential areas are deliberately targeted by Houthis, triggering a wave of forced displacement so that they can be used as military sites.
Al-Gharati noted that the camps receive aid distributed by the IOM, the Red Cross and the King Salman Humanitarian Aid and Relief Centre (KSrelief), "but that is not enough".
The growing number of IDPs fleeing to Marib province has put pressure on the city's hospitals, negatively impacting the quality of services, Dr. Ali al-Saidi, director of Al-Shaheed Mohammed Hael Maternity and Children's Hospital in Marib, told Al-Mashareq.
Targeting wells with missiles
The Houthis aim missiles at facilities that provide services to IDPs, said Seif Muthanna, who serves as director of the Executive Unit for IDPs in Marib.
The militia has targeted wells providing IDP camps with potable water, he told Al-Mashareq.
In late August, Houthi militias struck the only well in Medghal district, which supplied the district's residents and displacement camps with drinking water, he said.
"The local government is trying to provide alternative wells for the public and IDPs to use," said al-Saidi.
The IDPs' suffering has been compounded as the UN scales back its aid programmes due to funding cuts, human rights activist Ahmed al-Mesbahi told Al-Mashareq.
Reduced health services has been especially harmful to displaced Yemenis as the country's health care sector has collapsed since the war started in 2015, he said.
"The decrease is caused by lack of funding and by the logistical obstacles imposed by the Houthi militia," he noted.
The Houthis have exacerbated the displacement crisis by attacking civilians who live in proximity to areas under their control, al-Mesbahi said, adding that this forced displacement aims to empty these areas of their residents.
"Meanwhile, the IDPs' attempts to flee death in their hometowns may only be a journey to poverty, hunger and disease," he said.