ADEN -- Students in Yemen's Taez province have begun the new academic year in heavily damaged schools, where they study in fear of more shelling and sniper fire from the Iran-backed Houthis, who are besieging the city, officials said.
Some school buildings have been destroyed during the seven-year war, leaving students with no place to go to obtain an education.
"We study one day on the bare floor, another day on the rooftop and some days in the street," seventh-grader Laith Kamel told AFP.
"For four years, we have been wanting to go to a real school."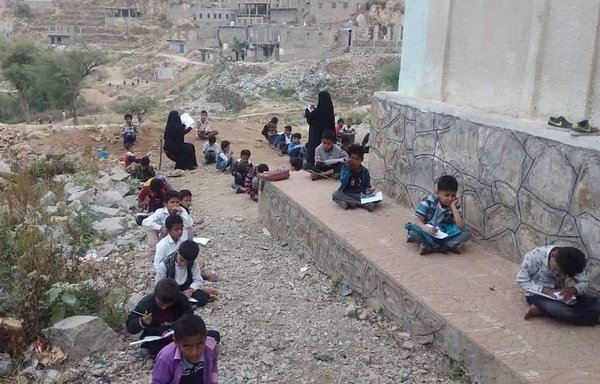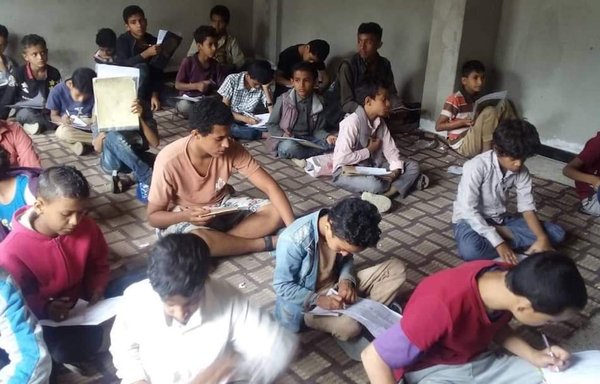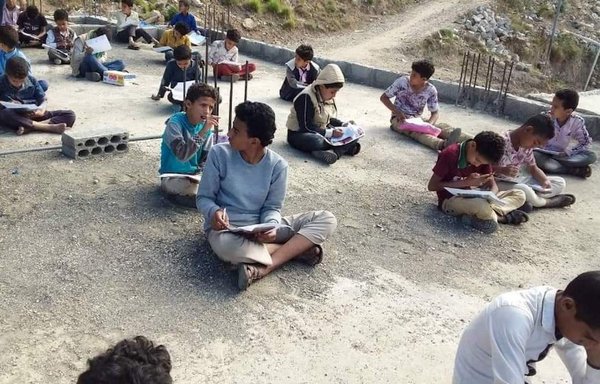 Across the country children either have no classes at all or lack basics such as desks, chairs or bathrooms.
The Houthis' continued targeting of residential areas has deprived students of education they deserve and need, said Fajr al-Amal Centre for Statistics and Development director Hayat al-Jalal, of Taez province's Hawd al-Ashraf district.
Children frequently have been collateral damage during the war in Taez -- and sometimes have been targeted directly, as in August 2020, when a young girl was shot as she fetched water for her family, allegedly by a Houthi sniper.
The "water girl", named as Ruwaida Saleh and said to be 9 or 10 years old, was shot as she went to get water for her family in Taez's al-Rawda neighbourhood. She survived.
Earlier this year, on March 14, the Houthis fired a missile at a school in western Taez's Kadha district, killing 15 Yemeni soldiers and three children who were nearby, Reuters reported.
Military sources said the school had been used by the Houthis and was later taken over by pro-government fighters.
The Houthis' ongoing siege has resulted in a deterioration of all aspects of life, al-Jalal told Al-Mashareq, most significantly of the economy and education.
"Many students have dropped out of school because their families are unable to cover education expenses, or they have put their children to work in order to cover their families' expenses," she said.
"We live in the line of fire, and our children often are deprived of schooling because of the clashes that have occasionally caused schools to shut down," she said.
Al-Jalal said some teachers have left Taez because of the ongoing conflict, which is another blow to the education sector in the city.
'No proper school building'
Meanwhile, al-Jalal said, the lack of school buildings also damages the city's education system. Several schools have been destroyed, with rental apartments and shops now serving as substitute school buildings.
At Al-Thalaya School in Taez's al-Mudhaffar district, students attend class in a rented building next to the ruins of their former school, which was destroyed during the fighting.
"The main reason the students are not getting proper education is the lack of school buildings," said Al-Thalaya School principal Abdul Ghani al-Rai.
Al-Rai said 64 teachers teach 950 students -- boys and girls -- in an unfinished rental building with no windows that is not fit to be a school.
"Despite all these circumstances, we insist on continuing the education process, even under the most difficult circumstances," al-Rai said, noting that his school is the only one in the area that is close enough for some students to reach.
"Parents fear for [the safety] of the students because of the ongoing war and sniper fire," he added, appealing to all concerned parties and those "with a heart" to pay attention to this tragedy.
Teachers among the most affected
Teachers work in difficult conditions that endanger their lives, said Murad Hassan, a teacher at Al-Thalaya School.
The rental buildings used by some institutions that have been forced to relocate are unsuitable for teaching, he said, and teachers do not have access to the tools they need for teaching.
"Forty-eight school buildings are out of service," said Taez Education Office director Abdul Waseh Shaddad.
These buildings were either destroyed by Houthi mines or artillery shells, or are being used as military barracks, he said.
He added that "262 other schools were damaged, of which some 138 schools were rehabilitated, thanks to the efforts of local authorities and international organisations".
Shaddad appealed to all local and international parties to "help provide textbooks and pay attention to the teachers, who are among the groups that have suffered the most since the beginning of the war in Yemen".