The United States earlier this week announced it was moving its Afghanistan diplomatic mission to Qatar and several other countries have since followed suit, raising Doha's profile as a key hub for diplomacy in the next phase.
Britain and the Netherlands also said they would move their diplomatic missions to Qatar, after the Taliban's takeover of Afghanistan and the conclusion of an airlift that successfully transported more than 123,000 people out of the country.
"A new chapter of America's engagement with Afghanistan has begun," US State Department spokesman Ned Price said at a Tuesday briefing.
"Our post in Doha will manage our diplomacy for the way ahead with Afghanistan, including consular affairs, administering humanitarian assistance, and working with allies, partners and regional and international stakeholders to co-ordinate our engagement and messaging to the Taliban," he said.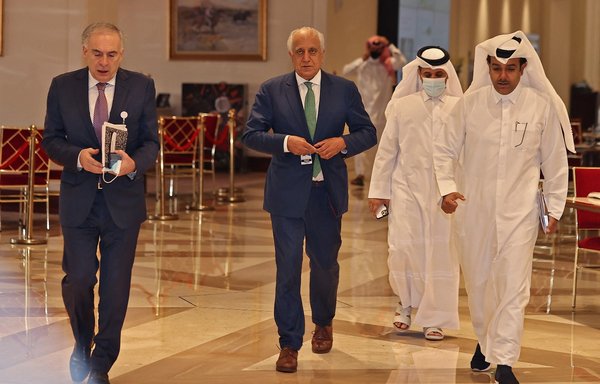 The diplomatic team in Doha will be led by Ian McCary, who had been serving in Kabul as deputy chief of mission at the US embassy in Afghanistan, Price said.
"Part of the team is already there," he said. "They are already hard at work."
The team's mandate includes maintaining channels to Taliban representatives in Doha, which previously played a critical role in hosting intra-Afghan peace talks.
"Part of the advantage that Doha affords is that it has long been a venue for engagement, for diplomacy with not only our regional partners and other partners when it comes to Afghanistan, but with the Taliban political office," Price said.
The Taliban swept to power on August 15, but no country has yet recognised it as the government of Afghanistan, though many -- including Doha -- have urged the group to form an inclusive government and to respect human rights.
Price said the Doha office will engage with other foreign Afghanistan missions as part of its work, stressing that "Doha is... and has been the site of much of the locus of diplomacy when it comes to Afghanistan".
"The Doha office will conduct functions that are quite similar to what our now-suspended operation in Kabul was doing: providing reporting on security, political and economic developments in Afghanistan," he added.
It will liaise with the international and non-governmental organisations operating in Afghanistan, and will support the safe passage and relocation efforts for US citizens and others, including Afghans at high risk, he said.
Price stressed the ongoing need for broader engagement on Afghanistan, including with US allies and partners, key nations and multilateral organisations.
Qatar's pivotal role
Qatar hosted negotiations between the Taliban and the United States in recent years and was a transit point for about 43,000 evacuees from Afghanistan.
Along with the United Arab Emirates (UAE), Kuwait and Bahrain, it served as an instrumental regional staging post for evacuation flights for Western countries' citizens as well as Afghan interpreters, journalists and others.
On Wednesday, a Qatari aircraft landed in Kabul carrying a technical team to discuss the resumption of airport operations after the Taliban takeover.
"Qatar has positioned itself as the go-to mediator with the Taliban," said Cinzia Bianco, Gulf research fellow at the European Council on Foreign Relations, in an August 20 report published by Qatar-based media outlet Al-Jazeera.
"It was a risky bet, especially considering the optics with the wider public, but it paid off," Bianco said.
"Now, Qatar is well-positioned to be the first contact point for regional and international players who want to explore the possibility of engaging with the Taliban… without compromising themselves," she added.
But Qatar is treading a fine line, analysts told the Washington Post, running "the risk of tarnishing its reputation if it is seen as too quick to embrace a brutal Taliban government", while urging the Taliban to form an inclusive government.
Qatari Foreign Minister Sheikh Mohammed bin Abdulrahman Al-Thani and his German counterpart, Heiko Maas, on Tuesday warned against any rise of terrorism after the US withdrawal from Afghanistan, AFP reported.
At a press conference, Al-Thani urged the Taliban to combat terrorism.
"We stressed the importance of co-operation to combat terrorism... and we stressed the importance of the Taliban to co-operate in this field," he said.
"It is our role to always urge them to have an expanded government that includes all parties and not to exclude any party," he added.
"During our talks with the Taliban, there was no positive or negative response," Al-Thani said of recent talks between Qatar and Afghanistan's new rulers.
Maas, in turn, said he saw "no way around" talking with the Taliban "because we absolutely cannot afford to have instability in Afghanistan".
"We are not looking at questions of formal recognition, but we want to solve the existing problems -– regarding the people in Afghanistan, the German citizens, but also the local staff who want to leave the country," he said.