AL-UDEID AIR BASE -- A joint exercise last month between the United States and Qatar, coupled with Doha's substantial contribution to the evacuation of thousands from Kabul, is the latest evidence of the two nations' ability to respond together to crises in the region.
US Air Forces Central (AFCENT) and the Qatar Emiri Air Force (QEAF) conducted the Sky Shield III exercise at al-Udeid Air Base in Qatar August 1-4.
The first and second iterations of the exercise were held earlier this year, in January and March, respectively.
The air combat patrol and search-and-rescue exercise was designed to validate the combined capability of the two air forces to defend regional airspace, US Central Command said in a statement on September 10.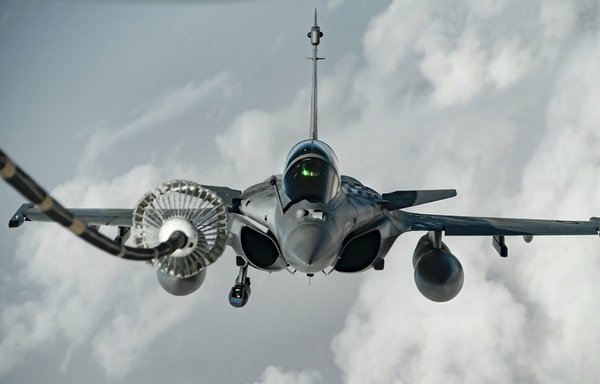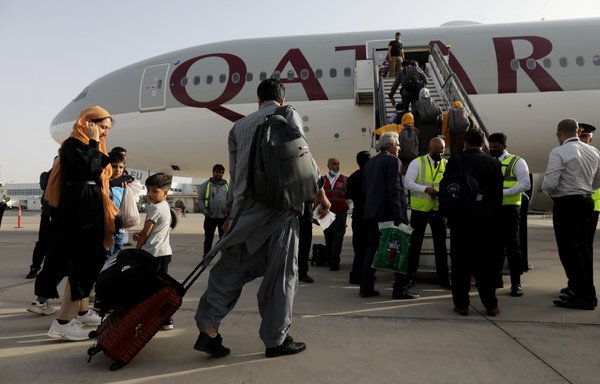 "Sky Shield III showcases our resolute partnership with the Qatar Emiri Air Force," said Lt. Gen. Greg Guillot, 9th AFCENT commander.
"Qatar plays a key role in the collective defence of this region. By strengthening our interoperability with the QEAF, we're better able to deter threats to the security and stability of the Arabian Gulf," he said.
US Air Force F-16s and QEAF Rafales, Mirages, AH-64E Apaches, an AW-139 helicopter and the QEAF Air Operations Centre took part in the exercise, the statement said.
"The success of Sky Shield III provided valuable lessons learned, and strengthened the USAF and QEAF's security co-operation efforts," said Maj. Dustin Mayes.
The third iteration of the Sky Shield exercise provided Qatari pilots the opportunity to tactically command both US and QEAF formations of aircraft to achieve an aerial advantage against a simulated threat, the statement said.
The exercise also allowed Qatari airmen to practice their combat search-and-rescue procedures.
Sky Shield is just one of many ways AFCENT is working to build interoperability with the QEAF, the statement noted.
"We continue to support the QEAF in the development of their Joint Tactical Air Control and Link-16 capabilities, as well as additional exercises that we are planning with our valued partners," said Mayes.
"We look forward to continue building on the success of Sky Shield III."
Qatar's key role
Qatar, which hosts the Middle East's largest US military base, played an important role in the evacuation effort from Afghanistan after the Taliban's takeover of Kabul on August 15.
The US military completed its withdrawal and historic airlift of more than 124,000 people from Kabul airport August 30, marking the end of its 20-year war in Afghanistan.
More than 57,000 transited through Qatar.
Qatar itself conducted an operation to evacuate about 130 people from Afghanistan, including members of a girls' robotics team and journalists who fled the Taliban-controlled country fearing for their lives, AFP reported.
The journalists, including employees of The New York Times, landed in Mexico on August 25 with their relatives via Doha in a Qatari military plane.
Qatar Airways provided 10 aircraft to transport evacuees from Doha to other countries.
And as evacuees amassed at al-Udeid air base awaiting transit and as conditions became increasingly crowded, Qatar built an emergency field hospital, additional shelters and portable washrooms to accommodate the influx of people, Al-Jazeera reported.
The Qatari military handed out 50,000 meals a day to the evacuees, according to Al-Jazeera, with local charities stepping in to help as well.
Qatar also offered COVID-19 tests and vaccines to transiting evacuees, Reuters reported August 26.
''Qatar's support for Operation Allies Refuge was indispensable to the safe transit of Americans and US personnel, allies, partners and Afghans at special risk,'' US Secretary of Defence Lloyd Austin said during a meeting with Qatari leaders on September 7.
''I'm deeply proud that the US military, together with our partners, completed the largest airlift in history, evacuating more than 124,000 people to safety. But we could not have accomplished that without Qatari support.''
''In fact, we're here today because our work together as partners and friends continues not only [with] Operation Allies Refuge but on many shared priorities,'' Austin said.
''The United States is grateful that Qatar continues to host American troops to make sure that our forces are well positioned to support a range of critical missions in the region.''