BEIRUT -- Hizbullah is facing increasing domestic opposition and international pressure as the country grapples with how to counter the party's disruptive influence.
"There is no solution to save Lebanon other than through convergence between the internal and external opposition" to the Iran-backed party, said Beirut-based economist and lawyer Adib Tohme.
This calls for "the exertion of pressure domestically, through demonstrations, and pressure abroad, through sanctions and prosecution of [Hizbullah] officials before European and US courts", he explained.
He noted that a growing number of countries have designated Hizbullah as a terrorist group, and key party officials have been slapped with US sanctions.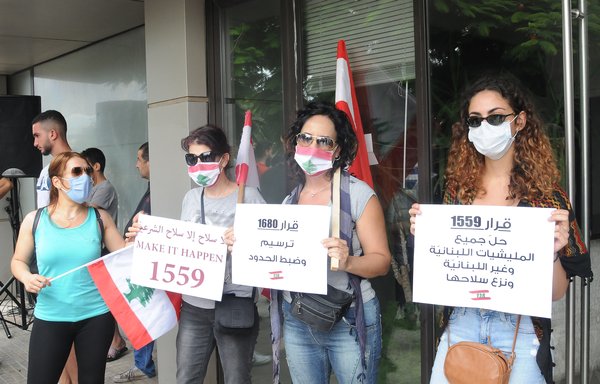 With the Hizbullah International Financing Prevention Act of 2015, he said, the United States sought to prevent the party's global logistics and financial network from operating in order to curtail its domestic and international funding.
It also sought to use diplomatic, legislative and executive avenues to combat Hizbullah's criminal activities, in order to block its ability to fund its global terrorist activities, Tohme said.
This legislation enables "the US administration to pursue Hizbullah wherever it is and whoever aids and funds it", he said, adding that Hizbullah affiliates and supporters are being pursued in Lebanon, Syria and beyond.
Lebanon's Law No 44 of November 24, 2015, "Fighting Money Laundering and Terrorist Financing" came into effect at around the same time, he noted.
Additionally, he said, the Caesar Syrian Civilian Protection Act of 2019, designed to hold the Syrian regime of Bashar al-Assad to account for its crimes, also targets the regime's supporters, including Hizbullah and its allies.
Rising public anger
For Lebanon, the choice is clear, Tohme said.
"Either we have a state that asserts its sovereignty over its entire territory and is represented by an army and internal security forces that control the decision of war and peace and maintain internal security, with a Central Bank that issues the national currency," he said, "or there is no state, and an open arena."
Most people in Lebanon now face the daily hurdles of "long queues for money and fuel", said American University of Beirut history professor Makram Rabah.
But the economic crisis is distracting from the real cause of Lebanon's crisis, "i.e., Hizbullah", he said. "The internal opposition is calling the crisis an economic one, when it is a political crisis par excellence."
Nevertheless, he added, "anger is mounting in the street, which lacks the courage to erupt in the face of the corrupt class due to Hizbullah's weapons and the control it has over the judiciary".
The protest movement that erupted in Lebanon in October 2019 is symbolised by a large fist towering over Beirut's Martyrs' Square.
Protesters have demanded an end to government corruption, with many pointing to the malign influence of Hizbullah on the country's decision-making process.
Rabah said he believes the protest movement and internal opposition should focus its demands on "the restoration of state sovereignty and [implementation of] reforms".
The implementation of UN Resolution 1701 (of 2006), which calls on Hizbullah and other armed groups operating outside the state to disarm, is of utmost urgency, said political analyst Georges Chahine.
Among its provisions, the resolution called for 15,000 Lebanese soldiers to be deployed alongside the United Nations Interim Force in Lebanon (UNIFIL) south of the Litani River, he said, pointing out that this has not yet happened.
Unavoidable repercussions
UN Resolution 1701 also called for Lebanese forces to exercise control over the country's borders and territorial waters, Chahine said.
But the borders remain a problem, he said, with Hizbullah still making use of illegal crossings to engage in the smuggling of weapons, equipment and drugs, and, amid Lebanon's economic crisis, to funnel foodstuff to and from Syria.
Further afield, the party's smuggling activities recently caused an international rift, he noted, when Saudi authorities on April 23 intercepted a massive shipment of Captagon pills hidden inside pomegranates at the port of Jeddah.
The pills had been packed in Syria and transported to Lebanon, before making their way to the kingdom, with the finger of blame pointed at Hizbullah.
But holding the party to account remains an uphill battle.
"Any talk to remind some officials of what was stipulated in Resolution 1701 will fall on deaf ears because Hizbullah benefits from the transfer of arms," Chahine said.
But the convergence of external sanctions on Hizbullah and growing internal opposition against the party "cannot be ignored", he added.
"The US sanctions imposed on Hizbullah figures and lawmakers prevented them from opening bank accounts, and the House of Representatives was forced to pay their salaries in [Lebanese] pounds," he said.
Additionally, he said, "Britain and Germany have imposed a bevy of sanctions on the party, and some eastern European countries are moving forward with placing both its military and political wings on the terrorism list".