A group affiliated with the "Islamic State of Iraq and Syria" (ISIS) on Saturday (April 17) claimed the execution of a Coptic Christian and two tribesmen in Egypt's restive Sinai peninsula in a video posted on Telegram.
The Coptic Orthodox Church named the man killed as 62-year-old Nabil al-Habashi Salama, of Bir al-Abed -- a town roughly 40km west of the North Sinai provincial capital of al-Arish.
Bir al-Abed has been the scene of previous ISIS attacks, notably a 2017 attack on al-Rawda village mosque that claimed the lives of hundreds of worshippers.
The Coptic Orthodox Church mourned Salama's death in a Sunday statement.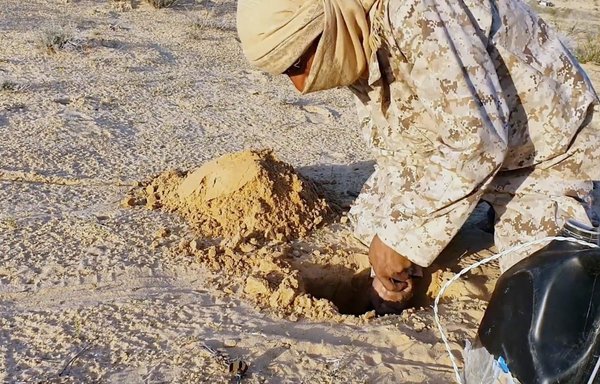 "He kept the faith till the moment he was killed," the statement said. "The church affirms its steadfast support of the Egyptian state's efforts in quelling hateful terror acts."
Egyptian forces have been conducting a nationwide operation against extremists since February 2018, with operations largely focused on North Sinai.
The army says some 970 suspected militants have been killed during the ongoing campaign.
Executed at point blank range
According to the church, Salama had been held captive by "terrorist militias" for five months, Egypt's Ahram Online reported.
In a 13-minute video released late Saturday, Salama is seen being shot at point blank range, in the back of the head, by a militant flanked by two others carrying rifles.
Before being executed, Salama appears in the video, saying he had been held captive in ISIS's so-called Wilayat Sinai for around three months and 11 days.
He said he contributed to building the Church of Virgin Mary in Bir al-Abed, and that the church is co-operating with the army and the intelligence service in the war against ISIS.
The video then shows him on his knees in front of three militants with rifles.
Speaking during the video, one of the terrorists calls for a crusade against Christians, warning Egypt's Christians in particular of a similar fate in the event of co-operation with the army.
Two young Sinai tribesmen also are seen being killed in a barren desert landscape, with the militants accusing them of fighting alongside the Egyptian military.
Previous attacks on Bir al-Abed
Egypt's Copts make up between 10 and 15% of Egypt's 100-million population, and have been singled out by ISIS for previous brutal attacks, including the 2016 bombing of a chapel at the Church of Saint Peter and Saint Paul in Cairo.
But ISIS has attacked other groups as well, notably in November 2017, when up to 30 militants flying the group's black banner surrounded al-Rawda village mosque in Bir al-Abed and massacred worshippers -- followers of the Sufi order -- during Friday prayers.
The gun and bomb assault -- the deadliest terrorist attack in Egypt's modern history -- killed 305 people including 27 children, and wounded 128.
Following the attack, the government launched a large-scale development plan for Bir al-Abed that was completed in late 2019.
But violence continued to beset the North Sinai town, with ISIS elements attacking a security complex in Bir al-Abed last July.
After thwarting the attack, Egyptian forces pursued the perpetrators, besieged them at a farm and some abandoned houses, and killed 18 of them, in aerial and ground operations.
In December, residents who fled the area when ISIS occupied their villages said they have have been returning to find ISIS had booby-trapped their homes.