Private security companies -- many of them affiliated with foreign powers -- have proliferated in Syria in recent years, to the extent that they are undermining the role of the Syrian army.
"It's normal to have private companies in some countries to provide guard services and protect money transport and individuals," said security expert and military analyst Abdul Karim Ahmed, a retired Egyptian military officer.
Private security operations have become "a lucrative source of revenue for venture capitalists" and a source of employment for security affairs specialists, he said.
In Syria's case, however, the establishment of these companies has "become a gateway for states and actors from inside and outside Syria to carry out military activities and operations in service of implementing their plans", he said.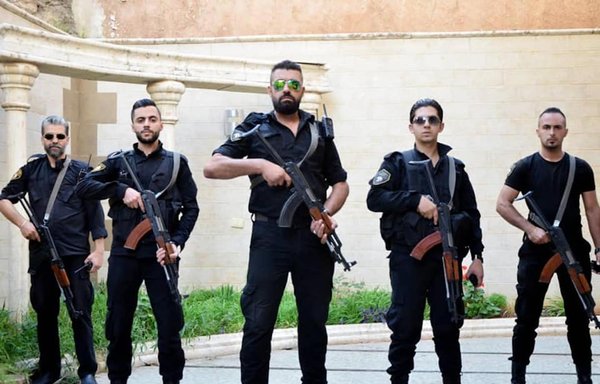 These activities are "fundamentally inconsistent" with the stated reasons for the establishment of these companies, Ahmed said.
There is a large number of licensed security companies in Syria today -- approximately 75 in total, according to Syrian Ministry of Interior figures.
"Though they are Syrian companies, a close examination reveals that they are affiliated with three principal parties: Maher al-Assad, brother of Syrian President [Bashar al-Assad], Iran and Russia," he said.
In tracking the proliferation of these companies, he said, "it is clearly evident that they have become a threat to Syria, and their presence prevents any legitimate armed government entity from carrying out its assigned tasks".
"These companies are spread out across and control entire regions that other companies, militias and regime forces are prohibited from entering," he noted.
They have supplanted the regime's military and security forces, he added, "and this is detrimental not only to the regime but also to any peace process that might be discussed and agreed upon by all parties".
As reported last month, the Syrian regime's military apparatus, weakened by a decade of war, is a husk of its former self, propped up by and operating under the control of foreign powers such as Iran and — in particular — Russia.
These forces no longer function as a cohesive army but rather form a patchwork of regular forces and allied militias, with foreign powers vying for control of each and using them to pursue their own agendas.
Proliferation in Deir Ezzor
"The Deir Ezzor region is currently a hotbed for private security companies," said Deir Ezzor activist Faisal al-Ahmed.
"The region was crawling with militias affiliated with the regime, Iran and Russia," he said. "After 2017, however, security companies began to proliferate and supplant the militias."
The rapid growth in private security firms came amid "a near total absence of Syrian regime-affiliated military and security institutions", al-Ahmed said.
"In addition to militiamen involved in acts of violence and crimes against civilians, these companies also employ convicts, criminals and drug traffickers who found a safe haven in these companies," he said.
The companies issue their employees ID cards and also provide them with security cards that protect them from harassment by regime security forces, particularly the Military Intelligence Division, al-Ahmed said.
But many security company employees are known to local residents, who have reported they operate with impunity and "continue to engage in criminal activities", he said.
Militias by another name
"Prior to 2013, there was only a handful of security companies in Syria, numbering no more than 10, and their tasks were limited," Syrian lawyer Bashir al-Bassam said.
They did not hold permits to carry weapons, he said, and their tasks were limited to guarding the entrances of privately owned facilities and companies.
"That number gradually increased, starting in 2013, after Bashar al-Assad issued Legislative Decree No. 55 authorising the licensing of security companies," he said.
The decree stipulated that the security companies be under the purview of the Ministry of Interior and the National Security Office.
The companies fall into three categories: those with more than 801 employees, those with 501 to 800 employees, and companies with 300 to 500 employees.
Al-Bassam said the decree stipulated that only personal weapons and light machine guns could be carried. But Iran, Russia and Maher al-Assad supply their companies with heavy machine guns and rocket launchers, he said.
He said most of the companies are violating the law explicitly and directly, which strips away their legal and legitimate capacity to perform their work.
In their current form they are merely "a new form of the militias affiliated with Russia, Iran and the Military Intelligence Division", he said.