As tensions rise in the region due to increased Iranian threats and continued attacks by Iranian proxy groups, the US military has been performing a number of recent maneuvers that aim to send a deterrent message to leaders in Tehran.
Part of those moves involve flyovers by B-52H bombers, which flew 36-hour, non-stop missions from a US Air Force base in North Dakota to the Gulf and back on both January 7 and 17, US Central Command (CENTCOM) said in separate press releases.
The mission aimed to send "a clear deterrent message" and "to demonstrate the US military's continuing commitment to regional security", it said.
"America doesn't seek conflict," said CENTCOM spokesman US Navy Capt. Bill Urban. "This mission is a measured approach to demonstrate that we are committed to the defence of our forces in the region and are capable of responding to any aggression on short notice."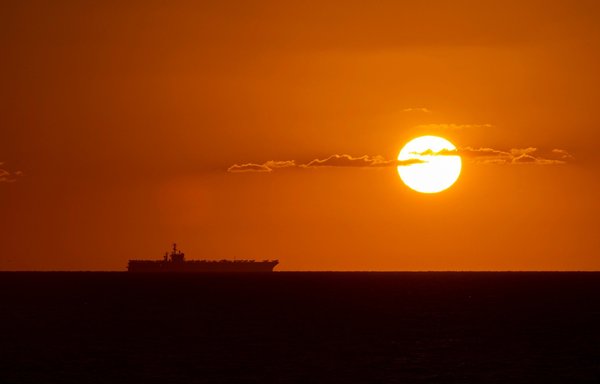 "The United States continues to deploy combat-ready capabilities into the US Central Command area of responsibility to deter any potential adversary, and make clear that we are ready and able to respond to any aggression directed at Americans or our interests," Gen. Frank McKenzie, commander of CENTCOM, said on December 30 following another flyover by the bombers.
"We do not seek conflict, but no one should underestimate our ability to defend our forces or to act decisively in response to any attack," he said.
The B-52H "Stratofortress" is a long-range, heavy bomber that can perform a variety of missions.
It can fly at high subsonic speeds at altitudes up to 15,240 metres. It has an unrefueled combat range in excess of 14,160 kilometres and can carry precision-guided ordnance with worldwide precision navigation.
The January 17 deployment, the fifth in the past two months and the command's second bomber mission of 2021, is just one element of the US military's recent moves in the region.
A US nuclear submarine, the USS Georgia, crossed the Strait of Hormuz in late December, the first US nuclear submarine to do so in eight years.
In September, a US aircraft carrier, the USS Nimitz, crossed the strait, a maritime route essential for the passage of global energy supplies. It has been patrolling Gulf waters since late November.
Deterring miscalculations
The shows of force by the US military stem in part from growing alarm over Iranian miscalculations.
Tensions have risen in recent weeks following a December 20 rocket attack on the US Embassy in Baghdad by an Iranian-backed Iraqi militia.
The US Embassy and other foreign military and diplomatic sites have been targeted by dozens of rockets and roadside bombings in recent months.
US and Iraqi officials have blamed hardline groups, including Kataib Hizbullah.
Iran in early January also announced the start of the process to enrich uranium to 20% purity at its underground Fordow facility, going well beyond the threshold set by the 2015 nuclear deal.
It is the latest and most important suspension of nuclear commitments by Iran under the landmark deal.
Last October, the United States unilaterally imposed an arms embargo, urging other nations to do the same and warning that, with greater access to arms, Iran will supply more dangerous and destabilising weapons to its proxies throughout the region and be more empowered to repress its own people.
Almost three months after the UN arms embargo ended, it has become readily apparent why Russia and China supported Tehran's position on the matter at the UN.
In return for its support for Iran's bid at the United Nations, Beijing gets access to much-needed energy sources and the Chinese regime gains key leverage in a strategically important region.
For Russia, supporting Iran's military buildup helps it secure gains the two countries have made in Syria, where both regimes have propped up Syrian President Bashar al-Assad at a deadly cost of human life.