Local authorities in parts of northwest Syria recaptured by regime forces have been staging auctions to sell off the confiscated land of displaced residents, rights groups and legal specialists say.
This is being done, over the objection of landowners and rights groups, to raise money for the financially strapped regime, reward regime insiders, and punish regime opponents.
In the country's northwest, the regime has been confiscating agricultural land and properties abandoned by families who fled its onslaught to seek shelter in other parts of the country or abroad.
It has been holding public auctions for these parcels of land, awarding winning bids to regime insiders and those close to its security apparatus.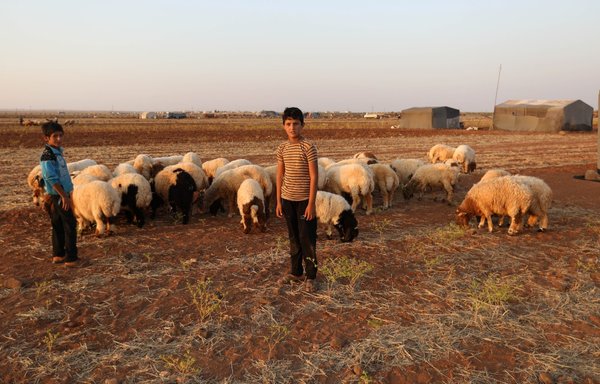 In other parts of the country, the regime has been confiscating land for some time in order to effect a policy of demographic change along sectarian lines.
Rural Damascus activist Muhammad al-Beik said his father and uncle lost their property in Eastern Ghouta, outside Damascus, after the two families left the area when regime forces tightened their their grip on the region.
"The rubble of destroyed homes was removed, and the lands were offered for investment by the local authorities," he said.
Meanwhile, "agricultural lands were seized by the Ministry of Agriculture, and the title deeds were transferred to people close to the regime through notarised government contracts", he said.
"This was done frequently, as retaliation against families opposed to the regime who were forced to flee or emigrate after regime forces retook the region," al-Beik said.
Auctions favour regime insiders
Before leaving rural Damascus, al-Beik said, one of his relatives authorised someone from Damascus to manage his agricultural land. But the regime refused to recognise the power of attorney, confiscated the land and transferred its title.
The seizure of private property is done in retaliation against regime opponents, al-Beik said, pointing out that these confiscations also "generate revenues for the regime's treasury".
The amount of money is insignificant, he added, but in view of the dire circumstances, the regime is facing -- under pressure of sanctions -- it "is trying to raise money any way it can".
Rights groups, including Amnesty International (AI), have condemned the land expropriations in former opposition strongholds.
"The land auctions exploit displacement for economic benefit," said Diana Semaan, AI's Syria researcher, noting that authorities are "seizing lands illegally and in violation of international law".
After regime forces seized control of the Idlib city of Khan Sheikhun in August 2019, local farmer Hussein al-Daher fled to a village near the Turkish border, leaving his home and the parcel of agricultural land he owned.
At the time, he said, he did not know that his departure "would be practically permanent, because I am unable to return, and regime forces have seized my agricultural land, which is planted with olives".
"At first, I heard that a senior regime officer had seized the land to have conscripts harvest [the olives] and keep the proceeds for himself," he said.
Several months later, he said, the Ministry of Agriculture held auctions for agricultural lands abandoned by their owners.
"On the surface, the auctions were held by a farmers' association," he said. "But in reality they were rigged, as the winning auction bids were awarded to people known for being close to the regime or senior security officers."
Land sales 'a kind of punishment'
Displaced residents of Idlib, Hama and Aleppo provinces said their land has been expropriated, with some learning about it through social media advertisements run by the regime-affiliated Farmers' Union in Idlib.
In October, the Farmers' Union said it was auctioning off the right to use and cultivate plots owned by Syrians who do not reside in regime-controlled areas.
The original deed-holders are "indebted" to Syria's Agricultural Co-operative Bank, which offers loans to farmers, said the union. The banks' debtors include those who are now finding it impossible to make payments from outside regime-controlled territory.
Other auctions are being organised by regime-linked local security committees, without any mention of outstanding debts, according to opposition watchdog The Day After and the Syrian Observatory for Human Rights.
"I do not owe money to the agricultural bank, as the regime claims," Idlib farmer al-Daher said.
"The debts were paid on the designated dates, and were actually very small, as they were used to pay for seed and fertilisers and had to be paid each season before obtaining fertilisers and new seeds," he said.
"In other words, there is no chance whatsoever for debts to accumulate, as the regime claims," al-Daher said.
The land auctions are "a kind of punishment", said judge Anwar Mejni, a member of a UN committee tasked with overseeing the drafting of a new Syrian constitution.
"The auctions may not transfer ownership of the land, but they violate the rights" of original owners to access and cultivate them, he said.
"There is no legal framework" governing the auctions, said Mejni, pointing out that even if the Agricultural Co-operative Bank organised them to settle debts, this "should be done under the supervision of the judiciary".