The US's security and military commitment to the Gulf region, particularly through the deployment of its advanced air force, remains unmatched by any other country, experts told Al-Mashareq.
US forces in the region represent a bulwark against potential acts of aggression that could threaten freedom of navigation and free flow of commerce, they said.
Demonstrating this continuing commitment to regional security, a pair of US Air Force B-52H Stratofortresses conducted a short-notice, non-stop mission into the US Central Command (CENTCOM) area of responsibility on December 9th, along other US Air Force and regional partner aircraft.
This was the second mission in as many months.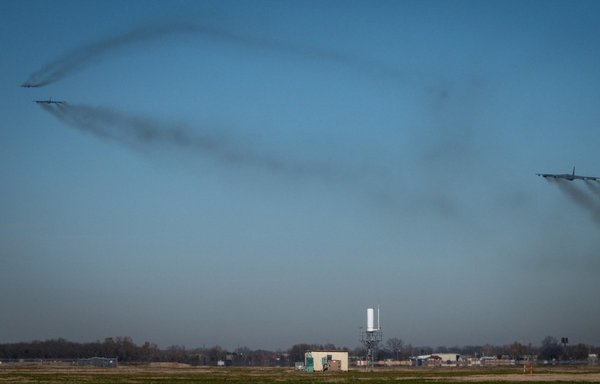 The mission was designed to underscore the US military's commitment to its regional partners, while also validating the ability to rapidly deploy combat power anywhere in the world, said CENTCOM commander Gen. Frank McKenzie.
"The ability to fly strategic bombers halfway across the world in a non-stop mission, and to rapidly integrate them with multiple regional partners demonstrates our close working relationships and our shared commitment to regional security and stability," he said.
While assuring allies and partners, the mission was also designed to deter aggression from other global powers in the region, including Russia and China.
"Potential adversaries should understand that no nation on earth is more ready and capable of rapidly deploying additional combat power in the face of any aggression," said McKenzie.
"Our ability to work together as partners on a mission like this heightens our collective readiness to respond to any crisis or contingency."
The US Air Force routinely flies a variety of aircraft and units throughout the Middle East, which is one way that CENTCOM promotes regional security. Temporary long-range bomber deployments into the region can be traced back to at least 2015.
Aircrews use transponders and operate in conformity with international law, including with due regard for the safety of navigation of aircraft during every flight, and co-ordinate with relevant nations.
"We do not seek conflict," McKenzie said, "but we must remain postured and committed to respond to any contingency or in opposition to any aggression."
Military expert Wael Abdul-Muttalib told Al-Mashareq the presence of US B-52H bombers in the Middle East and the Arabian Gulf gives a clear message that security in the region is "a red line" that must not be crossed.
"These bombers are able to fly for a long distance and period of time that is unmatched by any other aircraft, and carry loads of long and medium-range missiles, such as high-precision cruise missiles capable of reaching any target in the region," he said.
US primary strategic partner
US forces are able to fully secure the Gulf region against any looming threat due to their superior military capabilities, particularly with regard to air power, retired Emirati army officer Abdullah al-Ameri told Al-Mashareq.
The US Air Force ranks first in the world and has 13,398 warplanes including fighter jets, assault aircraft, military cargo aircraft, training aircraft and helicopters of all types, he said.
US political, military and economic support to partner nations cannot be matched by countries such as Russia and China, both of which are not capable of securing the Gulf region, said Yahya Muhammad Ali, a military and strategy expert.
This is why Russia and China were unable to make inroads among Gulf countries, which consider the US to be a primary strategic partner that protects the region and ensures its stability, he told Al-Mashareq.
"The Chinese [and Russian] military capabilities, despite being promoted as enormous, do not fully compete with US capabilities, as both countries are unable to marshal the massive logistical support needed to secure the region," Ali said.
The US has extensive experience in transporting and supporting forces deployed around the world, including the Gulf region, he added.
Mutual trust
Gulf countries enjoy continuous and lasting security due to the presence of US forces of various specialties, in both land and naval bases, as well as naval vessels deployed in the region, said military expert Mansour al-Shehri.
Their presence forms an impenetrable barrier against any aggression, whether by sea, land or air, he told Al-Mashareq.
The decades-long US-Gulf partnership has been successful because of the mutual trust between the two parties, he said, adding that it has led to increased economic ties as well.
In addition to maintaining a presence in the Gulf, US forces are also "enhancing the capabilities of the region's armies and providing them with the latest weapons and technological capabilities", said al-Shehri.
Joint exercises involving US and Gulf forces are frequently conducted to develop these capabilities and achieve the highest levels of co-ordination between them, he added.