Even as Iran pursues "complicated and difficult" talks in Vienna to restore the 2015 nuclear deal, which offered it sanctions relief in exchange for curbs on its nuclear programme, the regime has been showing off its alleged missile developments.
Iranian Foreign Minister Hossein Amir-Abdollahian said on Monday (February 14) that he believed an agreement is "at hand" soon.
Speaking at a joint press conference with visiting Irish foreign and defence minister Simon Coveney, the Iranian top diplomat said: "We are serious and ready to reach a good agreement."
World powers taking part in the nuclear deal negotiations have repeatedly said they need to be convinced of Iran's cutback on ballistic missiles. But at present, Iran has the largest arsenal of missiles in the Middle East, AFP reported.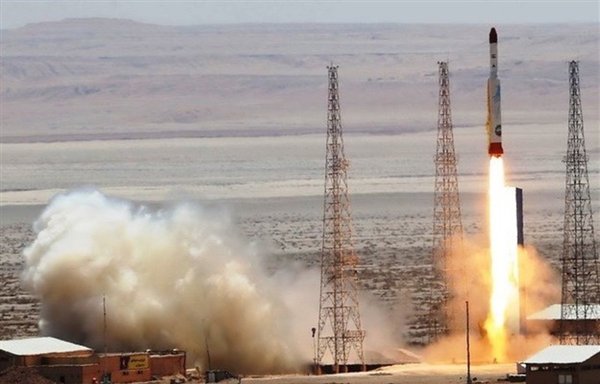 And it shows no sign of slowing its development of long-range lethal weapons with the capability of carrying nuclear warheads.
Just last week, on February 9, Iran's Islamic Revolutionary Guard Corps (IRGC) announced the development of a surface-to-surface missile with a stated range of 1,450 km -- a range that would put Israel within reach.
The IRGC's Sepahnews website said the missile, named the Khaybarchekan, "runs on solid fuel and is capable of penetrating anti-missile systems".
Iran's Armed Forces' chief of staff Mohammad Bagheri described it as a "strategic long-range" missile.
On December 24, the Islamic Republic fired 16 ballistic missiles to conclude military drills IRGC officials described as a "warning to Israel".
Bagheri said February 7 that Iran was "self-sufficient in terms of military equipment", noting it could become one of the world's largest arms exporters if US sanctions were lifted.
According to the International Institute for Strategic Studies (IISS), Iran has about 20 types of ballistic missiles as well as cruise missiles and drones.
Their capabilities vary, with the Qiam-1 having a range of 800km and the Ghadr-1 able to reach 1,800km.
The IISS says Iran's current priority is to increase the accuracy of its missiles.
Failed attempts
Iran's space and missile programme has suffered a series of setbacks in recent years, including fatal fires and a launchpad rocket explosion.
After announcing the "Simorgh" (Phoenix) satellite launch in late December, Iranian officials admitted the satellite had not been able to carry its three payloads into orbit.
Despite the acknowledged failure, IRGC Aerospace Commander Amir-Ali Hajizadeh on January 13 said Iran had been successful in testing solid-fuel propulsions for its satellite carriers for the first time.
"During the past two years, all Iranian satellite carriers, which were tested, operated on liquid fuel. But in this test, we succeeded in using a solid-fuel engine with a 66-tonne thrust," the Iranian commander said.
Hajizadeh noted that Tehran has successfully launched "many satellites with cheap engines into space".
Just a few days earlier, Iran's Aerospace Industries Organisation, which is under the auspices of the Ministry of Defence, launched a satellite rocket (Rafeh) from the Khomeini Space Centre in Semnan.
"Satellite rockets usually utilise liquid fuel, but the use of solid fuel allows missiles to be fired from mobile launchers," defence expert Babak Taghvai said.
"Ballistic missile systems benefit from solid fuel," he said. "These missiles are generally used only for carrying nuclear warheads, due to their high cost and ability to carry only light payloads."
In February 2020, Iran announced the Simorgh rocket had successfully launched the Zafar satellite into space but had failed to send it into orbit as it failed to reach the required speed.
To date, the IRGC's ballistic missile ranges have been kept at a maximum of 2,500km on the orders of Iranian leader Ali Khamenei.
"Now, through unveiling satellite rockets with the capability to be converted into continental ballistic missiles, the Islamic Republic is attempting to score points during the Vienna nuclear talks, while making efforts to demonstrate its power to build such missiles," Taghvai said.
'Parallel' activities
In recent years, the IRGC Aerospace Force has been acting in parallel with the Aerospace Organisation to develop and build satellites.
Both have been engaged in the same mission, with the same goal, though they have been using different procedures and protocols as they go about their task.
This is typically the case with IRGC activities, observers said, noting that the IRGC wields more power than do the government ministries.
In April 2020, the IRGC Aerospace Force announced it had launched the Noor-1 military satellite into orbit from its space site, 35km southeast of Shahrood.
But according to Gen. Jay Raymond, who heads US Space Command (SPACECOM), the so-called "satellite" is actually a "tumbling webcam".
Noor-1 has been a source of embarrassment for Iran, as the IRGC claimed it used images captured by the satellite to help it co-ordinate a military exercise in July 2020.
The satellite took images of other areas in the region, including al-Udeid air base in Qatar, the IRGC claimed as well.
But shortly afterwards, observers noticed great similarity between the released images and those taken by Google Earth, sparking speculation that the Noor-1 images were not authentic.