The Saudi Project for Landmine Clearance (MASAM) in Yemen has embarked upon a mission to clear the war-torn country of close to one million mines planted by the Iran-backed Houthis (Ansarallah).
The King Salman Humanitarian Aid and Relief Centre (KSRelief) launched the one-year project on June 25th, which is being implemented in co-ordination with the Yemen National Programme for Landmines Clearance.
More than 400 specialists will undertake the task of clearing all areas of Yemen of mines, MASAM manager Usama al-Qusaibi said.
The $40 million project will be conducted in five phases, starting with equipping, training and preparing field teams for mine clearance, al-Qusaibi told Asharq Al-Awsat on July 2nd.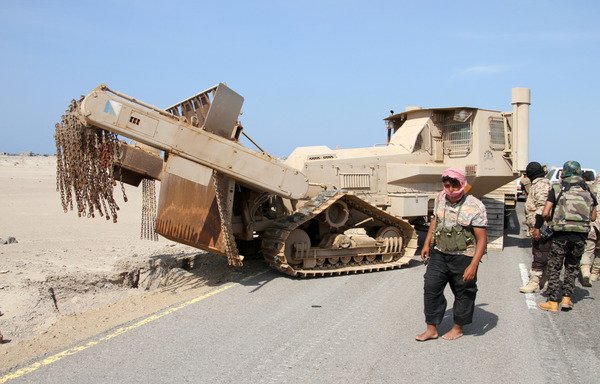 This will be followed by the deployment of the teams in the field and the training of Yemenis on mine clearance expertise, he said.
Saudi and international experts will train cadres operating inside Yemen and will equip them with advanced equipment and machinery.
The planting of mines in Yemen was conducted in an indiscriminate manner, al-Qusaibi said, which has resulted in "permanent injuries and numerous casualties among women, children and the elderly".
Mines threaten Yemen's future
The Houthis have planted more than one million mines in Yemen, Deputy Minister of Human Rights in Yemen Nabil Abdul Hafeez told Al-Mashareq.
They planted the mines randomly, some in residential areas, he said, "without drawing maps of their location", resulting in a catastrophic situation that will impact Yemen's future.
"This will complicate the task of extracting and deactivating the mines," said Abdul Hafeez, noting that MASAM will face a major challenge with mine clearing, as working without maps will take a long time and pose a greater danger.
MASAM is keen to protect civilians from mines, which were planted "without military methodology", political analyst Waddah al-Jalil told Al-Mashareq.
"The Houthis planted mines in populated areas and in areas frequented by peaceful civilians and shepherds, and in roads and vital areas, some of which are residential," he added.
Most are highly dangerous anti-personnel mines, he said, with some camouflaged as rocks in order to blend with the surrounding environment, making them difficult to detect.
He stressed the need to raise awareness about mines among the civilian population by conducting an educational campaign to teach people how to recognise them and avoid activating them.
The key determinant for MASAM's success, however, will be training Yemeni cadres in order to "ensure the continuity of work during the project's implementation and beyond", said economist Abdul Jalil Hassan.
The fruitful co-operation between the management of MASAM and the national de-mining programme will increase the effectiveness of the mine clearance process to prevent additional injuries to civilians, he told Al-Mashareq.