Lebanon's foreign minister Nassif Hitti resigned Monday (August 3rd) in protest at the government's mishandling of a spiralling economic crisis, warning that if there is no will to reform, "the ship will sink".
"I have decided to resign today as foreign minister," Hitti said in a statement, charging that the government had shown no will to initiate changes demanded by the International Monetary Fund (IMF), AFP reported.
Lebanon must reach a deal with the IMF in order to access funds pledged at the 2018 Cèdre conference, which are contingent on certain reforms being met.
"I participated in the government under the logic of serving one boss, which is Lebanon," Hitti said. "But I found that in my country there are many bosses and contradictory interests."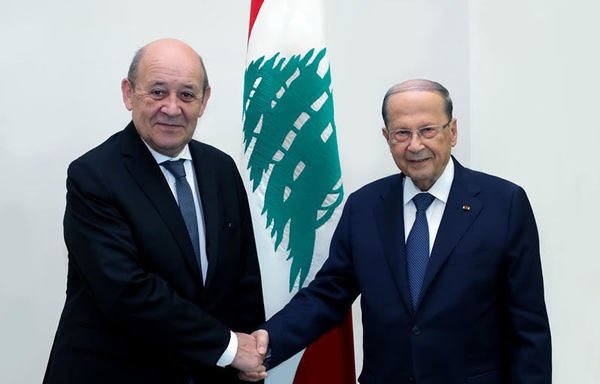 "If they do not unite in the interest of the Lebanese people... then the ship, God forbid, will sink with everyone on board," he added, warning that Lebanon risked becoming a "failed state".
Hitti's announcement comes on the heels of French Foreign Minister Jean-Yves Le Drian's recent visit to Lebanon, largely seen as a last-ditch effort to urge the country to take concrete actions to address the necessary reforms.
Le Drian's visit was the first such visit of a top foreign politician in months.
'No alternative to IMF programme'
During a two-day visit that concluded July 23rd, the French minister voiced his disappointment at the speed of reforms and warned that any international assistance hinged on urgent action.
"Concrete actions have been expected for too long," Le Drian said, adding that it was "urgent and necessary to embark in a concrete way on the path of reforms".
"There is no alternative to an IMF programme to allow Lebanon to exit the crisis," he warned.
Lebanon's government says it needs more than $20 billion in external funding, which includes $11 billion pledged by donors at the Cèdre conference that was never delivered over lack of reforms.
"France is ready to fully mobilise at Lebanon's side and to mobilise all its partners, but for that serious and credible recovery measures have to be implemented," Le Drian said.
"France is seeking to help Lebanon owing to their historical relationship and its unwillingness to see it collapse," journalist Bchara Charbel told Al-Mashareq.
But in this endeavour, Hizbullah's actions have been a hindrance, he said, and have "prevented Lebanon from achieving stability and statehood".
Hizbullah's weapons are a "burden on Lebanon", he said, noting that its leaders "have repeatedly declared that their battle extends beyond Lebanese interests".
The Iran-backed militia's involvement in regional wars and its control of Lebanese border posts "will keep the country exposed to risk", Charbel said.
'Last warning' to Lebanon
Le Drian's message was "the last warning from the international community to Lebanese officials to address the damage" caused when Lebanon defaulted on its debt in March, said Arab Economic News editor-in-chief Violette Ghazal al-Balaa.
This led to the "breakdown of the economic system in its entirety, due to the government's failure to take action to resolve any of the crises", she told Al-Mashareq.
The key to solving the political, security and economic crises begins with Lebanon asserting its sovereignty, she said, pointing out that the country has been paying a heavy price for Hizbullah's actions.
US, European and Gulf sanctions have targeted Hizbullah and its financial backers as punishment for its "embroilment in regional wars as one of Iran's military arms", al-Balaa said.
The Cèdre funds are directly linked to the IMF endorsement, she said, as that would serve as an international guarantee Lebanon can use to re-enter global markets, negotiate with external creditors and obtain aid, loans and grants.
The government knows, but does not publicly state, "due to the obvious impediments placed by Hizbullah, that the path to salvation begins with the implementation of internal reforms", she said.
International community 'fed up'
The international community is "fed up with the empty promises of reform and dissociation", said political analyst Tony Issa, who works for al-Joumhouria newspaper.
That is why Le Drian issued Lebanon what can be seen as the final warning, he told Al-Mashareq, noting France's longstanding close relationship with Lebanon.
The Lebanese crisis will not be resolved until reforms are implemented and the country dissociates itself from regional ambitions, he told Al-Mashareq, in reference to Hizbullah's support of Iran's expansionist agenda.
Issa said there "is absolutely no way to avoid the catastrophe of collapse and hunger without Lebanon reaching an agreement with the IMF".
But this will necessitate the establishment of "firm foundations of reform and proving that the state's resources will be managed by it and will not go to others", he said.