International donors on Friday (April 6th) pledged $11 billion in concessional loans and grants to support Lebanon's investment plan, provided it forges ahead with a raft of reforms.
The assistance, pledged at the Cedre conference in Paris on Friday (April 6th), makes clear the extent of international concern over the economic and financial situation in Lebanon, which is suffering the fallout of the Syrian war.
It also shows the international community's desire to preserve Lebanon's stability, with Prime Minister Saad al-Hariri, who sought international support, pointing out that the conference "is not about the stability of Lebanon alone".
"This is the stability of the region and, therefore, of our world," he said.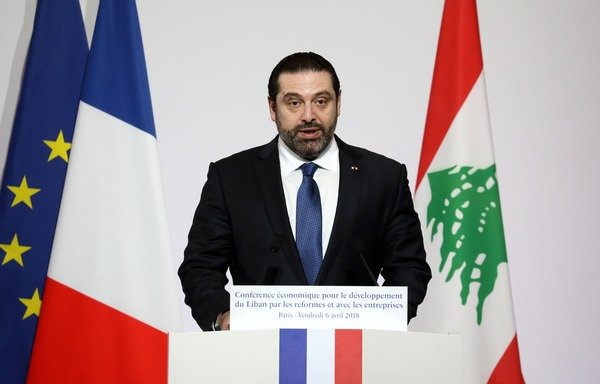 Representatives of 51 states, the World Bank, International Monetary Fund, regional and international financial institutions were in attendance.
They pledged to support Lebanon's economic growth and offered significant investments to help it upgrade its basic infrastructure.
Conference attendance showed strong international and regional mobilisation in support of Lebanon "to encourage it to continue with its disassociation policy and avoid regional conflicts, and to protect it from the wars that are raging around it", French President Emmanuel Macron said during the closing session.
Over $11 billion in pledges
Participants pledged more than $11 billion in concessional loans and grants, provided the country forged ahead with reforms.
The World Bank pledged $4 billion over five years; the European Bank for Reconstruction and Development pledged 1.1 billion euros ($1.35 billion) over six years; the Saudi Fund for Development $1 billion; the European Investment Bank 800 million euros ($981 million); the Islamic Bank for Development $750 million over five years; France 550 million euros ($675 million) over four years; the Kuwaiti Fund $500 million over five years; Qatar $500 million over five years; the Netherlands 200 to 300 million euros ($245 to $368 million); Turkey $200 million; the EU 150 million euros ($184 million); Germany 120 million euros ($147 million) and the US $115 million.
"Despite the recent favourable developments, Lebanon is still facing huge difficulties and challenges," the closing statement read. "The Syrian conflict, and the resulting displacement of population and huge influx of refugees into Lebanon, has affected Lebanon's economy, infrastructure and social services."
"The rate of unemployment, which was originally high, has further risen, especially among young people. More than 200,000 Lebanese have reached the country's poverty line. These are major difficulties for Lebanon, which is rendering a global public service to the international community by hosting the displaced people."
Lebanese government's vision
"The challenge today is to reverse the trend in terms of growth, poverty and unemployment," al-Hariri said, presenting his government's vision, which is based on four interrelated pillars.
First: Increasing investments in infrastructure by implementing the ambitious investment expenditure programme;
Second: Ensuring the investment programme is implemented in a comprehensive financial framework and with sustainable debts through tax enforcement aimed at reducing the budget deficit by 5% over five years;
Third: Implementing the structural reforms Lebanon needs to realise all sustainable growth potential with the private sector playing a key role, while enhancing social justice.
These reforms include combating corruption, improving tax administration, public sector restructuring and modernisation, improving the procurement process, upgrading and rationalising customs, digitalising the government, creating a better business environment, and making sectors more efficient and sustainable.
Fourth: Developing a strategy for diversifying productive sectors and realising Lebanon's export potential.
Concerns about rising debts
"The Cedre conference has given Lebanon a beautiful gift, but has made it conditional on reforms," Progressive Socialist Party leader, Lebanese MP Walid Jumblatt, said in a social media post.
"Will we do the required work? Or will the conference end like others in the mazes of promises, corruption and oblivion?"
"We have heard [criticism from some] that this money is a debt on Lebanon," Minister of Telecommunications Jamal al-Jarrah told Al-Mashareq. "However, we ask: how can we provide electricity without this money?"
"The success of the Cedre conference is a victory for the prudent policy of Prime Minister Saad al-Hariri, who opted for stability and calm to create a political atmosphere favourable to investment," said Minister of Interior and Municipalities Nohad al-Machnouk.
Meanwhile, according to Lebanese MP Nadim Gemayel, "The victory does not lie in getting $11 billion from the CEDRE conference, but in how to spend these funds on the necessary reforms and stop the routes of corruption and waste."
The greater victory will lie in finding the means to pay back this debt, he said.
The ball is now firmly in Lebanon's court, said economic analyst and head of the Democratic Renewal Movement Antoine Haddad.
The international community has shown its willingness to bet on Lebanon's future, so it is now up to the Lebanese to regain trust, he told Al-Mashareq.
"This international support is conditional on radical reforms that alone can turn the Cedre conference and its conclusions into an opportunity to rescue Lebanon from the economic and social abyss," he said.
Military aid pledged at Rome II
In mid-March, Lebanon presented a five-year strategy at the Rome II conference, detailing to donor countries the needs of the army and security agencies to maintain stability, and received pledges of assistance.
Al-Hariri said the conference reflected international interest in stability and security in Lebanon, with projects presented by military and security institutions receiving "significant attention".
"We are here to build trust because we have acknowledged that a viable security for Lebanon is a viable security for the region," he said at the conference.
"The conference yielded positive hopes of military assistance to Lebanon that will be effective upon implementation," said Brig. Gen. Maroun Hitti, who advises al-Hariri on defence and security affairs.
The details regarding the aid are confidential, he told Al-Mashareq, as they are associated with defence and security matters.
President Michel Aoun's plans for a new national defence strategy also were discussed, Hitti said, adding that "conference participants expressed their encouragement and support for President Aoun to proceed with this plan".
"Unifying the Lebanese vision on the issue of defence with binding text signed by all Lebanese parties would draw a clear path that cannot be denied, ignored or overstepped by any political party," he added.
Junaid Salman in Beirut also contributed to this report.