Iran's military apparatus has consistently displayed a lack of discipline, training and leadership that has both disappointed and alarmed the Iranian people and further isolated the country, analysts told Al-Mashareq.
A slew of mistakes and missteps by the Islamic Revolutionary Guard Corps (IRGC) have contributed to this perception of chronic incompetence, they said.
Most recently, on May 9th, an Iranian warship was hit by "friendly fire" during naval exercises off Iran's southern coast, killing 19 sailors and injuring 15.
In January, Iran's armed forces mistakenly shot down a Kiev-bound Boeing 737 passenger jet shortly after takeoff from Tehran, killing all 176 people aboard.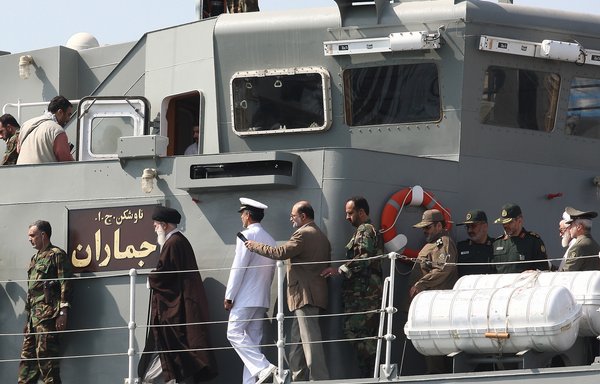 The military eventually admitted to the catastrophic error.
"The incompetence and inability of government officials and high-ranking IRGC members has even led to the anger of government sympathisers," Tehran-based journalist Mina Bashiri told Al-Mashareq.
"There is not a week where news of irresponsible behaviour and unprofessionalism by government institutions in Iran is not being published," she said.
'Ineptitude and incompetence'
The deadly May 9th "friendly fire" incident during the naval drill "is only one example of officials' ineptitude and incompetence", Bashiri said.
This incident was initially covered up, she noted, "and only after videos recorded by soldiers present at the location spread on social media did the navy acknowledge that an incident had occurred".
The government at first said one person was killed and several were wounded, but it became clear later that the death toll was much higher, she said.
The cause of the incident -- the firing of a missile from the Jamaran frigate -- also was announced with some delay, she added.
Even after the truth came to light, "the navy claimed in another notice that the cause of the event may be the electronic warfare of the enemy", Bashiri said.
The way the incident played out reveals a "pattern of unprofessional management", she said. "From denial to claims that the enemy is the culprit, this pattern exists in almost all of the Islamic Republic's defeats and failures."
In the case of the downed Ukrainian passenger plane, the regime initially blamed the crash on a technical defect, continuing to assert this claim for several days, Bashiri said.
With increasing international pressure, the IRGC finally admitted it was responsible for the incident, "but cited human error as its cause", she said.
Some time later, some officials claimed the plane's navigation system had been tampered with, she said.
"A few months have passed since the incident, and no one has been fired for this incompetence, no one has been tried, and the plane's black box has not been delivered to impartial international authorities," Bashiri said.
These incidents and the way they were handled are reflective of a pattern of chronic mismanagement, which can be observed in the government's handling of the novel coronavirus (COVID-19) pandemic, she said.
'Inhumane and cruel behaviour'
"Unfortunately there is not a day where we do not hear unpleasant news of IRGC's incompetence in Iran," political activist and former political prisoner Ali Zanjani told Al-Mashareq.
"Sometimes these inadequacies cause jokes and laughter," he said, pointing to the IRGC's new COVID-19 detector -- an electronic device that can supposedly detect the coronavirus within a radius of 100 metres in five seconds.
IRGC commander Maj. Gen. Hossein Salami on April 15th called the device a "novel and singular scientific advancement" and "an amazing scientific technique".
"Sometimes, however, these inadequacies lead to tragedy and catastrophe," Zanjani said, as was the case in early May when Afghan refugees were thrown into the Helmand river by Iran's border guards after being tortured and beaten.
More than 20 of them drowned, in an incident that "exposed some of the inhumane and cruel behaviour of IRGC-affiliated forces on the country's eastern borders", Zanjani said.
These forces have been killing Iran's Baloch -- the majority ethnic inhabitants of the region of Balochistan -- for years, he said, and have caused civilian deaths every few weeks via attacks on non-military and personal vehicles.
Meanwhile, on Iran's western border, Iranian border guards have killed dozens of Kurdish civilians, known as Kolbers, he said, noting that the IRGC's management of Iran's borders has cost hundreds of civilians their lives.
"We in Iran have been dealing with this incompetent government for more than 40 years, and the lives of citizens and their health and wealth have no value for the government," Zanjani said.