Supreme Leader Ali Khamenei's over-reliance on the Islamic Revolutionary Guard Corps (IRGC) has transformed Iran into a "theocratic-military" dictatorship during the more than three decades of his rule, experts said.
The Islamic republic has become a full-scale theocratic dictatorship under his rulership, they said, noting that his method of governance has failed, as evidenced by widespread domestic discontent and regional instability.
"The Iranian regime can no longer be considered only a religious autocracy," political expert Karim Samadian told Al-Mashareq, noting that Khamenei's reliance on the IRGC has turned the regime into a "theocratic-military" one.
Khamenei's decision to involve the IRGC in Iran's political and economic issues is rooted in an inability to fill the void left by his predecessor, Rouhollah Khomeini, Samadian said.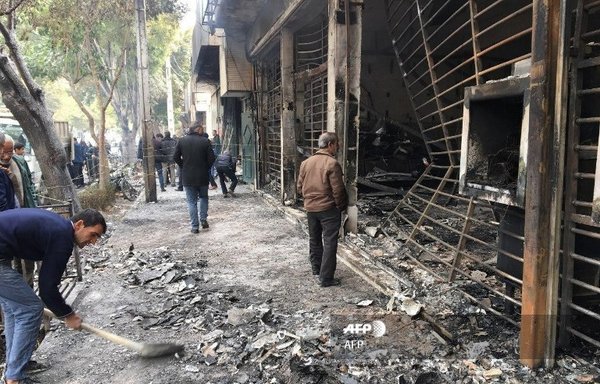 Experts like Samadian believe the IRGC's actions inside and outside Iran, which has led to Iran's failure domestically and globally, are Khamenei's direct responsibility, because he authorises their activity.
Military ambitions prioritised
The IRGC's activities are not the only aspect of Khamenei's failure, Samadian said.
Many view the development of a nuclear weapon as the regime's key to survival, he noted, so it has neglected the needs of the people in pursuit of this goal, spending millions of dollars on efforts to acquire a nuclear weapon.
This has come at the expense of tending to domestic demands, he said.
Referring to Khamenei's failed policies, Samadian said the IRGC's Quds Force, which works under the Supreme Leader's direct orders and supervision, has caused the death of thousands through its intervention in regional conflicts.
The Quds Force has cost Iranians billions of dollars, and resulted in Iran's complete isolation around the world, he said.
The Iranian regime arrested thousands of protesters and reportedly killed at least a few hundred in November demonstrations sparked by a drastic increase in gasoline prices.
Though the pricing was a decision made by the Rouhani administration, it was supported by Khamenei, as was the suppression of the protests, Samadian said.
In fact, citing published reports, Samadian told Al-Mashareq that Khamenei urged the IRGC to "immediately put an end to the public protests".
'Iran's real president'
"Contrary to the image built up by Iran's Foreign Ministry, which some Westerners may believe, Ayatollah Khamenei is not a religious or spiritual leader," Tehran-based journalist Mina Bashiri told Al-Mashareq.
"Rather, he holds Iran's entire political and military power," she said.
According to Bashiri, Khamenei should be regarded as Iran's lifelong president.
Even the editor-in-chief of the hardline daily, Kayhan, once explicitly stated that Khamenei is "Iran's real president", she said.
Khamenei has repeatedly claimed that Western and especially US-imposed sanctions do not affect Iran's oil sales. But Iran's oil sales have drastically fallen.
Bashiri said Khamenei believes that instead of reliance on the West, Iran should approach Russia and China, even though China and Russia have never been real allies of Iran.
Delusions of grandeur
"The result of Iran's authoritarian rule has been nothing but failure, and the reason for its failures is Khamenei's miscalculations," Bashiri said. "He underestimates the power of the US and its allies and is delusional about Iran's powers."
"Khamenei and the IRGC miscalculated the military and proxy conflict with the US in the region," she added.
They thought the missile strikes by Iran-backed Iraqi militias on US interests "would not lead to a direct response from the US, but their error proved to be fatal with Qassem Soleimani's death", she said.
Bashiri said Khamenei still seems to think a serious military conflict with the US is impossible and does not realize the Iranian regime's irresponsible behaviour could have dire outcomes.
She pointed to the IRGC's harassment of US vessels in the Arabian Gulf as an example of Khamenei's miscalculations, noting that this kind of behaviour has the potential to lead to catastrophic consequences for Iran.