Tehran's decision to reopen for business as the novel coronavirus (COVID-19) pandemic continues to wreak havoc in the country signals the regime's inability to control the situation, poor crisis management and commitment to profits over people, observers say.
"Due to uncertainty about when this virus will end, we are preparing for work, activity and science," President Hassan Rouhani announced April 29th.
"We have to follow all the medical instructions, but work and production are as essential as these precautions," he told a televised cabinet meeting.
The following day, the Ministry of Health announced that the country's overall death toll passed the 6,000 mark.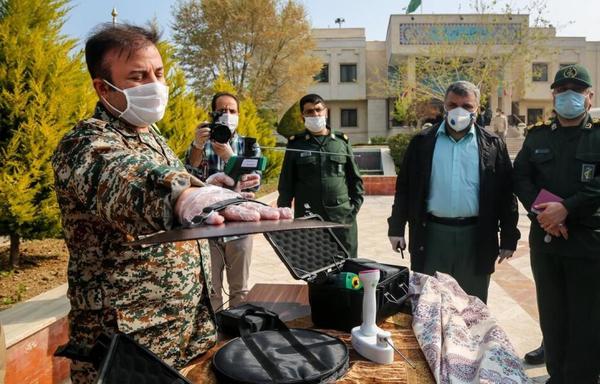 "Considering that we lost 71 of our countrymen in the past 24 hours, a total of 6,028 of those infected with COVID-19 have passed away to date," ministry spokesman Kianoush Jahanpour said in televised remarks.
And as of Monday (May 4th), that number has gone up to 6,203 deaths, while the number of people who have tested positive for the virus stands at 97,424.
A second wave of infections
With the number of infections and deaths still rising, many say the decision to ease travel restrictions and reopen businesses risks a second wave of outbreak.
"In Fars province, the coronavirus had been under control until about 10 days ago, but after the curfew was lifted and traffic released, the incidence of corona-stricken people increased," said Ali Akbari, a member of parliament from the city of Shiraz.
"Today, there are many concerns about a second wave of coronavirus in the country, but I believe that those who are able to prevent such an outbreak are the people themselves," he said in an interview with state-run Iran Labour News Agency (ILNA) published April 24th.
Akbari's concerns were confirmed by ANA news agency which reported April 28th that the number of new patients has "risen again".
"The prediction of many experts has been that we will witness the second peak of coronavirus prevalence in the country during late April and early May," ANA reported.
The upward trend is a result of people's behaviours during and after the Nowruz holiday, it said.
"Premature lifting of physical distancing measures is likely to lead to an uncontrolled resurgence in COVID‑19 transmission and an amplified second wave of cases," World Health Organisation (WHO) Eastern Mediterranean Regional Director Dr. Ahmed al-Mandhari said April 28th.
Positive cases underreported
Despite near-daily updates from the Health Ministry, many observers say the government is not providing accurate data on the number of infections and COVID-19 related deaths in Iran.
"The number of coronavirus victims in Iran is at least 20,000," a WHO source told IranWire's Persian website on April 26th.
The Iranian regime, with the intervention of the Islamic Revolutionary Guard Corps (IRGC), has been able to reduce the number of reported deaths to much lower than the actual statistics, the source said.
Statistics on positive test results of coronavirus patients in some provinces have not been recorded in the Hospital Information System of the Ministry of Health, Iran International reported April 27th.
Up to 70% of positive cases have not been included in official reports, documents show, and some registration of patient information has been delayed by three to more than 20 days.
"Unfortunately, health management in Iran has been transferred to military institutions and these individuals have no idea of the reality of what is going on," Tehran-based journalist Hossein Rajabi told Al-Mashareq.
"On the one hand, they conceal the real statistics, and on the other hand, they claim to have the situation under control."
"While all health experts are concerned over a second wave of coronavirus outbreak in Iran, the government has reduced travel and quarantine restrictions and expects people to resume their normal lives," Rajabi said, adding that this "has led to the coronavirus' resurgence".
"Unfortunately, secrecy and publication of false statistics, which had been part of the country's remedial policy from the very beginning, still continue," he said.
"Newspapers and journalists have been told on behalf of the Ministry of Culture and Islamic Guidance to only publish official statistics. Hospitals and treatment staff are not allowed to publish their own data," he said. "They have even warned MPs and city council members not to tell the truth."
"Based on reporting that my colleagues have done, the real figure of people infected by coronavirus is six to seven times greater than the official figures and the number of people who have been killed by the disease is at least four times the official number -- about 20,000 to 25,000," he said.
"In many cases, the cause of death... is being recorded as something else under pressure from the security institutions," he said.
Putting profits over people's lives
The Iranian regime's "foolish management" of the coronavirus crisis has "exposed the extent of the lack of capability and the corruption within government agencies, including the IRGC", said political expert Karim Samadian.
"Even in a situation where thousands of people have lost their lives, government institutions have still been seeking to make a profit," he told Al-Mashareq.
There is news that protective gear and even some medicines "are being provided by some institutions under [Iranian Supreme Leader] Ayatollah Khamenei's control and are being sold at many times their price", he said.
Import of these health products, including gloves and masks, "is monopolised by affiliated institutions that cannot be audited", he added.
Coronavirus test kits are being sold for three times their actual price, he said, citing the documents published by Iran International.
The IRGC's new COVID-19 detector -- an electronic device that can supposedly detect the coronavirus within a radius of 100 metres in five seconds -- is another example of the regime's foolishness, Samadian said.
IRGC commander Maj. Gen. Hossein Salami on April 15th called the device a "novel and singular scientific advancement" and "an amazing scientific technique".
"These ridiculous statements, which have been the subject of laughter and ridicule among people, even led to a statement of denial from the Physics Society of Iran," Samadian said. "Nevertheless, the IRGC commander refused to back down from his ridiculous claim."
The Iranian regime has also been using the coronavirus pandemic as leverage to push the US to lift sanctions on Iran, he said.
"The reality is that the Iranian people have become the government's hostages in this venture," he said. "Iran's government is not worried about the people, but about the weakening of its power and governance."