Even as it calls for international funding to help it weather the global coronavirus pandemic (COVID-19), the Iranian regime has been diverting resources towards the development of a missile system, experts told Al-Mashareq.
The Islamic Revolutionary Guard Corps (IRGC) has been advancing a military satellite programme, and is allegedly furthering its ballistic missile capabilities, even as Iran faces a devastating and mounting toll from the coronavirus crisis.
Iran's health ministry on Thursday (April 30th) announced that 71 new coronavirus fatalities took the country's death toll to 6,028, AFP reported.
But just last week, the IRGC announced it had successfully launched Iran's first military satellite, which the US alleges is a cover for its development of missiles.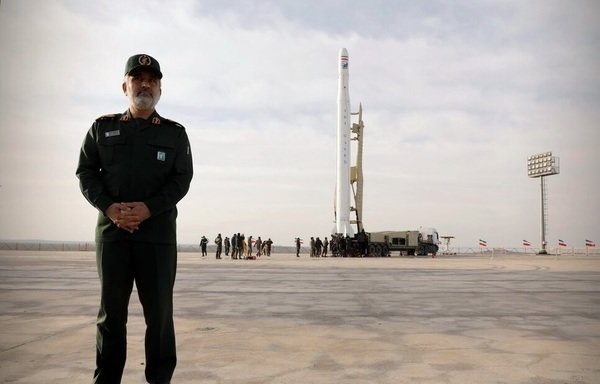 The Nour satellite is classified by the US military as a small 3U Cubesat, three adjoined units each no more than a litre in volume and less than 1.3 kilogrammes each, according to US Space Command head Gen. Jay Raymond.
Raymond said the Pentagon believes Iran's military satellite, launched on April 22nd, does not pose any intelligence threat, AFP reported.
"Iran states it has imaging capabilities -- actually, it is a tumbling webcam in space; unlikely providing intel," Raymond said.
The US has nevertheless warned that Iran's ability to place it into space represents a significant advance in its long-range missile capability, posing a greater threat to US forces and allies in the Middle East.
Diverting funds to military projects
Iranian officials and top-ranking IRGC generals recently called for financial support to combat coronavirus, political analyst Ali Narimani told Al-Mashareq.
They requested a $5 billion emergency loan from the International Monetary Fund (IMF), and have demanded the lifting of sanctions, he said, even though humanitarian aid is already exempt from sanctions.
The US has stressed that sanctions are directed at the Iranian regime, not the people of Iran, and maintains broad exceptions and authorisations for the sale of agricultural commodities, food, medicine and medical devices to Iran.
The US, which effectively holds a veto at the IMF, has signalled it has no intention of agreeing to give Iran such a credit line, alleging that it would be used to fund "terror abroad", AFP reported.
Iran's request for an IMF emergency loan even as it launched a satellite was "disingenuous", US Secretary of State Mike Pompeo said.
"I would hope that the Iranian regime will respond to the Iranian people's demands to prioritise resources -- resources that the Iranian regime clearly has," Pompeo said.
The request for funding shows the IRGC's duplicity, "and its attempt to exploit existing conditions in any way possible to obtain funds and divert them to military projects", Narimani said.
Even as Iran asks for money, he noted, national media announced the launch and placement into orbit of the first locally-manufactured military satellite, lifted into space aboard a long-range Qassed missile.
This is a "bewildering situation", he said, as it comes at a time when there is a clear and urgent need to invest in and revamp Iran's dilapidated health infrastructure in light of the coronavirus pandemic.
Launching the satellite at a time when tensions with the US are running high also signals the Iranian regime is intent on continuing its provocations, he said.
A provocative step
Iran's military satellite launch is highly provocative, "especially as the missile that lifted the satellite into space is among the missiles that the IRGC is prohibited from obtaining", Iranian affairs specialist Sheyar Turko told Al-Mashareq.
UN Security Council Resolution 2231 calls on Iran to refrain from any activity related to ballistic missiles capable of delivering nuclear weapons.
The recent launch shows the IRGC is "determined to continue to engage in terrorism around the world, even under the current circumstances", he said.
Amid the global pandemic, "all leaders are calling for a cessation of political tensions and military operations to focus on global health", he said.
The sanctions imposed on Iran prohibit it from developing or possessing ballistic missiles, military expert Talaat Moussa told Al-Mashareq.
"The rocket launch is unquestionably now seen as a clear provocation and a challenge to the international community, which is preoccupied with combating the coronavirus pandemic," he said.