New US sanctions on Iran's space programme are part of its ongoing efforts to curb the ballistic missile programme of the Islamic Revolutionary Guard Corps (IRGC), experts told Al-Mashareq.
Iran's space programme serves as cover for its ballistic missile programme, they said, noting that this poses a threat to regional and global security.
The US Treasury on September 3rd announced sanctions on Iran's space programme, designating three entities: the Astronautics Research Institute (also known as the Aerospace Research Institute or the Astronautics Systems Research Centre), the Iran Space Agency and the Iran Space Research Centre.
According to the US, a recent explosion on a satellite launch pad in the north of the country was a sign of missile work -- a claim Iran denied, AFP reported.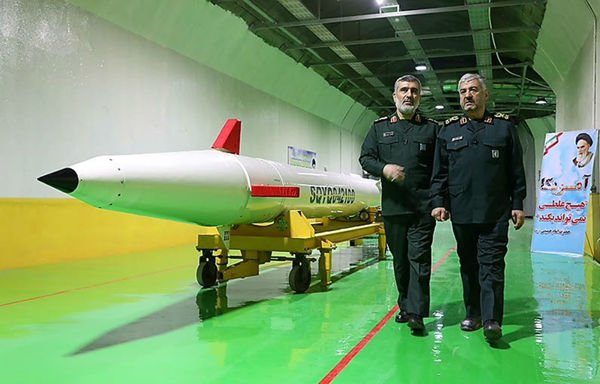 "The US will not allow Iran to use its space launch programme as cover to advance its ballistic missile programmes," US Secretary of State Mike Pompeo said in a September 3rd statement.
"Iran's August 29th attempt to launch a space launch vehicle underscores the urgency of the threat," he said.
Under the new orders, all US citizens or residents would be held criminally responsible for interacting with Iran's space programme.
"These designations should serve as a warning to the international scientific community that collaborating with Iran's space programme could contribute to Tehran's ability to develop a nuclear weapon delivery system," Pompeo said.
'Blatant provocation'
The Iranian regime "is trying to cover up its ballistic missile tests with the civilian space programme, since the technologies and materials used in both programmes are very similar", military expert Wael Abdul-Mutallib told Al-Mashareq.
"Iran seeks to manufacture long-range missiles capable of carrying radioactive material," he said, which would allow it to expand the range of its threat.
This would undermine US and international efforts to ease tensions in the region, he added, describing the conduct of new missile tests as a "blatant provocation by the IRGC".
IRGC affiliates in Yemen and Lebanon also have been using weapons supplied by Iran, he added, noting that "many of the missiles that landed in Saudi Arabia and originated in Yemen were determined to be Iranian-made".
This is the first time the US has imposed sanctions on the Iranian space programme, and shows it aims "to ramp up the pressure on Iran", said Arab Forum for Analyzing Iranian Policies head Mohammad Mohsen Abu el-Nour.
Announcing its decision, the US said space launch vehicle (SLV) technologies, such as those developed by Iran's space programme, are virtually identical and interchangeable with those used in ballistic missiles, he told Al-Mashareq.
Iran's civilian SLV programme would allow it to gain experience with various technologies necessary for development of an inter-continental ballistic missile, he said.
The US has been clamping down on Iran "to force it to alter its behaviour", international affairs researcher Mohammed Hamed told Al-Mashareq.
Hamed said he believes the US will continue to pursue this policy until a new agreement is reached that includes "curtailing Iran's ballistic missile programme, which is very closely linked to its space programme".