Hassan Ahmad Bilal Adhabi, 60, was grazing his livestock in the village of al-Jaada in Yemen's north-west Hajjah province, when a landmine explosion seriously injured him.
While the shrapnel from the March 14th blast amputated Adhabi's legs, he survived.
The next day, however, 60-year-old Ali Motanbak was not as lucky. Motanbak was killed by a landmine in the same area of Midi district as he left his house to fetch feed for his livestock.
These landmines, planted by the Iran-backed Houthis (Ansarallah), killed three other people on the same day in the same district, including two teenagers as they passed through the area on a motorbike.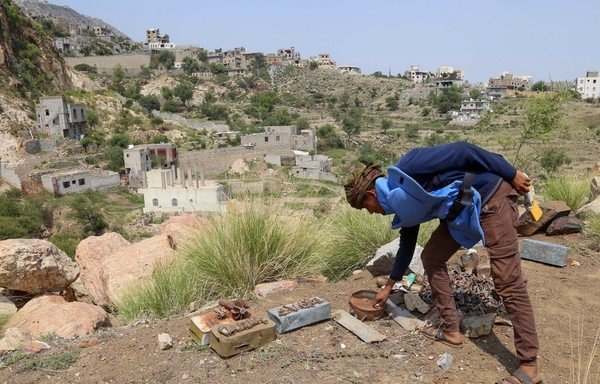 Midi district Director-General Brig. Gen. Ali Siraj confirmed the incidents on March 14th and 15th.
A Houthi landmine struck a motorcycle north of the village of Bani Fayed in Midi district killing three civilians -- Muhammad Ali Jarbahi, 35, Hassan Yusuf Jarbahi, 15, and Ismail Hussein Musawa, 14, he said.
4.5 million injured by landmines
The incidents in Midi district are just a sample of the suffering the Yemeni people face from Houthi landmines.
Two million landmines laid by the Houthi militia have caused disability to 4.5 million people, or about 15% of Yemen's population, according to Arwa al-Khattabi of the Yemen Coalition to Monitor Human Rights Violations (Rasd Coalition).
The Houthis planted these landmines in areas from which they were expelled, she said in a speech on the sidelines of the 43rd session of the UN Human Rights Council in Geneva on March 9th.
The militia lays landmines in every village and district it enters, the same evening it enters them, she said.
"The landmine disaster and possibility of death or disability is increasing because of the world's silence about this Houthi crime," al-Khattabi said.
Houthis 'manufacturing death'
The landmines -- which are claiming the lives of innocent civilians, women and children -- are one of the "gifts" Iran gives the Houthis to kill Yemenis, officials and rights activists told Al-Mashareq.
"The Houthi militia is a criminal gang and a tool for killing and annihilating people, as it works to manufacture death and is getting very creative with its manufacture, be it through landmines, shelling residential areas, abduction or torture, often to death," said Deputy Minister of Human Rights Nabil Abdul Hafeez.
"What does the Houthi militia benefit from manufacturing death?" he said.
The Houthis are an Iranian tool "aimed at spreading fear and terror as they believe that this will subjugate the Yemeni people and give them control of their present and future", he told Al-Mashareq.
The Houthi militia "along with Iranian and Hizbullah experts have gotten creative in the manufacture of landmines", he said, "including landmines camouflaged as toys and rocks to fool passersby".
"They also mined farms and placed landmines behind the doors of homes whose occupants have left out of fear of the militia," he said. "This will cause a humanitarian catastrophe when they return to their homes."
The large number of Houthi landmines raises questions about their source and supply. Yemen is not supposed to have domestic stockpiles of landmines, as in 2002, the government declared it had destroyed its stockpiles of four types of antipersonnel mines under its Mine Ban Treaty obligations.
"Therefore, the landmines that the Houthi militia is planting are Iran's gift to the Yemeni people that the Houthis are using to kill Yemenis," Deputy Minister of Justice Faisal al-Majeedi told Al-Mashareq.
The Houthis "intentionally laid landmines in areas where they do not have incubator support and areas where they are rejected", he said.
'Fields of death'
The Houthi landmines do not stop "at claiming human casualties, injuring and disabling scores of people", political analyst Faisal Ahmed told Al-Mashareq.
"Their damage has extended to livelihoods as many citizens' farms in al-Hodeidah province are littered with mines and have become fields of death instead of fields where agriculture, production and life flourish," he said.
Recalling the tragic stories of landmine victims, Ahmed said "one bride lost a leg in a landmine explosion in Taiz four days before her wedding".
He called on the UN and humanitarian organisations to "help Yemen remove the landmines and alleviate the suffering of their victims, and to put pressure on Houthi militias to desist from planting landmines".