Syrian refugees in Lebanon say they are feeling the effects of a significant decrease in the amount of aid provided by international organisations, especially winter-related aid, which has left them unable to cope with the harsh weather conditions.
While relief organisations are working hard to deliver aid to the neediest refugees, they admit they are strapped for cash, as they only received 50% of the money needed last year.
Refugees facing 'immense' challenges
"Refugees and migrants are already in a very difficult situation and we are appealing to everyone to work together on constructive and feasible solutions," said Mireille Girard, the UN High Commissioner for Refugees (UNHCR) representative in Lebanon.
"While we are working hard to further expand assistance, we remain severely constrained by funding limitations," she said in a statement released January 31st. "This is forcing us and other humanitarian agencies to prioritise the most vulnerable refugees."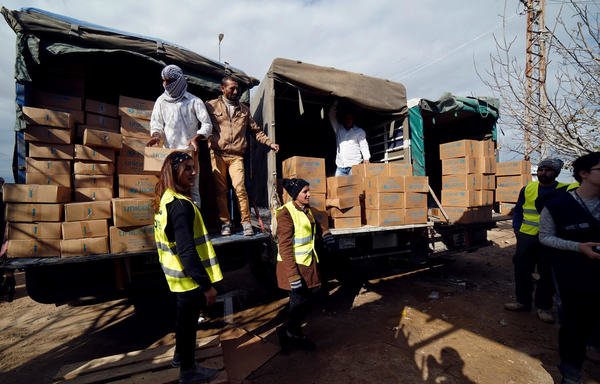 The Lebanon Crisis Response Plan, the inter-agency humanitarian appeal, only received 50% of the money it needs to carry out all its activities and programmes in Lebanon last year, the statement said.
Many Syrian refugees living in Lebanon "are deeply affected by the worsening economic crisis in the country, living below the poverty line and having limited capacity to cope", Girard said. "Despite Lebanon's remarkable generosity, the challenges faced by refugees on a daily basis are immense."
To help mitigate the impact of the economic crisis, UNHCR rapidly mobilised and expanded its winter assistance programme, providing support to over 900,000 refugees, the statement said.
Filling the gap in aid provision
Humanitarian organisations in Lebanon have received only 50% of the money they needed to carry out their activities and programmes last year, confirmed UNHCR public information officer Lisa Abu Khaled.
"Due to the limited resources, we must collectively prioritise our interventions to respond to the needs [of the most vulnerable communities]," she said.
"This leaves gaps in responding to all needs, which has a direct impact on the lives of vulnerable refugees, including children and women," she said.
Blanche Baz, a communications officer for the UN Children's Fund (UNICEF), said the organisations' winter aid programmes for 2019-2020 "include providing both in-kind and cash winter aid".
In-kind winter aid included "distributing bags of winter clothes to children under 15 years of age who live in informal camps located in hard to reach areas such as Arsal, the al-Qaa projects in the Bekaa and Wadi Khaled in Akkar", she told Al-Mashareq.
"The winter in-kind donations were distributed to 22,346 refugee children who received a bag containing a complete set of winter clothes, including 1,427 refugee children in Arsal alone," Baz said.
Winter cash aid was provided to a number of Syrian refugee families after the UNHCR and World Food Programme (WFP) temporarily suspended this type of aid in November 2019.
"UNICEF provided cash aid to families with children under the age of 18, in the amount of 80,000 Lebanese pounds [$53] per child, limiting the aid to a maximum of four children per family," she said.
"A total of 74,212 children, or 25,383 families, received [cash] aid this year."
Protecting children's rights
The decrease in the amount of humanitarian aid allocated to Syrian refugees in Lebanon "has led to an increase in child labour and child abuse", said Joe Awad, director of Beyond Association, a local humanitarian organisation.
"Without financial support, we cannot respond or intervene, bearing in mind that the number of child labourers is growing by the day," he told Al-Mashareq.
UN agencies "allocated funds for formal education only, benefitting only 40% of Syrian school-age children, while the remaining 60%, or about 300,000 children, do not receive any support for education, and most are illiterate," he said. "We cover this gap by providing basic literacy courses."
The deteriorating economic situation in Lebanon "has led to a massive increase in humanitarian needs in Syrian and host communities, at a time when humanitarian aid has decreased considerably", Awad said.