The US on Friday (January 17th) imposed sanctions on an Islamic Revolutionary Guard Corps (IRGC) general "for his involvement in gross violations of human rights against protestors during the November protests in Mahshahr, Iran".
The nationwide demonstrations were triggered by a shock fuel price hike, and left at least 304 people dead, according to an Amnesty International toll published in mid-December.
The designation of Brig. Gen. Hassan Shahvarpour was based on "multiple media reports and information submitted by the Iranian people through the Department of State's Rewards for Justice tip-line", the State Department said.
IRGC units under Shahvarpour's command killed as many as 148 Iranians when they encircled fleeing protestors in armoured vehicles, AFP reported.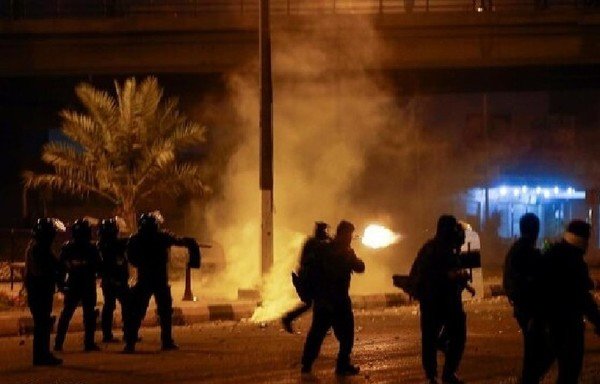 As they attempted to suppress the protest, they fired machine guns into the crowd and set fire to the marsh in which the protestors took cover.
Shahvarpour, who served as Khuzestan province's Vali Asr commander, "oversaw the massacre of 148 helpless Iranians in the Mahshahr region", according to Brian Hook, US Special Representative for Iran.
He said the US had received 88,000 tips from Iranians about November's protests after appealing for information to break through internet restrictions.
"We are continuing to review all information we received from the Iranian people and we will continue to hold more regime officials responsible for human rights violations," he said.
'The right move'
In the eyes of the Iranian people, sanctioning Shahvarpour was the right move, as it addresses the abuses committed against them by IRGC officers, Iranian dissident writer and political analyst Ali Narimani told Al-Mashareq.
This move was taken based on the evidence and testimony of thousands of Iranians, who confirmed that dozens had been killed or wounded, he said.
He described it as a "victory for the Iranian popular movements", as it makes it clear they have succeeded in making their voice heard in the outside world.
The US actions confirm that the suppression and injustice Iranians have been subjected to by the authorities have been exposed on the world stage, he said.
Shahvarpour is a veteran IRGC commander who is known for his "cruelty" and his heavy-handed approach to dealing with popular protests, Narimani said.
During the November demonstrations, he acted on the orders of Supreme Leader Ali Khamenei, who instructed him to end the protests by any means necessary, he said.
But Shahvarpour is directly responsible for the pursuit of hundreds of protestors who fled to Ahvaz province and the harm that came to them, Narimani said.
The direct orders issued by the officer in charge, in this case Shahvarpour, are responsible for the actions of those under his command, he said.