For the eighth consecutive year, Syrian refugees in Lebanon are preparing to face a harsh winter season as the camps they inhabit are not fit to protect them against colder temperatures and winter storms.
A storm hit Lebanon on October 25th, dumping heavy rain and hail that caused severe damage to property and agricultural crops, and inundated roads and some informal refugee camps with flash floods.
The storm drove a large number of Syrian refugees in the Bekaa Valley, particularly the Bar Elias area and its environs, to take the necessary precautions to weatherproof their tents.
Syrian refugee Qassem Yassin has reinforced his tent in Bar Elias with whatever material he had at hand, he told Al-Mashareq.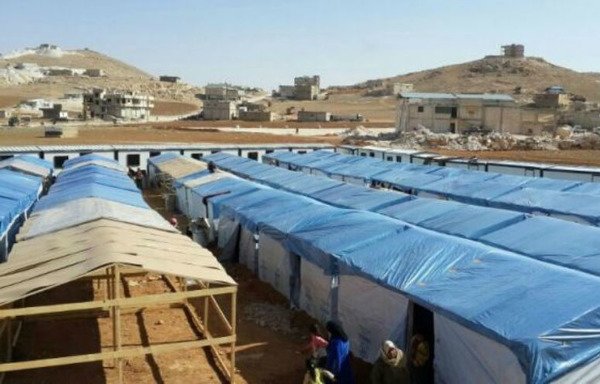 "My tent is one of about 30 tents pitched alongside the road in the area, and is on a flat surface and near an agricultural plain," he said.
"Rainwater and flash floods inundate our tents every winter despite all the measures we take," he said.
"I recently spread a thick layer of gravel to serve as a barrier against the water and changed the tent's tarps with new ones I got from the UN High Commissioner for Refugees (UNHCR) last year," Yassin said, expressing hope that his tent will be "strong enough to shelter my family in the winter and protect them from the harsh weather".
"My tent is in tatters and a strong storm is liable to knock it down," Yassin's relative, Badriya Yassin Mohammed, told Al-Mashareq.
"I cannot repair it or reinforce it, so I am waiting for whatever materials [aid] organisations can give us to shore it up," she said.
Mohammed said she, along with thousands of other Syrian refugees, awaits the aid distributed by the UNHCR and relief organisations, which will in part allow her to buy fuel for heating.
Camps in need of rehabilitation
Syrian refugees who live in Arsal camps are also bracing to weather the cold winter season, said Khalid Raad, the official in charge of refugee affairs in Arsal.
Arsal camps are in need of rehabilitation, he told Al-Mashareq, starting with the foundation -- the soil on which the tents are pitched -- to tarps, wood heating materials and stoves, he said.
He said that 90% of the tents need repair, particularly those located in the al-Babayn area, a downhill terrain formerly known as al-Manaqeh, an area where water collects.
Syrian refugees in Arsal "are trying as much as possible to reinforce their tents to prevent the heavy rain from leaking in", Raad said.
The camps "are not fit for winter, and most of them need wood and rocks to shore them up and new tarps to withstand the rain and snow", he said, noting that some parts of Arsal can get up to one meter of snow.
The refugees also are in need of heating fuel and stoves, he said, "as the existing [stoves] are old and the new ones sell for between $40 and $90, a price the refugees cannot afford".
UNHCR 'fully prepared' for emergencies
"The UNHCR is working diligently throughout the year to ensure that refugees living in substandard conditions receive help to cope with the daily hardships of life and the weather conditions," said UNHCR public information officer Lisa Abu Khaled.
"As winter approached, we began to provide them with winter supplies," including tents, plastic tarps and wood, she told Al-Mashareq.
Aid workers are also present to mitigate the damage caused by the floods, she said, noting that they have been spreading gravel throughout the camps.
"The UNHCR, along with our partners, are fully prepared to respond to any emergencies," Abu Khaled said.
More than 740,000 refugees in Lebanon will be facing the winter season for the eighth consecutive time this year, she said, and most have depleted their savings and do not possess the means to cover the cost of heating supplies or winter clothing.
"They face the harshest living conditions, because their financial resources are declining and their expenses are increasing," she said.
UNHCR seeks to reach 146,000 vulnerable families, or 732,000 people, to provide them with $173 in cash aid per month, in addition to $75 per family for a period of five months to cover extra seasonal expenses, Abu Khaled said.
These cash payments will help refugees in the camps cover additional expenses for obtaining fuel, clothing, blankets and medicine, she said.