Pro-Iran media outlets have been engaged in a campaign to burnish the image and reputation of Maj. Gen. Qassem Soleimani, commander of the Quds Force of Iran's Islamic Revolutionary Guard Corps (IRGC-QF), experts told Al-Mashareq.
These reports have vaunted Soleimani's political and military prowess, even though his decisions and actions have greatly contributed to Iran's isolation and the imposition of sanctions that have devastated its economy, they said.
They come amid a rising climate of dissatisfaction and criticism inside Iran of Soleimani's performance of his duties outside the country.
Leaders of Iran's reformist movement and hardliners alike are said to be disturbed by the way the IRGC's leadership has been handling foreign affairs, saying this exposes their country to further isolation and economic crises.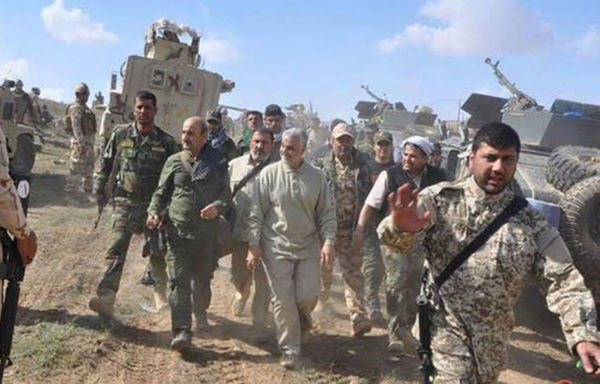 In a message aired on state TV, Iran's Supreme Leader Ali Khamenei earlier this year called the economic difficulties Iranians are facing the main and most urgent problem of the country.
Meanwhile, Soleimani has been accused of stoking resentment in Iraq towards Iran because of its support for certain Iraqi militias.
And Iranian politicians have expressed mistrust in field reports Soleimani sends to senior officials, which they describe as "misleading" and based upon "a wrong strategy".
Soleimani's actions also sparked ire among the Iranian people following the IRGC's widely unpopular decision to bring in Iran-aligned Iraqi militias to help it suppress dissent in flood-afflicted areas over the summer.
'Inflated media image'
"Soleimani's inflated media image is not commensurate with his political and military capabilities," Iranian dissident writer and political analyst Ali Narimani told Al-Mashareq.
The recent media focus on Soleimani is intentional, he noted, as evidenced by the heavy coverage of his presence in Iraq and Syria.
Photos of his visits to these areas were clearly staged for publicity purposes, he said, "but made to appear as though they were taken spontaneously during visits to Lebanese, Iraqi, Afghan, Pakistani and Syrian militia fighters".
These photos portray him in a flattering light -- as the leader of the IRGC abroad, with total control over the forces under his command, he said.
In reality, however, Soleimani's activity consists of directing armed groups who operate more like "gangs" and carry out specific operations, "taking advantage of the turmoil in the countries in which they operate", Narimani said.
They sow discord in neighbouring countries and threaten their security, he said, pointing out that their actions keep Iran "at war with its Gulf neighbours".
The actions of Soleimani's Quds Force "have brought sanctions upon Iran and the Iranian people that have made the social and economic situation more difficult", he added.
A deficiency of leadership
"Soleimani had a modest regular and military education that is not at all commensurate with the image projected of him," Iranian dissident and Tehran native Hossein Shayan told Al-Mashareq.
This is reflected in the "bellicose and provocative" language Soleimani uses when addressing the IRGC's affiliates and proxies, Shayan said.
"Since his emergence on the regional scene, and despite his command of the IRGC's proxies in neighbouring countries, Soleimani lacks negotiating skills," he added.
"During crises, he mostly inflames the political and military situation, when in most cases what is urgently needed is diplomacy and de-escalation," he said.
Soleimani is not the mastermind he is portrayed to be, as the foreign operations he oversees are in implementation of Khamenei's agenda, Iranian affairs researcher Fathi al-Sayed told Al-Mashareq.
Neither is he the architect of the programme of expansion he is carrying out in the region in implementation of Khamenei's plans, as the foundations for this were laid out by his predecessor, Gen. Ahmed Vahidi, he noted.