Iraqi political and security analysts are expressing concern over Iranian interference in their country, saying Iran has attempted to kill Iraqi public figures who oppose its interventionist policies.
In a November 29th report, British newspaper The Telegraph pointed to Iran's use of "teams of hit squads in Iraq to silence critics of Iranian attempts to meddle in Iraq's new government".
According to The Telegraph, the hit squads are said to have been deployed on the orders of Maj. Gen. Qassem Soleimani, commander of the elite Quds Force of Iran's Islamic Revolutionary Guard Corps (IRGC-QF).
Among their targets were Iraqi politician Adel Shaker al-Tamimi, a fierce critic of the Iranian regime and ally of former Prime Minister Haider al-Abadi, who was allegedly assassinated by a Quds Force unit in September, The Telegraph said.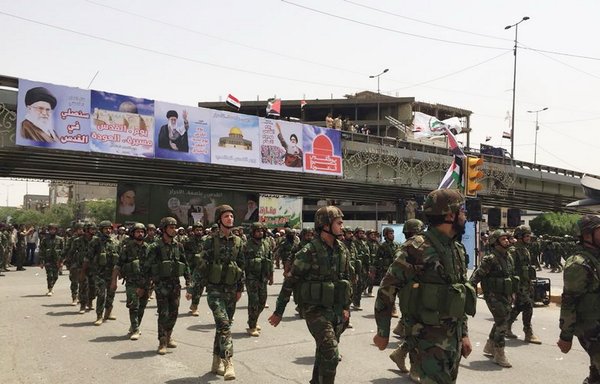 In August, Rady al-Tai, an advisor to Shia cleric Ali al-Sistani, survived an assassination attempt after calling for the reduction of Iranian influence in the new government.
And on July 3rd, Shawkqi al-Haddad, an ally of cleric Moqtada al-Sadr, was assassinated after he accused Iran of rigging the Iraqi election.
'A policy of elimination'
The recent assassinations are "part of the Iranian regime's policy of elimination" of its opponents, Iraqi political analyst Adel al-Ashram Bin Ammar told Diyaruna.
Iran has "a long history" of committing such crimes against those who resist its influence and ambitions, he said.
Iran has been trying to gather information about all Iraqi politicians, clerics and activists who do not support it, he added.
This is especially the case after recent anti-Iran demonstrations in Iraq and the growing resentment of the destructive role Iran has been playing in Iraq through militias affiliated with the IRGC.
Politically, he said, Iran has been focused on attempting to pull Iraq into its orbit as it faces economic sanctions and international pressure.
"There is a strong desire to fully open the Iranian market [to Iraq] and to circumvent the sanctions and mitigate their impact on the Iranian economy," he said.
Iranian deployment in Iraq
Forces from the IRGC-QF, Basij paramilitary forces and Iranian intelligence agencies have secretly deployed in Baghdad and Iraq's southern provinces, Ninawa tribal spokesman Sheikh Muzahim al-Huweit told Diyaruna.
"These teams received orders from Iranian leaders, most notably Quds Force Commander Qassem Soleimani, to carry out selective assassinations," he said.
These have targeted "political and religious figures and patriotic activists who oppose Iran's policy and publicly criticise its involvement in Iraqi affairs", he said.
According to al-Huweit, this "is an attempt to silence free Iraqi voices who follow a patriotic path that rejects Iranian expansion".
Iran is currently in a serious predicament, as its economy is faltering as a result of the US sanctions and its growing international isolation, al-Huweit said.
The recent assassinations "are part of the policy of imposing hegemony" and place political pressure on Iraqi sovereignty "by the force of intimidation", he said.
"It is a dangerous turn, and we had previously warned that Tehran may resort to more violent means to maintain its influence in the region in response to the pressures it is experiencing," he added.
'A threatening message'
Iran intends to export its problems and crises with the international community to neighbouring countries, strategy expert Alaa al-Nashou told Diyaruna.
"The Iranian goal is to increase its hegemony over these countries and force them to submit to its will through liquidating its opponents," he said.
Assassinations are being carried out by "Iranian intelligence and the IRGC, and with the help of Tehran-backed Iraqi militias", he said, and seek to eliminate Iraqi figures who "stand in the way of Iran's ambitions".
Iran also seeks to "send a threatening message to the world", he added, by attempting to demonstrate that it can "plunge Iraq and the region into chaos and internal strife" in response to stepped up pressure and sanctions.