In addition to military co-operation, the US-Kuwait partnership extends to areas such as medicine and infrastructure, experts told Al-Mashareq.
Strategic partnership agreements between the two allies in a number of areas "have taken the relationship between the two countries to its zenith", said military expert, Nasser Rashed, who is retired from the Kuwaiti military.
The US has equipped and modernised a large number of Kuwaiti military units, he told Al-Mashareq, "in conjunction with conducting year-round programmes that include continuous training, joint exercises and exchange of expertise".
The US military presence in Kuwait, based at Camp Arifjan, has become a "key pillar for security, not only for Kuwait but for the Gulf as a whole", he said.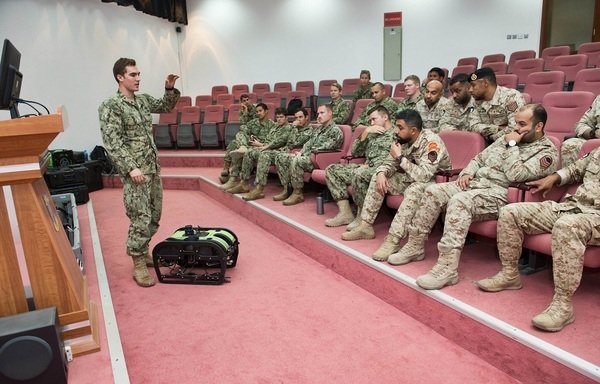 Joint exercises are now being conducted year-round, with the involvement of both military and semi-civilian units, Rashed said, with additional drills taking place with Gulf Co-operation Council (GCC) partners and other allies.
Preparations are under way for the "Eagles Resolve 2020" drill, to be held next March, with the Kuwaiti Ministry of Defence announcing that army chiefs from GCC states, Egypt, Jordan and the US had taken part in a planning session.
Medical training programmes
Military co-operation between the US and Kuwait is not limited to providing Kuwait with weapons and military equipment, but extends to other areas, many of which impact Kuwaiti citizens.
Medical training programmes have "raised the competence level of Kuwaiti medical units, which provide their services to civilians and military personnel", said Mohammed al-Suwaidan, commander of a Kuwaiti MOI Civil Defence unit.
New agreements in the pipeline aim to improve the quality of medical services in military medical facilities, al-Suwaidan told Al-Mashareq, using a pseudonym.
These agreements will "increase the competence of medics and Kuwaiti medical cadres in times of war and in responding to disasters, weapons of mass destruction and the conduct of evacuation operations", he said.
All relief, medical and rescue units and the civil defence department operate under a unified Crisis Response Operations Room, which in turn co-ordinates with the US forces in Kuwait, al-Suwaidan said.
Meanwhile, under various bilateral agreements, US forces have been working with specialised units of the Kuwaiti army to modernize infrastructure, Egyptian military expert Wael Abdul Muttalib told Al-Mashareq.
These programmes focus on electronic infrastructure, "given its importance and its connection to cyber warfare, combating terrorism and piracy", he said.
The US Army also has upgraded al-Mubarak military base in Kuwait, with improved facilities and services that have extended its capabilities, he added.