Snowstorm Norma, which has been battering north-eastern Lebanon for some days, has seen many Syrian refugees displaced from their tents, which have collapsed as a result of heavy snowfall, rainfall and high winds.
The force of the storm has wreaked havoc on the informal camps scattered throughout the Bekaa Valley, the north and Mount Lebanon.
In the western Bekaa Valley, the Litani river, swollen by heavy rain, flooded the refugee camps of Bar Elias and Jib Jenin, sweeping away personal possessions.
To the north, the waters of al-Nahr al-Kabir river have inundated the largest Syrian refugee camp in the border town of Semmaqiyeh, destroying tents.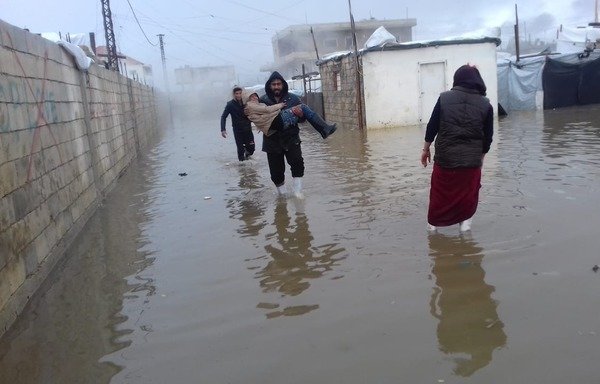 In the northern town of Minyeh, the body of an 8-year Syrian girl who had been missing since Tuesday afternoon (January 9th) after she fell into a river was found the next morning in a nearby orchard.
The Lebanese Red Cross has evacuated around 100 families (500 people).
Minister of State for Displaced Affairs Mouin al-Merehbi appealed to the UN High Commissioner for Refugees (UNHCR) and the Ministry of Social Affairs and its partners to rescue families whose tents were flooded in Hawsh al-Harimi camp.
Flooding destroyed tents
"When talk about the storm started, my husband made sure the tent panels and roof were strong enough to withstand it, but we did not expect the river to flood and water to inundate the tents," said Bar Elias camp resident Rashda al-Jaber Qasim.
"The flooding drenched our mattresses, wool blankets, clothes and carpet, and a part of the tent collapsed because of the wind, so we were forced to leave and take shelter in the Bar Elias mosque," she told Al-Mashareq.
"My family and I were surprised by the amount of water that entered our tent and caused part of the tent to collapse," said Aisha al-Allaw, who told Al-Mashareq her tent was destroyed by the flooding.
Several organisations sprang into action, including Sawa for Development and Aid, which rushed to move the refugees to safe areas.
"The flooding of the Litani River in Bar Elias rendered 90% of the camp's tents unusable," Sawa field official Omar al-Weis told Al-Mashareq.
"Strong winds slammed all the tents, uprooting posts and wood panels, and the river's waters flooded the tents' flooring and soaked the firewood," he said. "The river water turned the camps into swamps and displaced the refugees from them and out into the bitter cold and heavy rain, so we moved them to shelters."
"All said, the storm damaged 20 camps. Each camp contains 50 to 80 tents, each housing five people, at least," he said.
Relief for camp residents
When the camps flooded, Sawa rushed to the aid of the residents along with the Basmeh and Zeitooneh organisation and Kayany Foundation, al-Weis said.
"We opened our schools and psycho-social support centres, moved all the refugees out of their damaged tents and provided them with clothes, mattresses, food and heating [material]," he said.
UNHCR also sprang into action, in co-ordination with the Ministries of Interior, Municipalities and Social Affairs, UNHCR public information officer Lisa Abu Khaled told Al-Mashareq.
"We implemented a contingency plan to help those affected by the storm, moving those whose tents were destroyed to mosques, schools and infirmaries, and moved other families to [the homes of] relatives," she said.
UNHCR "will start providing wood and canvas for rebuilding the tents as soon as the storm passes", she added, noting that UNHCR and its local partners "are working to mitigate the damage caused by the storm".
The agency has distributed blankets, mattresses and water-drying kits, while continuing to support the winter programme and respond to emergency situations, Abu Khaled said.
Arsal under the snow
In Arsal, which is blanketed with snow, 40 tents were damaged, said Khaled Raad, of the government's Arsal Refugees Co-ordination Committee.
Heavy snow has covered 130 camps in Arsal, where more than 7,200 tents house thousands of Syrian refugees, he told Al-Mashareq.
These people are facing severe cold as well as a shortage of mazout (heating oil), he said, adding that many families cannot afford to buy it.
A 20-litre jerry can of mazout sells for about 18,000 pounds ($12), he said, with each tent requiring about 10 litres each day, at a cost of $6 per day.
Hamed al-Sarhan, who resides in al-Tufail camp in Arsal, told Al-Mashareq that he and his family are facing a difficult situation.
"We are dealing with a very heavy snowstorm, and there is another storm expected to follow on its heels that is even more severe," he said.
"The problem is that we are not equipped to cope with the storm, because we live in a tent that is liable to collapse at any moment," he said.
"When the storm arrived I was unable to obtain mazout or firewood for heating," he said. "My seven children are suffering from the extreme cold, and all we have to keep warm are a few wool blankets and our clothes."