Tahrir al-Sham has been cracking down on local activists in areas under its control in the northern Syrian province of Idlib as it seeks to gain full control of the region and its resources, local activists said.
Through brute force and its political front, the so-called salvation government, the extremist alliance has been stepping up pressure on civilians in the areas it controls in and around Idlib, local activist Haisam al-Idlibi told Diyaruna.
This has led to increased tension and protests, he said, to which Tahrir al-Sham has responded by opening fire on protestors and banning demonstrations.
Angry demonstrations against Tahrir al-Sham were staged in late November by activists, media professionals and residents of the Idlib province city of Kafr Nabl, which is administratively part of Maarat al-Numan district.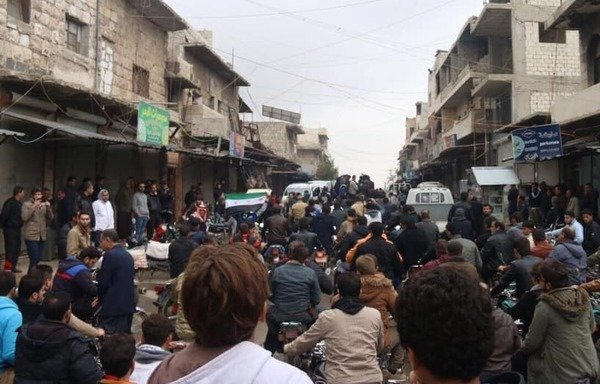 The protests, which began November 26th following the assassination of local activists Raed al-Faris and Hammoud Junaid, called on the extremist alliance to leave the city and stop its oppressive practices against the civilian population.
Tahrir al-Sham has been assassinating leaders and elements of armed groups that oppose it, al-Idlibi said earlier this month.
The extremist alliance also has been confiscating houses, shops and agricultural lands whose owners have been displaced from the area, including properties owned by former and current Christian residents of Idlib province.
Targeting local activists
In light of Tahrir al-Sham's detention and harassment of relief activists, most relief organisations have been forced to halt their operations out of concern for the safety of their employees, Idlib activist Musab Assaf told Diyaruna.
Tahrir al-Sham also has sought to control the region's economy by manipulating the prices of fuel, cereal crops and bakeries, he said, noting that prices for these essential goods are now beyond the means of most residents of the region.
"Nary a day goes by without a kidnapping, assassination or detention taking place in the area controlled by Tahrir al-Sham," Syrian journalist Mohammed al-Abdullah told Diyaruna.
"Most of those targeted are moderate activists who oppose the group's ideas," he said, and appear to have been targeted "in a systematic manner and as part of a plan to get rid of all opposition figures who can influence public opinion".
Among them is Judge Mohammed Nour Hamidi, who was kidnapped in September and "was eventually released for a ransom of $70,000", he said.
"The identities of the kidnappers were revealed as being members of Tahrir al-Sham", al-Abdullah added.
Kidnapping for ransom
Other cases include the kidnapping of Wasel al-Omar, a merchant who was released in Idlib city centre in the presence of Tahrir al-Sham elements in September for a ransom of $300,000, al-Abdullah said.
Earlier this year, Dr. Mahmoud al-Mutlaq was released for a ransom of $120,000, and the same amount was paid for the release of two other doctors, Khalil Agha and Imad Qattini, he added.
"Additionally, a merchant who defected from Tahrir al-Sham named Zaher Maamar was released for $80,000, and another victim was a Red Crescent official in the town of Salqin who was released for $300,000," he said.
"It seems that kidnap for ransom has become a source of income [for Tahrir al-Sham]," he said, at a time when other revenue streams, such as donations and illegal trade, which used to bring in millions, have dried up.