A gallery of paintings displayed inside the Sir Bobby Charlton Centre for Support and Rehabilitation in central Amman greets visitors with scenes and colours both bright and dark.
One painting shows a group of children in wheelchairs, while another shows a brother and a sister mourning the death of their mother. Refugees cross borders and others drown in the sea. There are mass graves, soldiers and weapons.
Yet as visitors travel further into the centre, the colours get brighter and the paintings capture happier moments.
One child is seen going back to school, and another looking through a window. Balloons float in the sky, and a group of children in wheelchairs rebuild Syria.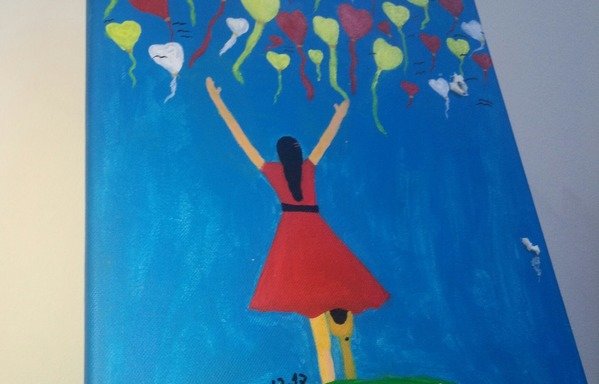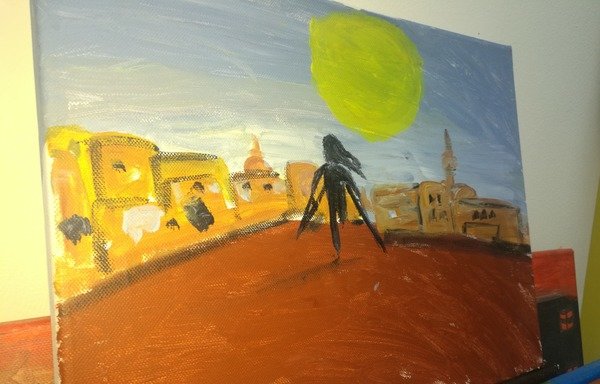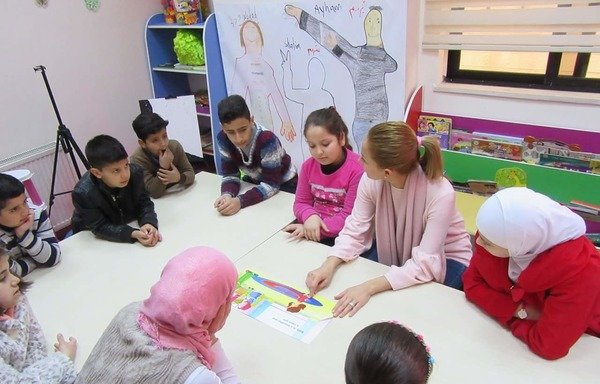 Inside the centre, some of the young painters attend an art class -- quiet, yet deeply engaged in their drawings.
Their artwork depicts their interpretation of Syria's civil war. Between the lines, one can see memories, fears and hopes.
Some portray their life before the war; friends playing together, families bonding. Others portray what they saw when the war erupted; violence, bloodshed and destruction, while others relive their exodus from Syria to Jordan.
Physical and psychological support
Located in a busy business district in Amman, the centre, run by Jordanian non-profit Asia Development Training (ADT), receives wounded Syrian refugees and Jordanian victims of landmines and explosives.
Of the more than 650,000 registered Syrian refugees currently residing in Jordan, many are experiencing physical or psychological trauma, such as the loss of a limb or the death of family members.
Since its establishment in 2013, ADT has been providing prosthetic rehabilitation and mobility services to wounded survivors through a project funded by the US-based Polus Centre for Social and Economic Development.
Prosthetic care used to be offered through local rehabilitation centres scattered throughout Jordan.
ADT recently launched its own rehabilitation centre, in co-operation with the Sir Bobby Charlton Centre for Support and Rehabilitation, a UK-based landmine charity, to provide refugees with physical and mental support in one place.
"The majority of the refugees that visit the centre arrive with spinal cord injuries or have lost a limb," ADT director Akram Ramini told Al-Mashareq.
These patients receive mobility devices and rehabilitation services, including artificial limbs, wheelchairs, braces, physical and psychological therapy, he said.
"Assistance is provided following the person-centred approach," Ramini said. "Technicians listen to the cases received and provide solutions on an individual basis."
Shared suffering, loss and pain
Refugee children who visit the Sir Bobby Charlton Centre, which is brightly designed and furnished with up-to-date equipment, come from different refugee camps in Jordan, primarily al-Zaatari, the kingdom's largest.
Among these children, aged 5 to 16, 70% have lost one parent, and many their entire families.
The centre brings them all together as victims of war who have gone through the same suffering, losses and pain. They meet, talk and play, and find a place to talk about their troubles.
The healing process comes in stages.
"After implanting a limb comes the need for psychological support," said Dr. Niveen Abu Zeid, the trauma support trainer. "At the beginning, there is denial. The injured does not easily accept the artificial limb."
"Although they are walking again, deep inside they know they are not like before," she said. "This usually leads them to depression."
Role playing, meditation and art are introduced by specialised trainers to bring out some of what the children have been through so they can deal with their emotional trauma and begin to heal and dream again.
Some have discovered themselves as artists, others as writers.
"For those who had set dreams for the future, but their injury does not allow it, I try to direct them to a similar dream," Abu Zeid said. "So the kid who wanted to be a football player but lost his leg, he can become a sports analyst."
Extensive art therapy programme
The group of children in the art class had no visible injuries, but have been traumatised by what they saw during the war.
"Most of them have seen explosions and people dying in front of them," Abu Zeid said. The art classes are part of an extensive art therapy programme, designed for those who are suffering from post-traumatic stress disorder.
Batoul, a 12-year-old Syrian refugee from Daraa, drew her room, as she last remembers it: beautiful, clean and filled with her special toys and belongings.
When she came to Jordan, she was only 7. She comes to the centre in the morning hours before her evening school starts.
On the shelf lie the drawings of children who have finished their rehabilitation.
Many were drawn by Khalid, a 16-year-old Syrian refugee from Daraa, whose artwork reveals many mixed feelings.
Khalid was always quiet when he first came to the centre, Abu Zeid said. After a few sessions, his therapist got him to speak about what he had experienced.
The last thing he remembered about his home in Syria was his mother, as she was heading to the kitchen to prepare him food. He woke up in Jordan, partially paralysed, diagnosed with brain damage and with both parents dead.
Children dream of returning to Syria
Khalid is now painting from his home in al-Zaatari camp, and from time-to-time, he visits the centre as part of ADT's follow-up programme.
His current paintings are all about rebuilding Syria. But in his portrayal, the children who are rebuilding his country are all confined to wheelchairs.
Many children at the centre have adapted to their life and school in Jordan, but the majority expressed their desire to go back to Syria.
Adam wants to go back because he misses feeding the pigeons on the roof of his home. "I am sure they also miss me by now," he said.
For Malak, there are things she loves about Syria that she cannot find in Jordan.
The children's paintings were recently shown in London in an exhibition titled, "Dark to Light: A Syrian Child's Journey" as part of a wider photographic exhibit, "Legacy of War".
While they reveal the atrocities of war, seen through the eyes of a child, they also show resilience and the children's ability to hold on, and dream again.