Though he was partially paralysed as a result of the Syrian war, 17-year-old Bassel Mokdad, who uses a wheelchair, has been able to realise his dream of becoming a violinist.
But this transformation did not come easily, he said, playing his violin and sharing his story during a Monday (March 12th) UNICEF event in Beirut designed to shed light on the devastating impact of Syria's war on children.
Bassel was wounded in June 2013 while playing with two friends in the alleyways of Daraa. His injuries required surgery, forcing him to head to Beirut, where he cut himself off from other people to escape questions about his condition.
Last year, he resolved to face his situation and learn to play the violin.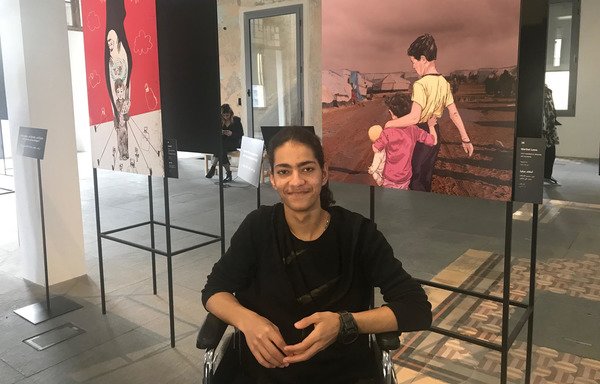 The Syrian Observatory for Human Rights has recorded the deaths of 19,811 children since the war began in March 2011.
Three million people have been wounded in the conflict, French group Handicap International said Monday, with 1.5 million now permanently handicapped, 86,000 of whom required amputation.
Last year, more than 360 Syrian children were injured or disabled by explosives and indiscriminate attacks on densely populated areas, UNICEF said, noting that this is just the number the UN has been able to verify.
The conflict is now "the leading cause of death among adolescents in Syria", according to Geert Cappelaere, UNICEF regional director for the Middle East and North Africa.
Among Syrian refugees in Lebanon and Jordan, he said, 80% of injuries are a direct consequence of the war.
Facing fate with humour
"I was wounded in my back in 2013 and my friend was killed before my eyes as we played in our neighbourhood in Daraa," Bassel said.
He was 12 years old at the time.
"I moved to Lebanon and underwent several surgeries, but they failed to restore movement to my feet," he said. "I went through years of psychological suffering inside the walls of the house in Beirut, where I refused to see anyone."
"I avoided going out so I would not have to see the looks of pity, as my disability greatly affected my psyche," he said.
"However, about a year and a half ago, I decided to face my fate with humour and to proceed with realizing my dream of becoming a violinist," Bassel said.
He enrolled the Rahma Institute for Special Needs and started a new phase of his life.
He had always dreamed of playing the violin, and threw himself into this opportunity with passion, learning to perform before an audience without fear.
'Seek to realize dreams'
Bassel urged other children who have suffered disabilities as a result of the war not to be ashamed of their wheelchairs or prosthetics.
"I call on them, from my personal experience, to face the world, rely on themselves, build up their capacities and seek to realise their dreams," he said.
Bassel's mother, Nazek Fawwaz, told Al-Mashareq her son's experience has been "extremely difficult, yet he rejected pity and went out to the world armed with his ambitions".
As the Syrian war enters its eighth year, UNICEF is concerned with "how to help children attain their rights and preserve their dignity", said Juliette Touma, UNICEF regional chief of communications in the Middle East and North Africa.
UNICEF has programmes to help children with health care, medicine, education and basic services, she said. It also has specialised programmes to treat physical injuries, in collaboration with Lebanese and Jordanian organisations.
"We have worked with UNICEF and the INARA organisation since the outbreak of the war in Syria," said Dr. Ghassan Abu-Sitta, a plastic and reconstructive surgeon at the American University of Beirut Medical Centre.
"More than 100 surgeries were conducted last year," he told Al-Mashareq. "We are working to expand our medical capacity to conduct as many surgeries as possible."
Abu-Sitta expressed concern over the fate of thousands of war-wounded children "whose treatment, surgeries and rehabilitation are delayed because they are unable to access treatment".