A Syrian refugee in Lebanon set himself on fire Wednesday (January 9th) outside a UN office in desperation at aid getting cut off to his family, suffering serious burns.
Refugee agency UNHCR and the World Food Programme (WFP) told AFP that the man -- named by family as 43-year-old father of four Ryad Khalaf Zibou -- "set himself alight" at a UN compound in the northern city of Tripoli.
"UN staff attended to the incident, provided first aid support and rushed him to the hospital where he is in a serious but stable condition," the agencies said in a joint statement.
"This tragic incident underscores the pressures and difficulties facing many refugees, who are becoming increasingly vulnerable and who -- in rare cases -- resort to such desperate acts," the statement said.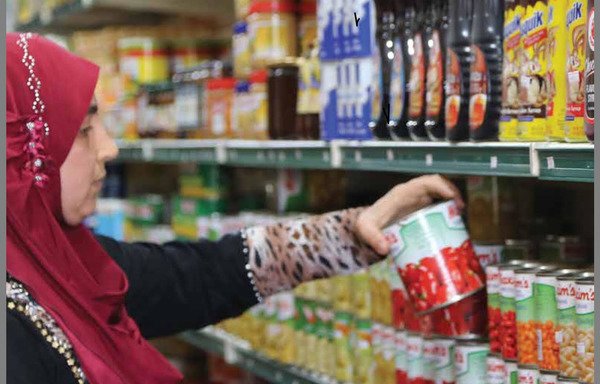 According to a December 15th report by the UNHCR, WFP and the UN Children's Fund (UNICEF), Syrian refugees are becoming more vulnerable than ever, with more than half living in abject poverty and more than three-quarters below the poverty line.
The annual survey, which encompassed 5,000 randomly selected refugee families from 26 districts across Lebanon, found that Syria refugees do not have sufficient funds to meet their basic needs.
It found that 58% of Syrian households are living in extreme poverty -- on less than $2.87 per person per day, with an increase of 5% compared with 2016.
The number of families living below the poverty line -- less than $3.84 per person per day -- continued to rise, reaching 76% in 2017, the report said.
It also found that nine out of 10 Syrian refugees borrow money to buy food, cover health expenses and pay rent.
"Syrian refugees in Lebanon are barely keeping afloat," said Mireille Girard, UNHCR Representative in Lebanon. "Most families are extremely vulnerable and dependent on aid from the international community."
Without continued support, their situation would be even more harrowing, she said.
"Continued donor support in 2018 is the only way to ensure that there is no further deterioration of the refugee situation," said Dominique Heinrich, WFP country director for Lebanon.
'I can no longer meet the basic needs of my family'
"Since we were displaced to Lebanon six years ago, we have not experienced such hardship as we do today," Ahmad Mohammed al-Qassim, a native of Aleppo, told Al-Mashareq.
"In the past, what I earned from working in farming in the Bekaa Valley and the monthly aid we received from the UNHCR used to be enough to help me support my family that consists of my wife and my three children, until the end of the month," he said.
"Our situation in 2017 has deteriorated to the point where I can say that I am poor," he said.
The drop in wages and decrease in aid provided by the UNHCR, coupled with an increase in the cost of living, have had its toll on al-Qassim's financial situation.
"I am no longer able to meet my family's most basic needs such as food and clothing, and I have to borrow money from some of my compatriots," he added.
Decline in support to humanitarian organisations
The rise in the poverty rate among Syrian refugees can be attributed to several factors, UNHCR assistant public information officer Lisa Abu Khaled told Al-Mashareq.
These include "their presence in Lebanon for more than six years and the fact that UNHCR is receiving only 58% of the funding allocated to help them".
"We are seeing their situation deteriorate every year," she said, noting that the cash assistance to the poorest families, who total 33,000 families, is $175 a month.
The report has shown that "humanitarian assistance, particularly the cash for food [programme], is a safety net for a large number of families, as an estimated 700,000 refugees benefit from the aid provided by the WFP".
"Our constant objective is to reach as many people as possible with monthly cash assistance of $175 per family and winter cash assistance of $75 per person for the neediest families over five months of winter," Abu Khaled said.
"If they do not receive this assistance, they would be very vulnerable because their needs are increasing," she said, noting that the refugees' accommodations are below standards, putting them at a high risk of contracting diseases.
Refugees are not receiving sufficient support due to the decline in funding provided to humanitarian organisations, she said.
"In view of this, we are currently reviewing the refugees' files to monitor changes in their situation and make sure that we reach the poorest and most needy," said Abu Khaled.
"We, the Lebanese government and partner organisations are preparing to launch an appeal to the international community to ask for $1.9 billion to respond to the needs of the Syrian refugees and their Lebanese host communities," she said.
Food aid for parents and children
WFP is providing food aid to 700,000 vulnerable Syrian refugees in Lebanon, WFP media and communications officer Edward Johnson told Al-Mashareq.
"Each person receives monthly cash assistance of $27 for food," he said, which is loaded on an electronic card that allows them either to buy the food they need from 500 shops contracted by the organisation, or withdraw the money from ATMs.
"Thus, a family of five people receives $135 per month," he said.
WFP also provides light meals to about 7,500 Syrian refugee children who attend public schools in both the morning and afternoon sessions, Johnson said.
"Every day we provide a bag containing a carton of milk and fresh fruit to encourage parents to enroll their children in school," he said.
WPF also has launched 111 projects that benefit about 2,700 refugees by providing them with training in certain specialties, such as food processing for resale in markets, he said.
"We designed projects to hone their skills and help them gain experience to make money, become self-sufficient and stop the deterioration of their situation," he said.