Lebanon's newly formed Ministry for Refugee Affairs faces many challenges, from overburdened infrastructure and unregulated refugee camps to a weakened economy and heavy concentrations of refugees in poor areas.
According to Minister of State for Refugee Affairs Mouin Merhebi, the ministry's main task is to develop policies and co-ordinate among the relevant authorities to help Lebanon cope with the refugee crisis.
Merhebi, who was appointed to the new post in December, spoke with Al-Mashareq about his role and the repercussions of the Syrian refugee crisis on Lebanon, which has so far cost the country up to $18 billion.
Al-Mashareq: What are the main responsibilities of the newly formed Ministry for Refugee Affairs?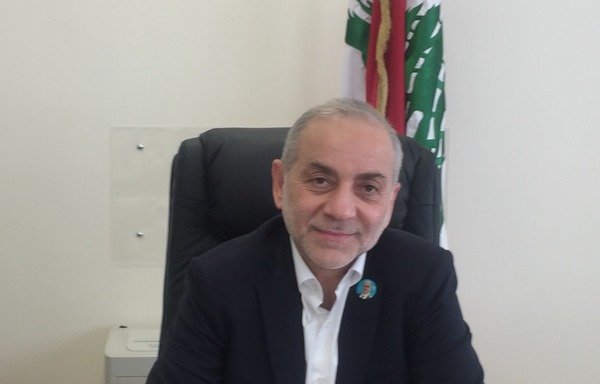 Mouin Merhebi: The formation of this ministry -- although six years too late -- was to help Lebanon in dealing with the international community regarding the issue of refugees.
The ministry helps put in place policies that pertain to Syrian displacement, as well as co-ordinate among the relevant ministries such as the ministries of interior, public health, social affairs and education on the one hand, and donors on the other hand. [...]
The ministry also played an active role in developing the Lebanon Crisis Response Plan (LCRP), which includes a call for investment in infrastructure projects, particularly in areas that have a larger share of displaced people.
Al-Mashareq: At the Brussels conference on Syria on April 4th and 5th, Lebanese Prime Minister Saad al-Hariri cautioned that the current situation in Lebanon is a ticking time bomb, and urged the international community to invest in infrastructure and other projects in Lebanon. The conference ended with a pledge of $6 billion. What is Lebanon's portion of it?
Merhebi: We were informed that Lebanon will receive around $1.5 billion, which will not be earmarked for infrastructure investments. We need an annual $3.8 billion, but only received $1.5 billion in 2016.
We spend whatever financial support we receive, but it is not enough to cover the needs of refugees and their host communities, which are already poor. This explains why you have Syrian families that are living on less than $2 a day.
However, we have started receiving funding for Lebanon's response plan. So far, we have received $100 million for schools, $200 million for roads and we are awaiting a yet unspecified amount for hospitals and the health [sector].
Al-Mashareq: What is the size of Lebanon's losses as a result of the refugee crisis?
Merhebi: The losses are severe for a country like Lebanon with a population of 4.2 million, a total public debt of $75 billion and a growth rate of less than 1%. To date, Lebanon has suffered losses between $15 billion and $18 billion as a result of the displacement crisis, with a refugee population of more than 1.3 million.
Al-Mashareq: What are some key issues Lebanon is facing because of the refugee crisis?
Merhebi: We are facing several problems, the most significant of which is heavy concentrations of refugees in poor areas of Lebanon.
There are areas where the number of refugees exceeds the number of the native population by five times. As a result, Lebanese and Syrians are competing for water, sanitation, waste, health care and transportation.
There also is competition over job opportunities, and between Lebanese and Syrian students for school places, with three school shifts a day currently in place to accommodate as many students from both sides as possible.
Our problems are many and big. Akkar [in the north], for example, has had unpaved roads for decades, and 92% of its homes have no running water or sanitation, while the local state hospital only has 60 beds. This is not enough for Akkar's 652,000 population, in addition to the 300,000 Syrian refugees there.
Al-Mashareq: Do you expect donor countries to support Lebanon's infrastructure investment plan?
Merhebi: Today, Lebanon is faced with an opportunity to rehabilitate its infrastructure, including water, sanitation, electricity, roads, schools and hospitals. The international community is eager and we are ready with our plan that comprises the rehabilitation of sectors that serve both the Lebanese and Syrians. For example, when we rehabilitate schools, we contribute to educating Syrian children so they can have a better future when they go back to their country.
Al-Mashareq: What are the challenges Lebanon is facing as far as refugee camps are concerned?
Merhebi: The majority of those challenges are of a security nature, which requires us as a ministry to be more vigilant. But to this day, our role in this regard has not been specified, as the Ministry of Social Affairs, in co-operation with international organisations, has been in charge of the camps.
Lebanon has not been able to build regulated camps since the start of the crisis, which makes it hard to pinpoint the location of refugees so we can help them and evaluate their social conditions.
Al-Mashareq: What about Arsal, which hosts the largest number of refugees and has witnessed security challenges?
Merhebi: The town of Arsal is now hosting 110,000 refugees, while its local population stands at 30,000. The town is facing security and public services issues regarding water, sanitation and waste.
Upon our request, the Office for Technical Studies, in co-operation with a specialised engineer from the Ministry of the Environment, has conducted preliminary studies on Arsal. A month from now, UNICEF will launch a bid for infrastructure projects to address the issues there.
Al-Mashareq: Will the ministry implement projects that contribute to solving the economic crisis for refugees and their host communities?
Merhebi: Proposed infrastructure projects will contribute towards solving the economic crisis because they will attract investment, which we hope will be in the agricultural and industrial sectors and will create jobs for Lebanese and Syrian workers. [...]
I have been in contact with three universities to listen to the ideas of their students on [how to solve] the displacement crisis. The American University of Beirut held a conference on rebuilding Syria. During the event, several ideas were discussed that refugees could benefit from.
Meanwhile, students at the Beirut Arab University and St. Joseph University also are working on finalising ideas for projects that could be implemented hand in hand with the refugees.
These projects would help revive the Lebanese economy and provide financial and social stability for refugees. We have to think about how we can turn the Syrian displacement into a positive and productive source of opportunity.