The recently concluded Sketch for Syria initiative offered engineers and architects from Syria and elsewhere an opportunity to envision a brighter future for the war-torn country, and to begin to plan for it.
The winning designs produced for the initiative, promoted by Italy's Università Iuav di Venezia in collaboration with the UN Economic and Social Commission for West Asia, were presented January 18th at the UN House in Beirut.
The initiative comes as Lebanese and international real estate developers and investors begin to prepare for Syria's eventual reconstruction.
"We issued a global call in February 2016 to Syrian architects, thinkers and artists and all architects around the world to develop a vision of how to reconstruct post-war Syria," said Sketch for Syria co-ordinator Luna Rajab.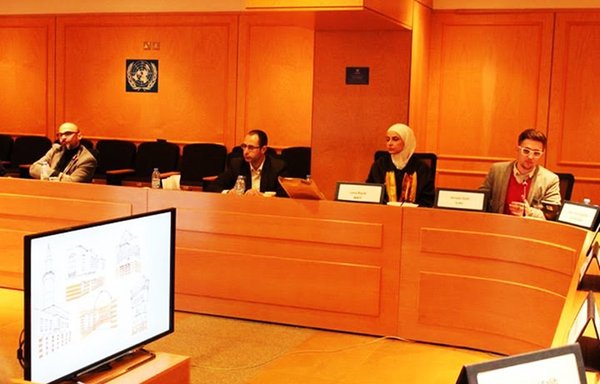 "We distributed the initiative's sketchbooks and received back more than 200 sketchbooks from 26 Arab and foreign countries, including 85 from inside Syria," said Rajab, who is herself a Syrian architect.
Damascus University fine arts student Amer al-Issa won first place for his vision, with the judging committee selecting an additional 150 sketchbooks, including 53 from inside Syria, to display.
A vision for the future
The proposed designs look at residential and commercial planning, green building construction and ways to take advantage of Syria's natural resources.
They also tackle the establishment of industrial zones, road networks and transportation to connect different regions, as well as the construction of temporary residential units that can be converted into permanent dwellings.
Some focused on "the rehabilitation of archaeological sites", Rajab said.
The designs "are currently on display at the university in Venice, which is preparing an e-book that contains all the proposed designs and ideas", she said, adding that the exhibition might eventually relocate to a university in Beirut.
Syria is in need of massive reconstruction work, she said, "as the initial damage estimate is more than $400 billion".
The designs include a strategic vision presented by Syrian architect Abdul Ghani Warda, who looked at the need to repair infrastructure alongside the need to accommodate and provide safety for the millions of displaced persons.
Warda's vision takes into account emergency housing and infrastructure and the need to rehabilitate existing infrastructure alongside new construction.
"I accounted for the establishment of centralised industrial zones that connect the north (Aleppo, an import and industrial zone) with the coast (Latakia and Tartous), which is rich in agricultural and tourism resources," he said.
His vision includes Deir Ezzor and al-Hasakeh, "which are rich in oil, gas, raw material and agricultural resources", he said, and the Daraa and Sweida regions.
It also looks at ways to stem desertification in Badiat al-Sham (Syrian Desert) and use the Euphrates River to generate electricity.
Industry and infrastructure
Syrian architect Alaa al-Khatib submitted a vision that incorporated the concepts of "green architecture, sustainable environment and development for communities and civilisations, heritage and culture".
She proposed that marine industry centres be established in the coastal region with an eye on future international trade via Mediterranean ports, and that designated zones be established for oil industries and for the development and improvement of the cultivation of wheat in the eastern region.
"I also proposed the establishment of an economic development zone in the north in the vicinity of Aleppo," she said, adding that this zone would house electronics and financial companies and markets.
Al-Khatib said her plan would preserve the character of Aleppo and its heritage and would focus on developing agriculture in its southern region.
She proposed that all regions be connected with a "high speed rail system".
Her plan also calls for the adoption of solar-powered transportation and the re-cycling of wastewater for use in agriculture and to combat desertification.
"I adopted a new architecture methodology by incorporating green building and solar energy to meet the needs of building structures, and the rehabilitation of the souks to become open museums, as well as the development of heritage and revival of traditional crafts," she said.
Lebanese investment
Lebanese investors are awaiting the end of the conflict in Syria to contribute to the reconstruction effort, Arab Economic News editor in chief Violette Ghazal Balaa told Al-Mashareq.
"There is information circulating in Beirut that they have selected an area in the Bekaa to serve as a platform for the launch of Syrian investment operations," she said.
New Lebanese companies have been established to engage in the reconstruction activities from the outset, in partnership with Lebanese government agencies and international companies.
Lebanon's Tripoli region, near the Syrian border, is "making preparations, with all its public and private facilities, to play a prominent role in the upcoming reconstruction phase based out of the city's port", she said.
The port has been a transit point to and from countries in the region since before the 1970s, Balaa said, and is being outfitted with berths to accommodate cargo ships laden with goods to be transported overland to Syria.
"The people of Tripoli are anticipating an economic recovery in the city on more than one level with the opening of the borders to labour, trade activity and exports," she said.
Tripoli's infrastructure, "including the gas pipeline extending from Homs to north Lebanon and the railway line from the port of Tripoli to Syria, will help reduce the cost of Lebanese investments in Syria", she added.