The Egyptian army's capabilities have enabled Egypt to play a leading role in maintaining stability in the Middle East and North Africa, say experts.
The Global Firepower (GFP) 2023 index ranked Egypt as a Top 15 world power, putting it 14 out of 145 countries considered for the annual review.
Egypt ranked the most powerful of Arab armies, followed by Saudi Arabia in the 22nd place globally and second in the Arab world.
The ranking relies on factors including the current state of military, financial and logistical and geographical capabilities, and takes into account the size of countries and their technological progress.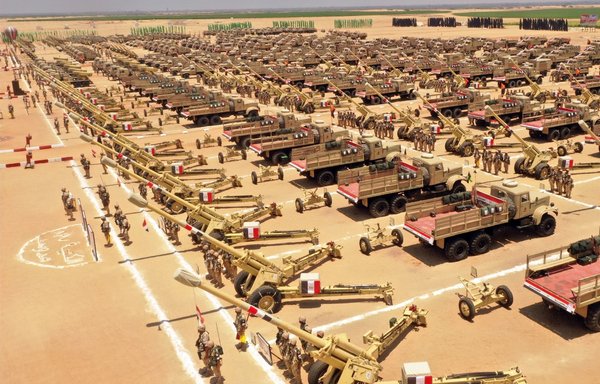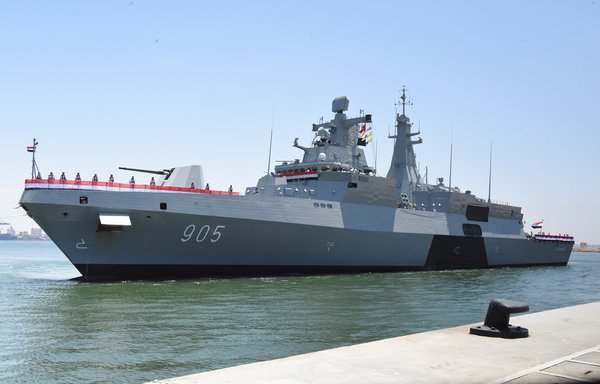 The Carnegie Middle East Centre estimated in 2019 that Egypt's active duty and reserve personnel numbered some 850,000.
Egypt operates US armoured vehicles and flies US aircraft, and there is an active exchange programme between the countries, which regularly engage in multilateral military training exercises in Egypt and across the region.
Since 1978, the United States has provided Egypt with more than $50 billion in military assistance, the US State Department said in April 2022.
This amounts to $1.3 billion in military aid to Egypt each year, on average, according to the US Department of Defence.
Ensuring security in Africa
Egypt's military capabilities enable it to play a key role alongside Tunisia and Algeria in containing the conflict in neighbouring Libya, according to Cairo University international relations professor Mohieddin Ghanem.
Libya has been torn by more than a decade of stop-start conflict, involving foreign powers and a myriad of militias, since a revolt toppled strongman Muammar Qaddafi in 2011.
Any Egyptian attempt to end the Libyan crisis will undoubtedly be agreed to and supported by Tunisia and Algeria, since relations with the Libyan interior depend on "relations with the tribes and clans scattered along the borders who share influence on Libyan territory", Ghanem said.
Ending the Libyan conflict and stopping a potential bloodbath that could threaten the entire North African region are a priority for the three countries, he said.
The current relative calm in Libya allows each of the countries to deal with other security issues, such as internal conflict in Tunisia and tensions in Western Sahara between Morocco and Algeria, he added.
Military analyst Wael Abdul Muttalib said countries that try to undertake any political interventions to end the Libyan crisis "must have both military strength based on the army's capabilities as well as diplomatic capabilities, as is the case with Egypt".
Any political plan must be accompanied by a military force to prevent enemy infiltration into the Egyptian interior, he said.
In recent years, Egypt has "restored the capabilities of the Egyptian army in all its sectors without exception, and furnished it with modern weapons and new technologies at sea, land and air", Abdul Muttalib said.
Egypt has held military exercises with world powers "to enhance the capabilities of the Egyptian soldier", he added.
In 2021, the Egyptian military conducted 29 joint military exercises with counterpart militaries on Egyptian territories, according to an infographic it published in January 2022.
Egypt also hosts Operation Bright Star, the largest set of multinational army manoeuvres in the Middle East, which began in 1981 between Egypt and the United States, before a large number of countries joined them, reaching 21 in 2021.
"The past period has shown that the Egyptian army is capable of controlling the borders with Libya, despite the vastness and difficult terrain of [the border area], which have always served as safe crossings to smugglers and terrorists alike."
The nature of the internal conflict in Libya and existence of terrorists push Egypt to "strengthen these capabilities to deploy them when needed, especially if national security is under threat", he said.
Egypt's military has demonstrated its capabilities in the past, stopping terrorists from infiltrating Egypt, rescuing Egyptian citizens in Libya and arresting international terrorists, he noted.
Stabilising force for the Middle East
The military also has enabled Egypt to act as a stabilising force for the Middle East, as relations normalise with Israel.
"Despite all the voices in Egypt and the Middle East region opposing the normalisation of relations between Egypt and Israel, these relations are at a very advanced stage... and will ensure security in both the Middle East and North Africa," said Egyptian military analyst Abdel Karim Ahmed.
The capabilities of the Egyptian army make it "a crucial strike force in the region in responding to any security incidents that may occur in hot spots", he said.
Combined with outstanding diplomatic capabilities and the use of soft power, Egypt has been able to defuse conflict in Gaza, Libya, Lebanon and Syria, he added.
The Egyptian role has become pivotal "with the Egyptian army's capabilities returning to what they were decades ago... especially through regional and international alliances with major players, particularly the United States", said Ahmed.